"Sugar Bombs"
From the archives of TiPWiki, the unofficial Duke TIP Wiki
"Sugar" Shane's Sugar Bombs
RC group at Wake Forest known for droppin' sugar all over campus (aka everyone loving them).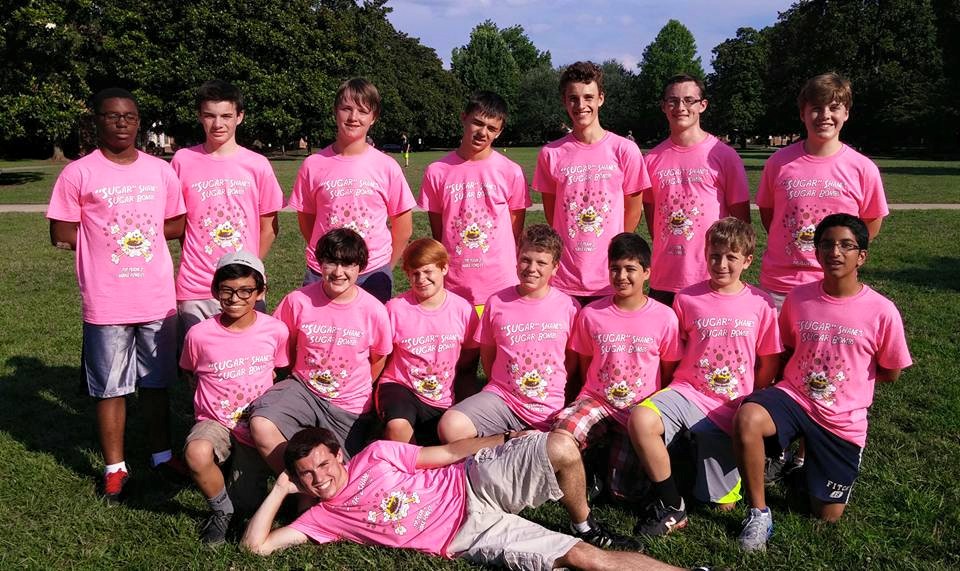 This group was led by Shane Reagan, who was also known as "Sugar" and Rainmaker Reagan for WFU Term 2. He was known as being one of the most spirited RCs.
Members
Ben "Frosted Flakes" Becker
Jackson "Cap'n Crunch" Hollingsworth
Shrey "Sugar Bear" Addagatla
William "Corn Flakes" Joyce
Scott "Count Chocula" Johnson
Ronald "Froot Loops" Doe
Jack "Honey Smacks" Levenson
Sachio "Professor Weeto"
AJ "Honey Nut" Peppers
Charlie "Cocoa Puffs" Martin
Colin "Trix" Mackay
Duncan "Raisin Bran" Steeples
Reid "Lucky Charms" Dudney
Pranay "Franken Berry" Jain
Reilly Riddle (honorary Sugar Bomb)
Chants
When Shane yells, "Sugar Bombs!" you reply, "Bombs Away!"
When Shane yells, "Sugar Bombs!" you yell, "Droppin' some sugar!"
Inside Jokes/Favorite Quotes
Wowzers!
SIC NASTY/NIC SASTY!
Quit your shenanigans!
"But Shaaaaannnne... All Shrey wanted was some Nutelllllllaaa... Then you got him some Nutella."
No Altoids for you Sugar Bear!
SPLENDA
I kissed a moose and I liked it!
Stupid deer.
"And how much caffeine would you say is in a tequila sunrise?"
"What do you mean by, 'Does it burn?' "I mean you can feel it in your throat." "Well, I can also feel water in my throat."
"I'm not wearing leggings. They make my butt jiggle too much."
"This offer is only for the Dick's (sporting goods store... even though that's not what it sounded like)."
Dang it Sachio!
Competitions
TIP Sync
The Sugar Bombs obviously performed Sugar by Maroon 5, with solos from Scott J. and Sachio. At the end, the group threw Splenda packets into the crowd and onto the judges, and were forced to pick them all up. However, we unfairly lost to Josh's rag who twerked all over the stage (should have been disqualified for not being TIPpropriate). However, we were a close second.
Ultimate Frisbee Tournament
The Sugar Bombs team came in third place in the Ultimate Frisbee tournament due to star player, Colin, being able to throw the Frisbee all the way downfield.
Miss TIP
RC Hunter won the Miss TIP pageant during 2015 WFU Term 1, narrowly beating RC Shane. Hunter secured the win with his hilarious country/valley girl accent.
However, Shane proved his dominance during the Term 2 Miss TIP pageant.
Shane proudly won the title of Miss TIP in Term 2 mostly through his fetching cat walk, ripping off his glasses to look smolderingly into the crowd, and throwing his NC State hat into the crowd. Ronald caught said hat.
Magfest
The Sugar Bombs were on Team Green for Magfest, which named themselves, The Shreks, because the other teams were going to get Shrekt. The Sugar Bombs led some hyped spirit because they ran around the quad flaunting Shane's Greensboro Grasshoppers flag and RC Hunter's two crutches decked out will green paper and green streamers.
The Shreks by far had the best entrance cheer which featured Shreking Ball and the amazing dance move known as, "The AJ," while yelling, "This is our swamp! Get out of our swamp!"
The Shreks didn't win Magfest but props to Ben Alterman and Colin Mackay for winning the Frisbee Toss.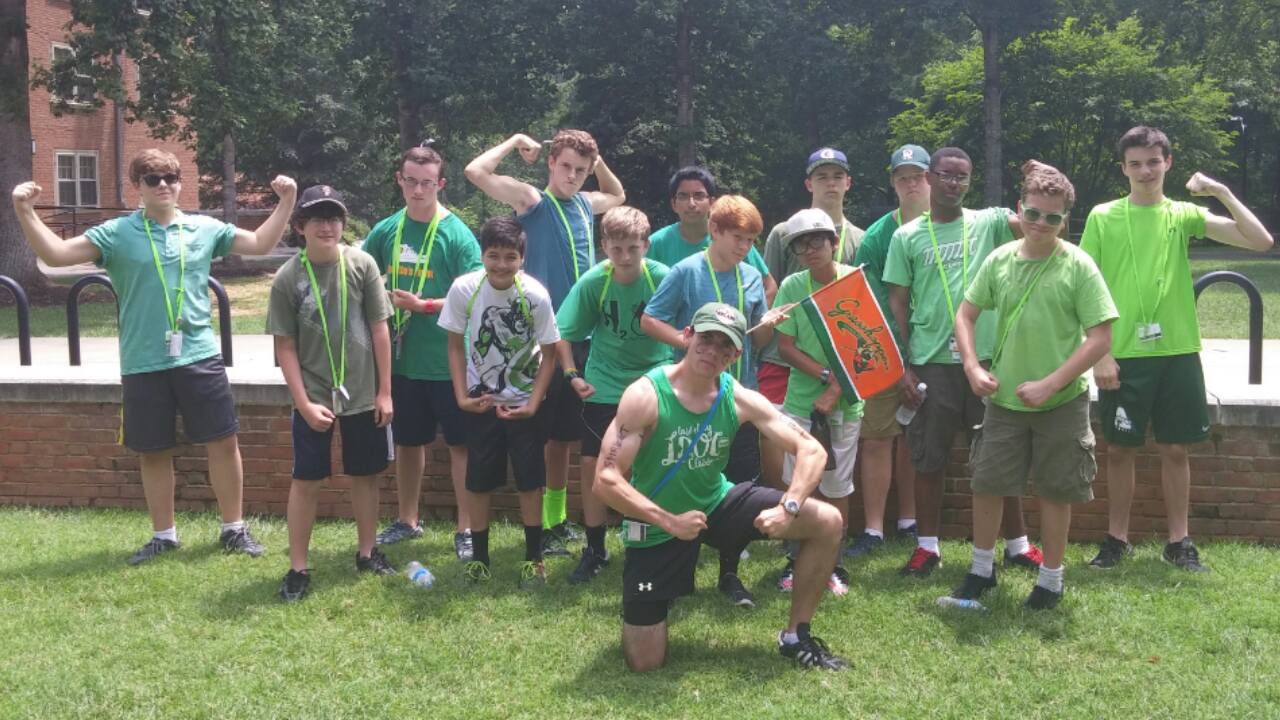 Interesting Events
Similarly to Shane's Brotherhood, the Sugar Bombs also had a war on the last night. It mostly involved throwing Axe bombs into each other's rooms.
Once Shane revealed to the Sugar Bombs that Shiz (Shane and Liz relationTIP) was real, they ambushed him by pinning him to the wall and suffocating him in Axe.
Also, a recurring theme in the suite of Charlie, AJ, Colin, and Duncan was throwing items at Charlie while he was defecating. Many of these items landed in the crapper.
Another recurring theme was in the suite of Ben, Jackson, Shrey, and Will. Shrey, Ben, and Will stacked chairs in the shower for Jackson to find on multiple occasions.
OTPs/RelationTIPs
Sugar Bear Shrey + Reilly = Shreilly Bear
Scott + Lizzie = Shiz2.0 (broke up before the end of the term *looks at Ronald*, but still adorable)
Duncan + Jade = Dude
Jackson + Savannah = Javannah
Shane + Liz = Shiz (Best one yet)
Ben + Nutella = Benutella
TIP Spirit Week
Straight up, the Sugar Bombs killed it on Wear a Skirt Wednesday.
Shenanigans
The Boom Sugar Boom Cheer
Shane made a repeat-after-me cheer tailored to the Sugar Bombs theme of sugar and here is the fantastic result.
Sugar Bombs Groovin'
Examples of "Sugar" Shane's Sugar Bombs' spontaneity and just plain affinity to have fun.