Daniel Palladino
From the archives of TiPWiki, the unofficial Duke TIP Wiki
Daniel was a 2nd Year/4th Year. For his 1st Year, he attended the Davidson campus during Term 1 2010 and took Engineering Problem Solving with all dudes. For his 4th Year, Daniel was at West Term 1 2013 and took Electrical Engineering. He was in Kyle's RC group. There are many other things that could be said about Daniel, but they won't be listed here.
Davidson Term 1 2010 (1st Year)
Daniel was famous for dressing up as Ke$ha for his RAG's TiPSync performance. From that point on, he was called Ke$ha. To this day, he is remembered at that guy that dressed up as Ke$ha. Daniel honestly doesn't remember most of the people he met his 1st year.
West Term 1 2013 (4th Year)
Daniel was known as DANYE West his 4th year... but still occasionally referred to as Ke$ha. Danye was known for his famous Canadian Roots t-shirts. He owned the same shirt in 3 different forms. He let Sophia Ly borrow his favorite red Roots T-shirts to wear for Quad Fest. However, she then lent it to her roommate, Ellie Pippas, who participated in the Pudding Feed. Daniel was a wittle mad.... well.. kinda furious until his shirt was clean. Danye was a starter on the student ultimate team, the Dream Team. Danye loved the song Lemme Smang It by Yung Humma. So during the term, Danye designed and ordered SMANG IT T-shirts for some of the 4th years. However, no one could wear the shirts thanks to Veir Patel. Veir got too excited and ran around K with the box of shirts yelling WE GOT THEM... Then, Michael looked at the shirts with much skeptism, but then laughed and allowed them. But then, the Duncan explained to Michel what Smang It meant.... and the shirts were no longer allowed. For Daniel's RAG's TiPSync, they performed Fergilicious. After than, you could catch Daniel singing Fergilicious frequently. Daniel participated as a make-up girl for the 4th year Doctor, Doctor skits. Sometimes Daniel would randomly laugh hysterically...because he would think of Wilson at the 2nd dance standing up, fist-pumping, and yelling during the quite and squatting part of Blister in the Sun. For the last dance, Danye escorted Sophia Ly down the red carpet. Danye did not own any nice shirts and had to borrow one from someone in his RAG. During most of the dance, Danye would just do the Smang It dance, even during the Time Warp.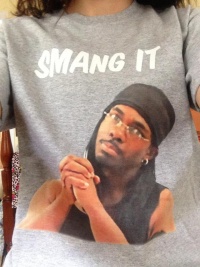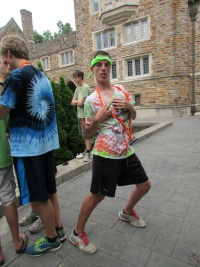 Things to Know About Daniel
Danye is smangin.
Danye likes to smash it and bang it.
Danye was famous for eating an apple after every meal.
Danye would get upset when Sophia Ly slapped apples out of his hand onto the dirty ground of the quad.
Danye eats Lamborghinis.
Danye loves Roots t-shirts.
Danye is actually Ke$ha.
Danye is Fergilicious.
Danye thinks steamrollers are funny.
Danye's favorite song is "Two-Chains by Four-Skinz".
Danye is beautiful.
Danye is one of the members of a secret organization of Tipsters who continue to talk everyday of the life so forth and so on.
!!!TIPREUNION!!!
Danye hosted an amazing tipreunion in his own house unsupervised(badboi). This consisted of ping-pong tournaments, Foosball Tournaments, hazardous trampoline antics, full house surround sound speaker blasting and dancing, ultimate (duuhhh), 2-way and 3-way "through the fire and flames" on Expert, and all of these activities in pouring rain later in the day!
TIPREUNION.. AGAIN
There have been a lot of tip reunions since tip involving Daniel Palladino. Although he was always the least liked one there, everyone had to put up with his shit for at least five days every time. What a fucking loser.