Don C. Donelson III
From the archives of TiPWiki, the unofficial Duke TIP Wiki
Don C. Donelson III is an instructor at TiP who teaches Criminal Trial Advocacy at East Campus. However Don's history at TiP starts long before his days as an instructor. The legendary Don Donelson has been involved with TiP since 1996, first as a TiPster then an RC and currently as an instructor.
Don Donelson started his journey to legendary status when he first arrived at Davidson in 1996. He travelled from his Florida home to take Logo, a computer programming class. Don admits that he didn't even like computers that much at the time, but he still had a great time in class. He even got to make an awesome Simon Says game. Don was in Will Tyson's RAG that year, who happened to be roommates with Tim Duncan at the time. Don really enjoyed his time at Davidson, so much so that he wanted to come back the next year.
Don Donelson came back to Davidson for his second year as a TiPster. Lucky enough for him, he got Will Tyson again as an RC, and Don says that he was the best RC ever. Don took Strategic Thinking in Business and Politics during the term, a class which is now called Game Theory. In class, Don excelled and read The Art of War, which he has read many times since. One day in the term, Don decided to have the best party held on campus ever. Don and his friends shut down the fourth floor of Watts and borrowed Will Tyson's rap CD collection. Then they put up fliers all over campus and sure enough everybody came to there hall party. Don, being in a class that involves business, wasn't about to let a nice money making oppritunity pass him by. Don charged everyone admission to his party and used the funds to buy pizza for everyone. Don ended up netting about $100 from his brilliant hall party idea, and ended up hosting a legendary party.
Don Donelson then carried on his journey as a third year at East Campus, term 1. Don took Crises and Conflicts in History with former TiP legend Scott Morrow. His TA for the class was Brian Fobi, who would actually become the instructor for CTA, and the teacher immediaetly before Don. Don adored the class, and it was his favorite class at TiP. Also during the term, Don started to develop and hone his Frisbee skills, leading his class to victory in the class ultimate tournament. One of Don's favorite hobbies was making fun of the young writers. TiPsters would form a reception line for the Young Writers and they would cheer and whistle and clap for the Young Writers, which confused their little minds. Harassment of the Young Writers was a major part of TiP for Don Donelson. Don Donelson was a troublemaker during the term, most notoriously he was co-responsible for a change in the rules. Don and his friend were walking to the mall, which used to be allowed by TiP, but and whenever a car drove by, his friend and him would pretend to jump into the street, and the car would swerve. They were doing this and nothing terrible happened, until they jumped in front of the wrong car, and it swerved into another car and glass went flying everywhere. The power of the llama saved Don from injury, but his friend was hit by some glass, and TiPsters would never be able to walk to the mall again. During this term, Don would aquire a love for East Campus, and became determined to return.
Don's fourth year at TiP was pretty crazy. He dressed up for wear a skirt wednesday, and made a toga for Toga Tuesday but those were the only two dress up days back then, so he wasn't able to wear thug or hipster clothes. Don was part of the "Bunch of Fat Jerks," which was what his RAG was called. His nickname that term was Don-Don. Don took Politics in Practice during the term, and was a top student. Don won an in class competition, the goal of which was to devise a lesson plan to teach the class with. Don's plan was to listen to "Changes" by Tupac and analyze the social and political themes in it. This would be an inspiration to his future lesson plans, as CTA listens and analyzes JAY Z lyrics in his class. Don never did have a relationTip, but he is a total player. At the dances they would play songs like "My Heart Will Go On," "I Don't Wanna Miss A Thing," and "Waterfalls," and Don would try and dance with as many girls as possible. The exact number of girls he danced with is unknown, but it is probably around 489. Don got chicks with his kicks. Don was also the cause of another rule change this term, when he and his friends went on top of the roofs of Brown and Basset and played Frisbee back and forth from the buildings. Now, going onto the roofs has strict punishment and will result in dismissal. Thanks Don. Don was the MC of the closing ceremonies at the end of the term, and might have done a little rapping for the audience. Don went to term 1 at east but inexplicably remembers the llama. That just shows the godly powers of the llama at work.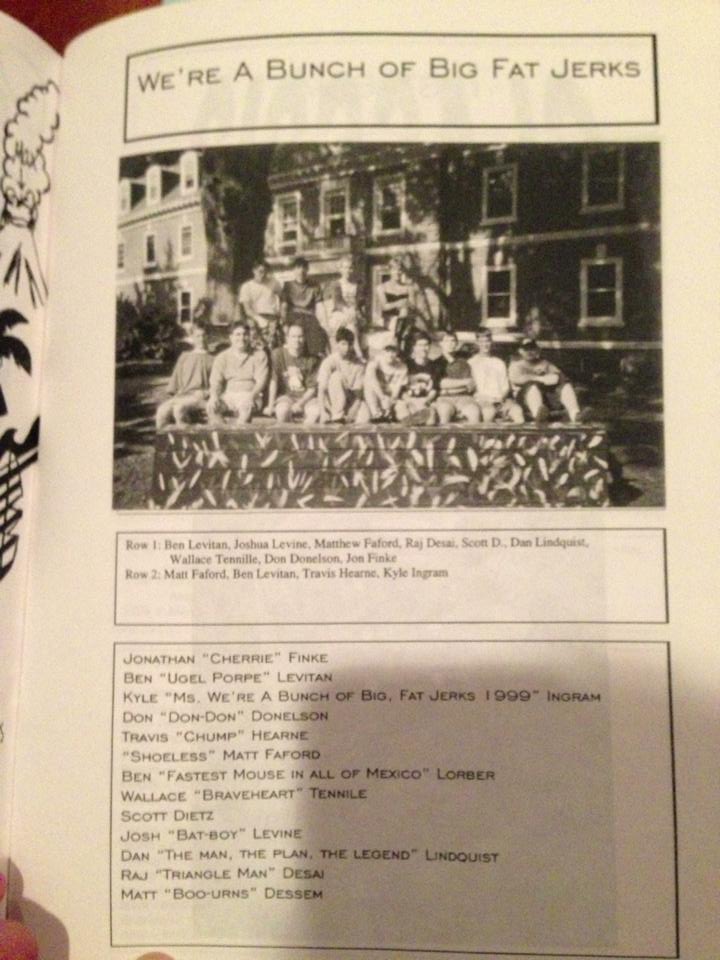 After his fourth year, Don had not had enough of TiP (who can get enough of TiP?), so he came back as an RC. Starting in 2002, Don served as an RC at Davidson. By all accounts he was a really cool RC, probably because he was a TiPster. Don and the other RCs would spend their nights watching movies and doing college kids things.
After his last year of being an RC (2004), Don pursued his studies and once he got his degree in law, applied for a job as an instructor. Don landed the job and his first year of teaching was 2009. However, anyone who knows about 2009 knows that the swine flu ravaged through TiP that year. A quarantine was set up in Giles while Don and the other instructors were there and things didn't go smoothly. "I woke up one night and went to the water fountain and saw a tipster who had snuck down from quarantine drinking from the fountain" - Don. Don contracted the swine flu before the instructors could be moved out, but as we all know now, it's not a big deal. Don wasn't about to let his first year as an instructor be ruined by swine flu, so he just taught through it.
Don continues to teach Criminal Trial Advocacy. He tries to incorporate his love of the University of Miami into class every day. He also has a strict no FSU apparell, and takes joy in FSU's pain. Don hates pronouns, and uses the most frustrating method of teaching, the Socratic method. Don also teams up with his TA for the final mock trial, and has a perfect record for winning his cases. He has a brilliant mind, no doubt, and his class is very fun and many people consider it the best class that they've ever taken. Don C. Donelson III, a true TiP legend. In Duke East Term 1 of 2014, however, Don's perfect streak was broken by a group of six students. Tipsters Parker Kelly (fourth year), Aniketh Dumpala (second year), Chandon Yendamuri (third year), Jack McKenna (third year), Jared Burleson (third year), and Faith Song (second year) defeated him and his TA during the final mock trial, a majority vote of 11-6. This happened agin in Duke East Term 1 of 2016 when Don and TA Kathryn were defeated by tipsters Will Meynardie (fourth year), Karlyn Simcox (third year), Sadie Siegel (second year), Jeffrey Parmet (fourth year), Hailey Maxwell (third year), and Soren (second year). Most recently, in Term 1 of 2018 at the pitiful Rice University, Don and TA Sam lost to tipsters Vivian Su (fourth year), Camille Keene (third year), Karter Stanton (second year), Becca Hain (fourth year), Harper Wood (third year), and Hannah Traylor (fourth year). So maybe Rice is not so pitiful after all.
In Don's 8th year of teaching tragedy struck; without asking him TIP HQ moved Don to pitiful Rice University, where they had to cancel classes because there was not enough attendance. The folks at TIP HQ hoped to draw in more attention to Rice, which received few applicants, and attention away from East, which received many applicants. Many East TIPsters were crushed by this news. Many considered Don a permanent part of East and seeing his forced departure brought sadness to many TIPster hearts. Don will forever be remembered as not just our teacher, but our friend. He is survived by all his students and colleagues who loved him dearly. He has impacted many lives and will never be forgotten, RIP.