Jordan Strange
From the archives of TiPWiki, the unofficial Duke TIP Wiki
About Jordan
Jordan was the Forensic Anthropology instructor at Duke West during term 1 in 2016. He was best known for looking and acting like a small child, saying and doing a bunch of ridiculous things, and constantly butchering the english language. He was also the TA for Forensic Science during term 2.
Jordan Quotes
"We're gonna hurt some peeps"
"Sorry for the sass, it's Saturday morning."
"We can have a roast Jordan session later."
"In a couple of days we're gonna DIG IN to forensic archaeology."
"*burps* bacon's coming back to haunt me."
"Some people want to measure bones to death."
"Termperature"
"My Chemical Romance? That's like my favorite band!"
"Yaasssssssssss!"
"I don't wanna lead you on."
"*creepily whispers* I believe in you."
"Okay, let's not touch other people."
"The tongue bumps"
"*imitating a police officer* Yo! Look! Here's some blood!"
"Take a deep breath."
"I have a solution to this problem! *hands out fruit snacks*"
"Make sure you're not allergic to any of the ingredients before you eat it! Common sense!"
"I need to clean your calculator off, it's kinda gross. (He bled on my calculator)."
"*imitating a murderer who was burying a body* I was eating a cheeseburger while I did it."
"*jumps and points at himself on the screen* That guy back there in the red coat!"
"We blow up cars with dead pigs inside."
"*about construction equipment*We should steal it!"
"In the interest of transparency, these peeps have been sitting in my car since like easter."
"My mom still made me an easter basket."
"There are double negatives all over this code of ethics."
"Yeah! Dr. Death!"
"What?! Sweets dies?!"
"You're gonna hate this guy. Prepare for it."
"Ba dum tssss"
(it's raining outside)"We should go outside for break!"
"IS THERE?!?!?!"
"What a great segway, thank you."
"The rain keeps falling in my cup."
"Underline the riducilousness of it, please."
"Yup. New dead people."
"Someone describe what they're doing to me. Describe what they're doing to the scene to me."
"Fun fact! That is one of my very good friends! This is Janelle!"
"Leutgert the sausage maker!"
"Live people feet!"
"Is is Joey or Joseph?"
(sarcastically)"Oh, yes, I would love a jelly bean."
"The grates are slippery. They're like a slip n slide."
"My rain jacket smells strangely like laundry detergent and jet lighter fluid. I wore it to a plane crash scene."
"All this boy drama is ridiculous."
"Schweet!"
"I'm not a very good officer, I've only been doing this job for like a week." (*throws moldy orange, trips over crime scene, spills water*)
"I'll be back. Maybe in just a few hours. Maybe never."
"Chloe's about ready to kill me."
(talking about giving our group two right scapulas instead of a right and a left) "This never happened."
*makes strange noises while trying to sneakily switch out bones*
"We're going straight from tomorrow."
"That's gonna go down in something."
"Oops, you messed up. *kicks leg* Boomp, out the door!"
*drops measuring tape. tries to pick it up. trips over it."
"This is a really disgusting measuring tape and I don't wanna know what happened."
"Yasss! Frozen!"
"This is Demi Lovato. This isn't even that good."
"This is because Demi Lovato could never out sing Idina Menzel"
"Toy story isn't essential to the completion of this project."
"That kid wears the same hoodie everyday."
"If you don't know what it means, then I probably won't know what it means."
"only at nerd camp does someone say play orchestra music"
*door opens* "That scared me."
*hits self with table* "Ow. Pretend you didn't see that."
The gavel is this eraser because we don't want you to break anything, and we don't have a wooden gavel."
"We can get you a humerus if you wanna bang a humerus. Or a femur."
"Who's Jordan?" - Officer Tibia Goodman
"The judge gave it to me, I don't know."
*talking about a gun that was possibly a murder weapon* "I lost it."
*still talking about the gun* "What firearm?"
"I have a really bad memory."
*coughs awkwardly*
"What's evidence number 16?"
"As far as I know I didn't disturb anything, but I've only been on the force for a week so I don't know what that means."
"Are you offended by something?" (Jordan's attempts to console a crying fourth year)
"She had a lovely collection of jump ropes. Like, the biggest collection of jump ropes I had ever seen. Oh, and there was a gun."
"We arrested her on suspicion? *pause* And then we searched her house."
*talking about jump ropes that were possibly murder weapons* "They were very colorful. That's all I remember."
"Ya'll are gonna get me in trouble."
"Don't white out evidence!"
"Stop writing on people!"
"She's gonna slay it!"
"Save the trees, save the world!"
*Meghan offers Jordan four jars filled with various types of sugar and nerds (the candy)* "Yes, I'll take them. I think they're funny."
"Yeah, I had the jesus bat."
*talking about a video of him singing* "You asked for this. Thanks for the torture."
"When did we ever use calipers? *pauses* *shakes head* Oh yeah! I'm sorry."
"Do we have a Sage?"
"I'm fine. I'm just walking backwards down stairs."
"Did Wilson just call himself a rebel? Rebel Wilson! Aaaahhhh!"
*all of the forensic anthro kids are carrying boxes filled with plastic bones* "You're carrying so much dead weight! Ba dum tssss."
"I need to go back to my room and fall asleep."
"On the internets?"
"It's Thursday of week three. English is hard."
"If they had a survey option for mastery of English, I would fail."
"There shouldn't be any talking at the moment, just a lot of reflecting."
"You took me for all the awkwardness that I was."
"Are you ready kids?"
"I love the sound of construction in the morning."
"If I hear that song one more time I'm sending you to Crystal's office."
"No it's not relevant, I can see the grin."
(in a creepy whisper)"Hint hint, you don't want random people at your crime scene, hint hint."
(about a drawing of a birthday cake)"I don't need the comments and the disrespect."
"You can come closer, I don't bite that I know of."
Fun Facts
Meghan is his mom
He is emo trash
He's a theatre nerd
He can't really dance, but is strangely good at doing the wobble.
He occasionally snorts when he laughs
He was once spotted wearing a really ugly bro tank
Sometimes he has the facial expressions of a kitten
His alter ego is Officer Tibia Goodman
He can actually sing pretty well
His toes look kinda long
Once drew a bird and two "ghosts" in his notes
Is 22 years old and still gets Easter baskets from his mom
Frequently lies about attending social events
After hitting a kid with a tissue box, he did his ten push-ups for "missing his target". He then proceeded to miss the trash can with a tissue, this time neglecting his push-up duties due to his inability to do any more.
Only brought three pairs of shoes to tip
Could possibly be a werewolf
Had a green lanyard dedicated to him in a fourth year will
Looks like a twelve year-old
Pictures
A Polaroid picture taken of Jordan. He didn't realize that the picture was being taken until after it had already been taken.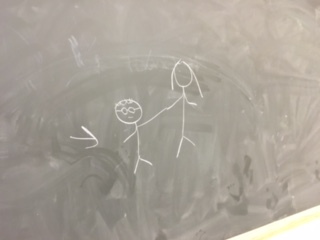 A strangely accurate drawing of Jordan from a game of pictionary.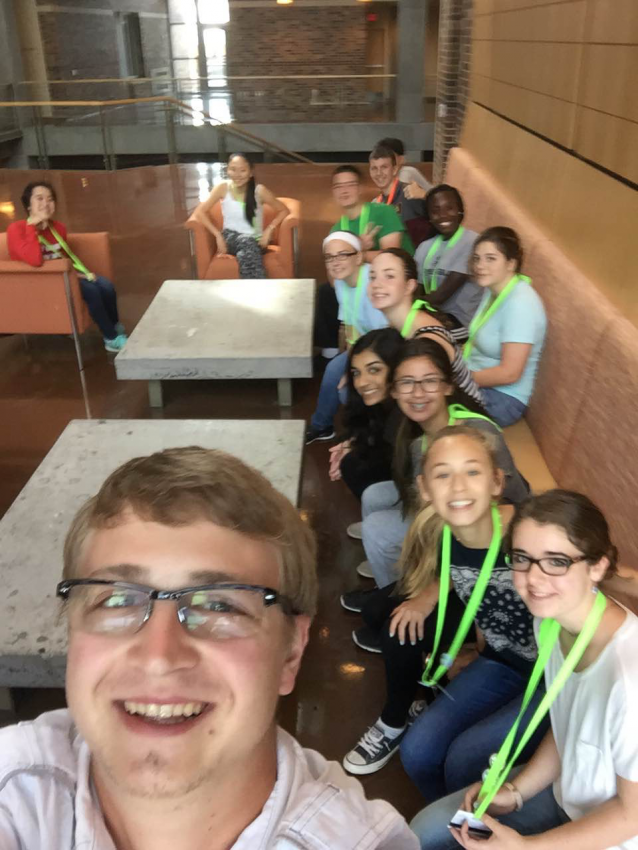 Jordan with his class from term 2
Real Talk
In all seriousness, Jordan was an amazing instructor, and an amazing human being. I'm trying not to make this sound like an obituary and it's really damn hard.
Update: I can't make this sound like anything other than an obituary, so instead here are some things that the class has to say.
Jordan- It's been a great term. Although you managed to butcher the English language time and time again, you are still the best instructor we have ever and will ever have. Thank you. - Riley
Jordan - You are actually the best instructor I have ever had. I have never loved a class more than forensic anth, and for that I want to thank you. - Chloe
Another Update: no one actually sent things to include in this section, pretty much my only other plan has failed.
Important Message
to the person who is updating this page: i love you