Kazoo
From the archives of TiPWiki, the unofficial Duke TIP Wiki
At the beginning of Duke East Term II 2016, the Bach to Rock class was given kazoos, likely for their satan-summoning rituals. And use them they did. At night, particularly at midnight, when I was trying to sleep. And during free time. And during breakfast, lunch, and dinner. The only certainty I had at tip this year is that someone, somewhere was playing the kazoo, no matter when, which was both comforting and slightly annoying. Whenever I hear a kazoo's soft buzz, I will be reminded of the time I spent at tip, specifically the time I spent at tip reconsidering my life choices.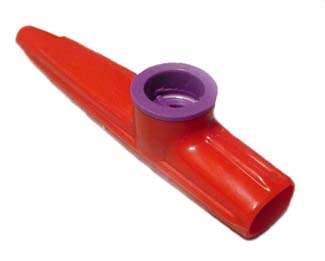 But what is a kazoo? And what can it do?
A kazoo is a musical instrument that is played by placing the smaller end of the instrument in your mouth and blowing. They can be used for a variety of activities, such as-
-Annoying everyone in the vicinity except your fellow kazooers
-Calling demons to the realm of mortals (unconfirmed)
-Playing All Star by Smash Mouth for the talent show
-Bringing about the apocalypse (unconfirmed)
-Performing vocal/kazoo duets with your roommate at midnight (while the people in the room next to you suffer)
-Murder
And possibly more.
The Kazoo Cult
At Duke West Term II 2019, a fourth-year named Catherine Butler began the Kazoo Cult, also known as the Kazoo Crew. Kazoos in a variety of colors, including the ever-iconic magenta kazoos, were sold and played very, very loudly, much to the dismay of Laney Chang, Catherine's roommate. A handful of members of the Kazoo Cult performed a medley at the Talent Show of the following songs: The Mii Theme, Everytime We Touch, Sweet Caroline, and Careless Whisper. Lines from the popular Youtube video "You On Kazoo" were scattered throughout.
Note: Each time someone mentions a magenta kazoo, they have to pronounce it "ma-GEHHHHN-ta" and make jazz hands dramatically. No exceptions.