Kerrigan
From the archives of TiPWiki, the unofficial Duke TIP Wiki
About
Kerrigan is the Best RC who works on her days off. She is most likely from Georgia and has a potent Southern accent. Kerrigan is often spotted with a low ponytail, in a tank top and shorts or other similar casual attire. Hired last minute for Term II at Trinity, Kerrigan performed her duty with diligence and awesomeness, despite only having around two days of training prior to the start of term. At DUML, Kerrigan was the loving and encouraging leader of the Lettuce Eating Hedgehogs and led with pride and care. She was always there for us when she wasn't busy doing amazing things to make sure the camp was enjoyable for all tipsters and we were very thankful to have had the privilege of having her as our AMAZING RC!! Also at DUML, a 3rd year tipster named Beth found out Kerrigan also played volleyball and it was their goal the whole term to reach 100 in terms of peppering (passing) continuously. Sadly the goal was never reached bc of short amounts of free time and distractions :(
Campus: Trinity University and DUML
Terms: Term II, 2017 And Term 1, 2018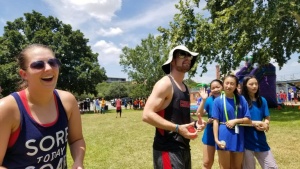 2017
Kerrigan was an RC at Trinity University for Term II, as one of the new RCs after the mysterious disappearance of all Term I RCs.
RC Group
She had the best RC group who always cheered the loudest for her. They decided upon the group name of the "Kardigans With a K," for its similarity to Kerrigan's name.
Emma
Sophia
Sarah (Casey)
Lucy
Jenifer
Rylee
Lily
Rose
Jade
Vinisha
Clare (has a simply infectious laugh)
Annie
Angelina (Angie)
Katherine
RAG Nights
They had some pretty great RAG nights.
The first, (shared with Jennifer's RAG) was watching How to Train Your Dragon. It was great.
The second RAG night was quite hectic in planning. Originally, they were to go to Target with Jennifer's RC group, but an unfortunate shortage of above-21 chauffeurs led to only Jennifer's RAG being able to go. Tears were shed that day (it's okay Jen), but in the end all the girls settled for another movie night (Camp Rock) with pizza. Emma's pillowcase died that night due to an onslaught of garlic sauce.
They were finally able to snag an off-campus RAG night on their third and final week. Because malls were apparently banned from RAG nights, the girls decided to go to the Pearl (not-a-mall), thanks to Rylee and her knowledge of San Antonio. Lots of great and cringey pictures were taken that night. Lucy was very done with everything. Jennifer is a model. Sarah loved the dogs. Annie and Sophia sang. A lot. Clare was not lost. The ice cream was six dollars a sandwich. Alex is only nineteen??? Kerrigan allowed herself to be carried horizontally by a bunch of thirteen and fourteen year-olds. They did not drop her.
At the end of the night, as Denise's car was about to leave, a sassy women was seen yelling at a sassy man in the parking lot. After much debate, windows sadly were not rolled down and the subject of their fiery debate was never confirmed.
TIPsync
Kerrigan's group chose to choreograph to "I'll Make a Man Out of You". The entire group wore all black and used their lanyards as belts. Except Sarah, who was the moon. Kerrigan, being the wonderful RC she is, performed with them. They ended up winning third place, and the privilege to choose the theme for the next dance.
Reasons We Love Kerrigan
She works on her day off.
She definitely works the hardest.
She was awesome.
She let us be us.
She loved us.
She (reluctantly) allowed her RAG to hug her, despite the no-hugging rule.
Her accent comes out when she gets riled up. So adorable.