Mama Bear
From the archives of TiPWiki, the unofficial Duke TIP Wiki
The loving nickname given to the Algebra II teacher at TAMU Term 1 2011. Each of the students referred to her as this for the whole term and the class shirt deemed the words "Mama Bear's Cubs" before listing all the students: Eric cedotal, Matt Trimble, Rheana Thakkar, Hayley Stueber, Paul Yun, Jonathan Friend, Conall Smith, Ignacio Bustamante, Elizabeth Twichell, Marisa Mitchell, Michael Ross, Romanian Matthew, Varun and Nithin, and Rachel O'Neal.
Caleb was the TA of Mama Bear's class and is possibly the most eccentric person you will ever meet. Formerly in a band, Caleb came to TIP and made our Algebra II experience the best it could be. He is in Africa now teaching schoolchildren or something! (hope you're having fun Caleb xoxo). Caleb only wore earth tones and had a variety of the same hat. He invented the classic A2 hand sign and supported the A2 soccer team, challenging many of the other classes...in a sometimes boastful manner. By the end of term, Matt (Vanilla Bear) had become a mini-Caleb and even carried around a toothpick in his mouth most of the time in a calebesque fashion. The only person who seemed to have continuous problems with Caleb was Hayley, who was known for getting into disagreements with him, though he always promised that one day they would sing an "epic duet of awesomeness." At the end of term, Eric did have a minor argument with him, but they managed to become friends once more and that was that.
Every day the cubs were enticed by Mama's bear great knowledge on the various subjects of functions, quadratics, rational/radical equations, logarithms and much more! During breaks they always played either soccer or mafia, and sometimes Elizabeth, Hayley, Marisa, Matt, and Rachel sat around talking to Caleb. With such successful soccer practicing and the astounding athleticism of many of the students (Conall Smith, Ignacio Bustamante, Marisa Mitchell, Eric Cedotal, Michael Ross, Rheana Thakkhar, and Hayley Stueber) they remained undefeated throughout the TIPseason in their soccer games against many of the other classes. Elizabeth Twichell was the team manager (because she had no soccer skills whatsoever). Michael was always very concerning to the teachers, as he came into class drenched in sweat and dehydrated. They started forcing him to bring a towel to the breaks and he draped it over his head for the rest of the day...he frequently made people smell it, saying it smelled of soap, which it actually did...but that doesn't make it less weird. On the other hand the mafia rounds consisted of Matt being the narrator, Ignacio always getting out first, Michael getting out second, and the shortest games you could possibly imagine. Michael and Ignacio were always called out first because they spent all of mafia screaming that the other one was the killer, which the bear cubs could only handle for so long. The most memorable mafia experience was when Caleb was the narrator and he made up the most elaborate death scenes.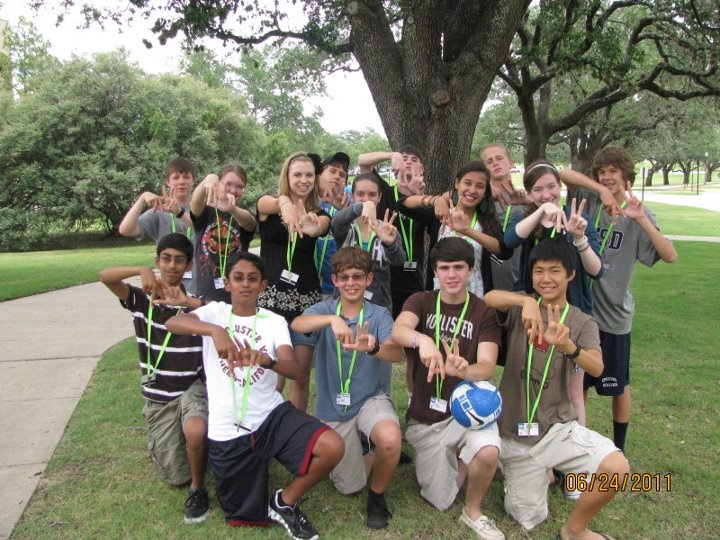 Mama Bear started a class tradition of making powerpoints in order to properly teach the cubs about math. Each table made a powerpoint of a subchapter of the topic they were currently learning. The time alloted for powerpoints usually just consisted of one person doing the whole thing and many others going on Facebook even though it wasn't allowed...which didn't stop anyone from doing it anyway. In addition to this, another tradition was made in which we had "Sharing Time" was despite the name, didn't have anything to do with a need of therapy. It was actually fun. First we shared out favorite movies, our favorite places to live, and lastly the saddest thing that has ever happened to us-- mostly everyone was crying, literally so ridiculous.
Due to the table arrangements on the first day and the changed seating arrangments over the course of three weeks as well as many other things, many strong friendships were formed. The includes a friendship between Varun and Nithin and Paul, Hayley and Matt, one between Hayley and Elizabeth (although they only started becoming friends right before Elizabeth left early to go to Spain <3 but they wrote letters to eachother!), one between Matt and Caleb (...), another between Marisa and Elizabeth (besties!), one between Conall and Iggy, one between Elizabeth and Matt, one between Hayley and Eric, another between Rheana, Marisa, and Elizabeth (they were also in the same RC group (; ), one between Rheana and Hayley (Rihanna and Eminem), and one between Rheana and Eric, as well as one between Eric and Elizabeth (Eric gave Elizabeth a piggy back ride all the way from Sbisa to the Civil Engineering building!), Elizabeth and Varun/Nithin, and one between Romanian Matt and Varun and Nithin. Jonathan and Michael were quickly bonded by their love for OU football, and Iggy and Elizabeth developed a relationTIP which sprung from sitting together on the first day and later Elizabeth quite frequently hanging out with second year boyz including Iggy, such as Andrew Lloyd, Conall Smith, Thomas Fisher, Kyle Gardner, and many others. Their relationTIP was actually quite complicated since it consisted of a love triangle between Andrew Lloyd, Ignacio Bustamante, and Elizabeth Twichell and most TIPsters were pretty convinced that Andrew and Iggy were gay (but not really), they had an exceptional bromance. Michael also tended to have bromances with basically everyone at the 4th floor nightly parties, in which he would dance "all up on other men in a suggestive fashion." (most of all of the above was edited and writen by Hayley/Elizabeth).
Elizabeth (Swirly Bear II) sadly had to leave camp early, which exempted her from the terrible final test and our Gatorade buying spree. This caused Ignacio to spiral into an endless pit of depression and sorrow and he was caught crying on a few occasions...but they were sweet, manly tears, not to worry. It was perfectly respectable. Several others shed tears, and it was clear that Elizabeth would never be any less of a bear cub than the rest of those that stayed for the full term. Elizabeth was a huge contribution to the class and always brought a smile to everyone's face. Especially Iggy's. *wink wink* (edited by Hayley)
On one of the last days, it was promised to the bear cubs that they would be taken to Starbucks, but, unfortunately, Caleb and Mama Bear misjudged how much time it would take to go there and they had to proceed directly to the final dance...but it was okay because everyone had stashed up on Gatorade anyway (a slight stash of Pi are Square snacks still remained in the backpacks of many even though most had been given away to construction workers around lunchtime). On the last day, there was a slideshow of the bear cubs made by Rheana and a few other members of the class and sadness was apparent. The honor of being a bear cub, however, will remain with us until the end of time. Their class shirt was the only one that was not ready on the last night and, as a result, all of them were mailed to the students a few weeks later and we all display them proudly from time to time, grinning at the memories embedded in each one of our brains. Bear cubs forever <3
---
Bear Cubs In More Specific Detail:
Matt Trimble (Vanilla Bear I)- The main founder of the bear cubs and the loudest member of the class. He quite frequently imitated Caleb and tended to make class slightly awkward or inappropriate. Despite this, he got along with basically everybody and managed to stay on the good side of the teachers. He distributed bear names to each one of us and took on a leadership role in the classroom. On cross-dress day he dressed up quite elaborately with makeup, a skirt, and a quite...um....memorable set of balloons in the chest area. He became friends with Hayley by yelling across the room that she should give him her bra for cross dress day, which should be a pretty good indicator of his personality. Later, he proceeded to raid her suitcase and run around with her bra on over his clothes through the dorm with Eric.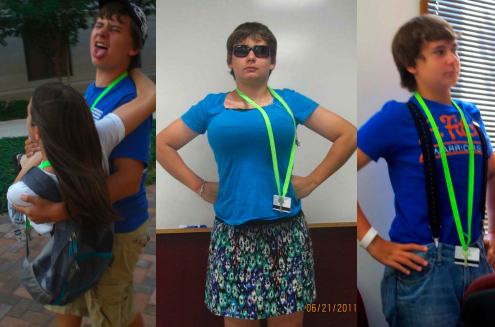 Eric Cedotal (Vanilla Bear II)- Eric was, quite frankly, the hotshot of the classroom. He gained quite a bit of female attention during his term at A&M, some of which got him into a lot of trouble. He became good friends with both Hayley and Rheana as well as Elizabeth. He provided piggy back rides to whomever needed it, whether it be Elizabeth, Hayley, Rheana, or Varun. At one point during the term, he made Hayley return the favor and she carried him about halfway back to the dorm (which was, mind you, quite a long way). Eric was funny and had a big heart, usually willing to help a friend in need, such as the time when the boys threw Elizabeth's backpack over the fence in the construction zone and he and Hayley retrieved it. This almost got them into trouble with Caleb, but the three of them managed to run back to the dorm just in time, pink backpack and all.