The syph
From the archives of TiPWiki, the unofficial Duke TIP Wiki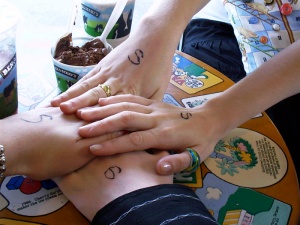 The syph... the only STD that most TIPsters will ever get. You write the letter S on the hands of three people, and they must in turn pass the syph on to 3 more people. At East 2 '05, most TIPsters got the syph at least twice (empahsis on 'most' some of us were able to avoid it).
The first with The Syph were Claire C., Kristin P., Kim L., and Lauren T.
The name was also given to an unknown sickness that passed around through many East 2 '05 4th year TiPsters, mainly The Llama Posse. Victims had fevers, chills, sore throats, fainting spells, and numerous other varied symptoms. Doctors at the Duke West medical clinic were known to respond with, "Well honestly I have no idea what the hell is wrong with you, I guess antibiotics are in order." Melanie was almost made to go home, and was not allowed to go to class for at least the first two hours of every day of the second week of TiP, which caused her much worry and anticipation on the outcome of her paper for class.
At Term II East '06 the Syph was started on the first day of classes by Hanna Hope, Caitlin Cummins, Cullen Dyer, and Alexis Chaney. It was a huge success, although some people managed to avoid it all term. Matt Rothardt was actually left the Syph in the will of Caitlin, but was also left the immunity to syph. It should be noted that after the Pregnancy Scandal of '06, an additional medical condition was passed around in addition to the Syph- pregnancy. Even guys were not immune to this awful epidemic.