Jordan Couceyro
From the archives of TiPWiki, the unofficial Duke TIP Wiki
Jordan Couceyro was an awesome second year fourth year TiPster. He attended Duke West in the years of 2013(third year) and 2014(fourth year). He was super sweet to everyone and was a boss at playing pretty much every musical instrument out there.
| Year | Class | Roommate |
| --- | --- | --- |
| 2013 | Neuroscience | Travis Mercer |
| 2014 | Psychology of Decision Making | Mitul Patel |
Third Year
Jordan attended Duke West as a first year/third year in 2013. He was in Neuroscience (with Alyson Win). Because of his great looks, half of the girls in Neuroscience formed a fan club that was dedicated to him. Jordan was in Julian's RAG aka the peacocks. They incorporated Julian's signature peacock dance move in many things like their TiP sync. Jordan was so swaggin that Huixi Yu asked him to escort her down the red carpet and he got asked to the dance by Maggie Steiner. Jordan is also an amazing musician. He is exceptionally good at playing the ukelele as well as the piano. For the talent show, Jordan sang and played the song, "Clarity", on the piano and it was great.
Fourth Year
Jordan took part of many legendary things his fourth year. He was in Barry's RAG (aka Barry's Kings of the World). His ukelele playing was very popular once again. He would have regular jam sessions during night free time with Alyson Win, Sarah Kinney, Autumn Hinze, Sonali Mehta, Ritu Sachdeva, Bennett Eckert, Chase Kelly, Mitul Patel along with other fourth years. For TiPsync, his RAG did the song, "My Heart Will Go On". Jordan was Rose in this epic TiPsync, while his roommate, Mitul, was Jack. Their TiPsync was a sad love story of epic proportions. While it didn't win, "My Heart Will Go on" became a legendary new TiP tradition song that was played at every dance. Jordan will forever be remembered as Rose. Jordan was also unofficial team captain of the first place winning blue team, with his team spirit leading blue to victory by a point. He was well known for walking around campus playing his ukelele and generally pissing off the sports campers with his melodic voice. Jordan also has a very good impression of the gingerbread man from shrek (fun fact). He also had the goal to collect as many pins as possible. Collecting a grand total of at least 18 pins from numerous places by the end of the term. Jordan also once again had a fanclub. It consisted of a lot of the girls in his class along with some of the fourth year girls(it expanded). He also brought silly bandz back the last 3 days of TiP. Fun Fact: Jenn the TA loved taking pictures of Jordan for some reason so half of the flickr pictures for the term include him in some way. Jordan took Alyson Win down the red carpet at the last dance. They did an adorable titanic pose for pictures. Jordan was also the kaboose of the legendary Sexy train (yes they brought that back). He performed a mashup of "Home" with Autumn Hinze, Alyson Win, and Sonali Mehta, accompanying them on his ukelele. Even though Jordan went only two years, he was an amazing and awesome TiPster regardless that definitely deserves a TiPwiki page.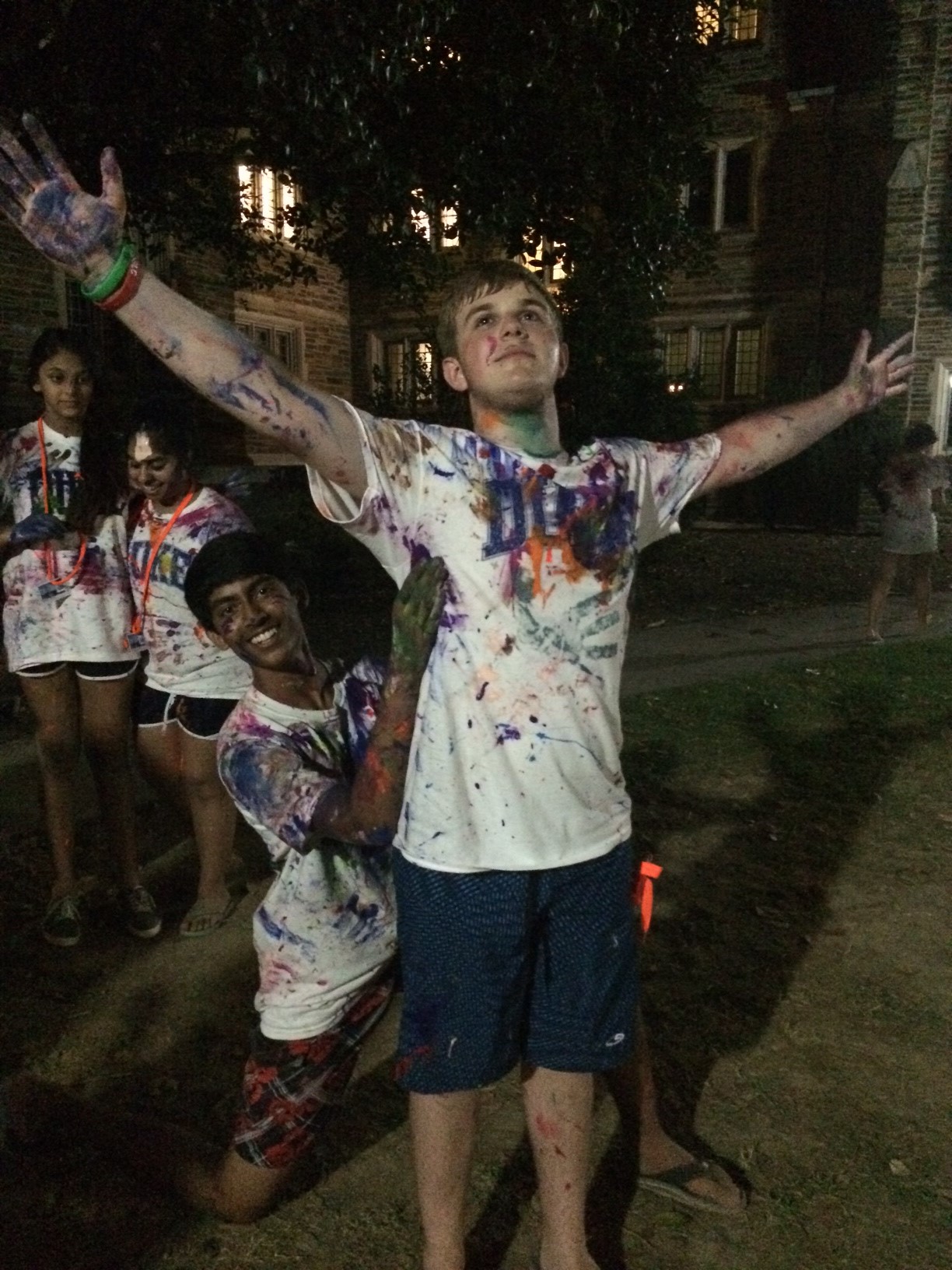 Jordan as Rose and Mitul as Jack after the paint fight