Nathan's Hotdogs
From the archives of TiPWiki, the unofficial Duke TIP Wiki
This is a RAG headed by Nathan Tuttle. This RAG was born during Term 1 at Duke East 2012. This RAG has many exploits that must be discovered, so read on, and have a psalm while you're at it, psalm 23 by Jackson of Nathan's Hotdogs.
"I walk through the valley of the shadow of tipression; I will fear no evil: for the memory of the hotdogs est with me; Thy hips and thy chants, they stimulate me; Thou wineth both tipsync and quadfest with swag in the presence of mine enemies; Though annointest my head with awesome: My cup runneth over."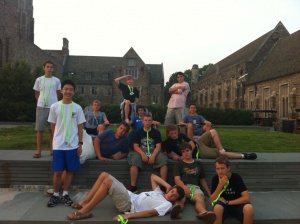 Members
These are the acolytes of Nathan's Hotdogs
Nathan Tuttle
The leader of the Hotdogs. This man will refuse hugs, tell you to stop occasionally. He has no soul because it was stolen by his RAG. When Nathan was just a young boy, he felt that his life was incomplete. He felt this for a very long time. He then thought, "I will become an RC at TiP, and then my life will be complete." After meeting his first RAG group he felt that his life was still incomplete. He then thought, "I will become an RC a second time, and if my life is not complete, then it shall never be complete, and I shall live in unhappiness." After meeting the Hot Dogs, he felt that his life had been filled by these group of young men, who opened up his eyes and showed him the world as he had never seen it before. Nathan had been enlightened by his TiPsters.

Facts about Nathan
Nathan enjoys slow strolls on the beach, especially during a pretty sunset.
Nathan is a monster while on the porcelain throne.
Nathan is sexy.
Nathan is fine.
Nathan is SO fine that he blows your mind.
Nathan is awesome.
Nathan is from straight outta Compton.
Nathan enjoys getting grinded on by Hise, while squirrel watching.
Nathan enjoys catching Michael's trust falls every night.
Nathan likes to sing in the shower.
His favorite songs are rap. He LOVES Lil' Wayne.
If you see Nathan you should play Lil' Wayne around him.
Nathan detests Steve, and teaches his RAG at a young age how terrible Steve is, so they really know. (That's pretty terrible. -Jackie Chan)
Nathan does not like it when his TiPsters stay up past lights out.
Nathan enjoys being serenaded.
Nathan is in a relationTiP with Margaret.
Nathan loves all his TiPsters the same. Except Sam, who is his favorite.
Nathan likes to go fishing.
Hise "Mofo" Williams
Hise is many things, songwriter to RCs. Religious icon. And a mofo. During one of the dinners third week His took pieces of toast and broke them into chunks, and gave it to his RAG members, saying, "Take and eat; this is my body."
Thomas Winslow
A very dedicated soccer player, missed some evening studies and the second weekend because of his dedication to the sport.
Skippy Adams
The Latino Butterfly. His hips don't lie.
Lucas Ryan
Head demon summoner/soul stealer and king of making things awkward, not in a good way. He also has many geeky t-shirts. He also played matchmaker to a few couples during term. Lucas himself got married to the coolest Asian evah in the Brown 3rd floor commons and is also her sgbff/magical fairy godmother/miracle worker.
Phillip Cave
This guy is very chill, rarely argues but has intelligent things to say. Also likes to stay up reading books about china.
Andrew Pluemer
International Tae Kwon Do competitor. Nationally ranked and on the u.s. team. This kid is pretty chill, and can help you if you need to do an exorcism/soul stealing.
Aaron Hong
Chikin. Sandwich.
(Also a legend with duct tape wear.)
AJ Spiegs
Kosher hot dog.
Jackson Dellinger
One of the best hip moving acolytes. He moved in ways that scarred many, and made others wish to have his children.
Isaac Lutz
This kid is the best fake little brother ever. He and Koueun are totes adorbs. He is a superduper hipster. He is like a panther in the bedroom. He's perfect, as he is good at everything. His only flaw is his inability to crawl like an inchworm.
Michael Bowcutt
Sometimes he feels like he doesn't have a partner. Sometimes he feels like his only friend is the city he lives in, the City of Angels. Lonely as he is, together they cry. HE DOESN'T EVER WANNA FEEL LIKE HE DID THAT DAY, TAKE HIM TO THE PLACE HE LOVES (TiP/Nathan's Beach Condo), TAKE HIM ALL THE WAY. Inventor of Riding the Bull, co-founder of The Typewriter and The Polaroid. He was the first captain of the Dream Team, the ultimate Frisbee tournament team.
Eliot Harrison
This boy is hilarious. His hilarity resulted in his receiving the Weeping Yogi from Chris Drawdy. Eliot is perfect. He had a fling with Kelly, which was ended by a mercenary. Eliot and Hise are best friends, and got in trouble for various things. He has many STDs, and ate a baby usuing only a straw. He likes to drop it like it's hot.
Sam Jarden
Sam is the Canadian member of the hot dogs. He often encourages the creation of mosh pits in situations where it may not seem commonplace, for instance, during Aarons piano solo for the talent show. In his spare time, he enjoys curling and long walks on the beach.
Zach Toole
It is a fact that Zach is wack, especially when he talks to Jack Black while he's smoking crack, which lacks the knick-knacks that gets one back from the packed, quacking, yick-yakking, shackalacking sack of Zach's. he is a 'murican and above all else a Hotdog. He is also currently in possession of the majority of the remainder of Nathan's soul.
The Birth
It was a Sunday like any other during summer, hot, sunny, average. Except for one thing, this day was June 10, 2012, the day that term 1 of TIP started. They would all walk in through the doors at brown and enter the common room. Check in with the counselors to receive the information that they had no clue, would become part of our identity. They had Nathan as RC and this RAG would become one of the best to ever grace the third floor of Brown, of Brown itself, of all of East campus. That night they all met for the first time, and headed down to dinner together. The next day they all headed to breakfast together, as is customary the first two days. This Monday happened to be the first RAG night they would have. As they walked to Ben and Jerry's on they chatted and the bond began to form. On the way back, the chant that would be iconic to their RAG was born "NATHAN NATHAN NATHAN NATHAN NATHAN". This chant would be repeated throughout the term, sometimes to the distress of Nathan. This was the birth of Nathan's Hotdogs.
Highlights
Nathan's Hotdogs had many highlight's, some of which effected more than just their RAG.
Quadfest
Quadfest during this term was a first in a long time. The third year dorm, Brown, won. This is speculated to be the first time this has happened during term 1 since 2006. As many people will agree, these competitions are often times won by effort, and the spirit you have (edit: this makes it sound like the fourth-years/Bassett lacked effort/spirit, which is um not true and their entrance song should definitely have gotten second (in front of the horribly sung peagram song) as well as Jakob in Miss TiP.(Jacob didn't win because his politcally based comments were not appropriate for the situation) the RCs thought they were throwing it, is the leading theory. or it was rigged, or something. psh? me.. bitter? still? nah.... ;) kthxbye.). As Saturday wore on, and quadfest loomed near, Brown was dragging, except for one RAG which was incessantly cheering and yelling. This RAG was Nathan's Hotdogs. Their enthusiasm was infectious, and as the spurred the rest of their dorm, the lead the dorm to victory!
TIPsync
TIPsync was very interesting for this group. They spent at least two hours practicing tirelessly on their performance. It was executed amazingly well, the song? Hips Don't Lie, by Shakira. This performance merited many screams, and the boys learned to move their hips in ways that could be said to not be possible for guys. You can view the performance here This then tied them for a dance off or lip sync (their choice) in a battle for first, against the Queef crew and assorted other Frisbros. Nathan's Hotdogs rose to the challenge, and blew away the audience with a performance of journey's Don't Stop Believing.
Exorcism
On the last Wednesday Lucas Ryan was looking through the union store (with Alexa and Keely!!!) wondering what mischief he could get up to. He found that they sold Morton's salt and the idea hit him. He returned Thursday day to purchase the salt (I still think he should've gotten the garlic salt, but he said it would stink up our floor too much and the bottle wasn't as big), and began implementing his plan. He and Andrew Pluemer went to the computer lab in Brown and translated some latin. The result read "Ego dico super senior vox moveo vita vis illae vir in solum. Is vadum tunc perceptum ut sedec in substantia. Somes vadum intereo in processus. Si substantia insum intus alter orbis est fluc in somes of vir. Vita vis vadum redeo quod vir mos have suus vita iterum." which was translated from "I call upon the elder powers to move the life force of this man into the bottle. It will take the form of the substance and learn to reside therein. The body will die in the process. If you wish the man to have his life back, he must drink the substance from the second circle. Then his life will return unto him." They then went to Lucas's dorm (his roommate Phillip had left on Wednesday for china)to begin constructing the circles. After dinner Drew and Lucas returned to Lucas's dorm with some mellow yellow mixed with blue powerade which was placed in the adjoining circle, where they continued to draw the circles and runes required, they were almost late to evening session because they worked so diligently. Then after the final dance that night they returned to place the finishing touches. At their RAG meeting moments later, they told Nathan they had something to show him in Lucas's room. Nathan said he would be in after he grabbed something from his room. Nathan's Hotdogs all filed into Lucas's room, and they turned out the lights. Someone shined a flashlight from their phone so no rules were broken. Nathan entered the door to see Lucas standing in one circle in a dark red shirt, slacks, dress shoes, and a duct tape top hat while holding a book (he wore it for the dance minus the hat). Lucas asked Nathan to step into the circle facing him and warned him not to smudge the salt. Nathan did so and Lucas began chanting the Latin while the rest of the RAG started a low hum, when Lucas finished the Latin, Sam Jarden took the bottle of mellow yellow mixed with blue powerade and nearly drowned Nathan with the holy elixir by bringing it to his lips and making him drink. The RAG then chanted "You are saved" after Nathan drank Zach Toole picked up the bottle and chugged the remainder. A picture of the circles along with Lucas standing in his circle and the bottle in the adjoined circle can be seen below, they used a total of 26 oz or 1 pound and 10 oz of salt. (This was done for the second time in 2013 at term one, however Terricia took Nathan's place.)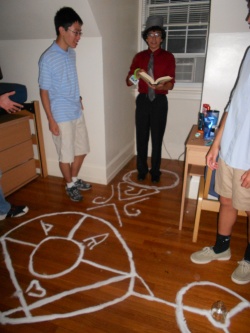 however despite my bitterness-about-quadfest edit, nathan's rag is still pretty hardcore and rad and there are several of them that i will miss quite a bit. that is all. do you see what i did here lucas? adieu now!