Cookies and Cream
From the archives of TiPWiki, the unofficial Duke TIP Wiki

Cookies and Cream was the name of Kevin's RC Group in UGA Term 2 2012. It was comprised of 2nd and 3rd year Tipsters. They roomed on the North section on the second floor of Myers. This was the best RC group that year at TIP (Anyone who says otherwise is lying).
The Original Name
In the beginning, it was voted for that the RC Group name would be "Down to Two Black Guys". This came from one of the groups RC Group Night's, where they were at the end of an activity and it was down to two black guys, Kevin and Isaac. However, the name was not approved and so we went by the name Cookies and Cream after it was suggested.
The Members of Cookies and Cream (Paired by Roomates)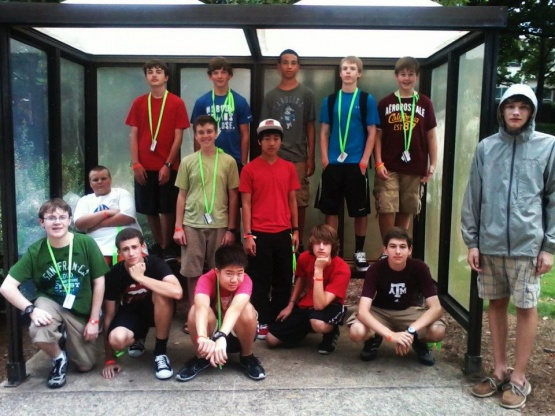 Chuck Rosenbluth: Most likely to freestyle.
Alex Coopersmith: Most likely to have an unlucky nickname.
Devlin Moyer: Most likely to be late.
Cameron (Chester) Guthrie: Most likely to be texting/in love.
Joey Dierkes: Most likely to be Gage's impromptu twin.
Michael (Hanwen) Xu: ..... DUBSTEP!!
Gage Blackwell: Most likely to "Got Flirt?".
Andrew Mull: Most likely to whip his hair back and forth.
Ryan Chandler: Most likely to give someone a high five.
Even Gambill: Most likely to use a "fake" man voice.
Alex LeCates: Most likely to be always wearing a cool shirt.
Charlie Kelsey: Most likely to "SMILE.. "I am smiling!"".
Jacob Walp: Most likely to endorse Nike.
Isaac Carbajal: Most likely to not "GET MAD BRO!".
Chuck Rosenbluth
Chuck Rosenbluth was the roommate of Alex Coopersmith. Chuck was a third year who took Sports Medicine at UGA. He was Jewish, as well as his roommate. He could be found playing basketball out in the Quad during Free Time after class. He was also a pretty good rapper.
Alex Coopersmith
Alex Coopersmith was the butt of most of the Cookies and Cream's jokes. He was titled another horrible nickname, following the trend set last year. He was a third year as well, taking Philosophy of Knowledge. He was a big time baseball fan, and even more so a Mariners fan. He could always be heard talking about one of two things, baseball or politics.
Devlin Moyer
Not much is known about Devlin Moyer, except the fact he was incredibly late one night for the RC Group meeting. He was assigned to do seventeen pushups, something he got away with not doing. This year he took Cryptography, and he could usually be found in the nook between the north and south sides of the second floor playing cards.
Cameron Guthrie
Cameron was dubbed 'Chester' by Reed one day, and the name just sort of stuck. Pretty much everyone called him that, and some didn't even know that wasn't his real name. He took Algebra II with Reed, and was usually yelling something to someone, such as "Stoop Kid's gonna leave his stoop!"
Joey Dierkes
Joey Dierkes was one of two Asians in Cookies and Cream. He was a second year, previously attending ASU. He was known for constantly dancing with his hands, an art called Tutting. He was also known quite well for his sense of style, something not most other guys had. Joey took Criminal Law and Mock Trial, and loved every second of it. Joey never had a set place he hung out, it was wherever, whenever. However, he could usually be found with Gage, as the two had a bromance.
Michael Xu
Michael Xu was incredibly tall, rivalling the height of Chuck. He too was a third year, and took Philosophy of Knowledge. He was pretty much always seen with his iPad in hand, along with either his headphones or speakers. He was known to randomly play dubstep at any point of the day. He was also made in China.
Gage Blackwell
Gage's real name is Bryan, but nobody calls him that. He was basically the flirt of the group, flirting with about every girl until settling in on a relationTIP with Sarah. Gage took Inspired Writers: Refining Your Creative Voice, and did not care much for it. It was his first time at TIP, and he certainly had the time of his life. He was usually seen with Joey, or a number of girls.
Andrew Mull
Andrew was a second year Tipster, previously knowing Michael and Joey. He took Robotics and had a fun time with that. He had a long-term relationTIP with Dylann, and could usually be found with her.
Ryan Chandler
Ryan was a second year Tipster who took Intro to Veterinary Medicine. He was also high fived everyone he saw.
Evan Gambill
Evan took Robotics along with Andrew, Jacob, and Charlie. He spoke in a deep voice, often mistaken of an RC.
Alex LeCates
Alex was a quiet kid, taking Team Programming for Video Games alongside with Isaac.
Charlie Kelsey
Charlie was known as the person who always smiled no matter what. He took Robotics, and bought a small spider like robot on one of his field trips.
Jacob Walp
Jacob took Robotics and had a relationTIP with Alexis, after spending just one Evening Activity with her.
Isaac Carbajal
Isaac was one of the famous, "It's down to two black guys" and pretty much always in a chill mood. He took Team Programming and usually played basketball with Chuck outside.
RC Kevin Cobb
Kevin was undoubtedly one of the greatest RCs to walk the planet. He was big on the whole team idea, and made sure we always stuck together. He sometimes spoke in a British accent, especially when meeting Charlie the first time. He was known for giving out stars to creative ideas people had. He was loved by everyone, and will be well missed by all of the Cookies and Cream.
TIP Events
The Cookies and Cream participated fully in every event they came across.
For Game Show Night, several of them participated in Family Feud, but lost drastically to the opposing team.
Five members, Joey, Gage, Andrew, Coopersmith, and Ryan, performed a decent performance of "What Makes You Beautiful" for the Lip Sync. It was co-choreographed by Michael and Joey in about forty-five minutes. They did not place, but was a crowd pleaser.
They were also a part of Dawgfest's Green Team, or the Benjamins. It's noted that Green Team placed fourth overall, but to no fault of any of the Cookies and Cream.
RC Group Night
For their first RC group night, Cookies and Cream walked to Five Guys and Ben and Jerry's in the rain, and walked back in the rain. The food was good, but they got many weird looks from other tipsters who had stayed dry during mandatory fun.
For their second RC group night, Cookies and Cream went to Yoforia, a local frozen yogurt place. There they got frozen Yogurt, including one cup from Joey that was full of fruity pebbles that melted and smelled terrible. Then they spent the remainder of their night playing group games including one where they had to make a start on the ground, and where the famous phrase "Aren't stars circular?" came from.
For their third RC group night, Cookies and cream went to the mall where they did a scavenger hunt. In the scavenger hunt the three groups had to take pictures with certain objects all over the mall. They all had a blast doing the scavenger hunt, and they got to go shopping in the mall! But one group happened to walk into a nonTipPropriate store...