Lucille Cotman-Morrison
From the archives of TiPWiki, the unofficial Duke TIP Wiki
Lucille "Lucy" Cotman-Morrison is a 3rd Year - 4th Year.

| | | | | | | | |
| --- | --- | --- | --- | --- | --- | --- | --- |
| Year | Year at TiP - Year/Age | Campus | Term | Course | Dorm | RC "RC Group Name" | Roommate(s) |
| 2012 | 1st Year - 2nd Year | Texas A&M | II | Inspired Writer: Refining Your Creative Voice | Moses hall | Lindsay "" | Deborah Shoola |
| 2013 | 2nd Year - 3rd Year | Texas A&M | II | Inspired Writer: Refining Your Creative Voice | Moses hall | Debbie "" | Ciara Gibbs |
| 2014 | 3rd Year - 4th Year | Rice University | II | Modern Medicine: Disease and Immunology | | Christine "The Suite Ladies" | Nicole Dudley, Anna Ta, and Haley Nicole Michaels |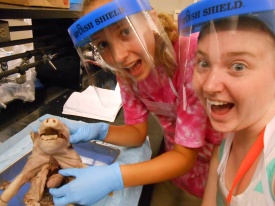 The All Nighter 2k14
On the last night of her fourth year at TiP, Lucy (along with her RC Group The Suite Ladies except for Haley and Nicole, who slept cause they were very tired) pulled an all nighter in Carolina "CC" Sanchez de Varona, Emma Hamrick, Hannah Lyons, and Doris Zhao's suite in the at Rice University. Needless to say, it got weird.
Lucy running on no sleep for longer than a day is one of the funniest things you will ever experience. CC got Lucy to chug a bottle of Sprite that Doris had left behind, which almost made Lucy throw up (again, sorry Lucy).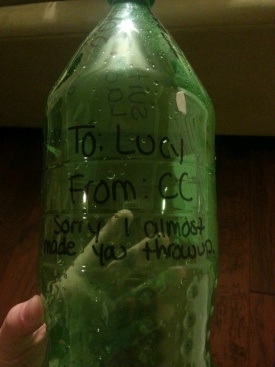 Lucy is well known for a number of different things. She could be seem jumping or dancing through the hallways at almost any given point. She could also be heard and recognized easily by her loud and unique laugh. She is also the original teller of the now infamous cheerio joke. During her fourth year you could hear her scream every time she saw anyone wearing RC Holden's donkey mask. She also was a lover of ultimate frisbee and played in the staff vs. student game every year she was at TIP, and was a member of the winning team of students during Rice Term II 2014.