Student/Staff Game
From the archives of TiPWiki, the unofficial Duke TIP Wiki
When speaking of the Staff/Student Game, one must realize it's the Texas version of any sort of TIPster against Staff Ultimate game.
Term I
TAMU Term 1 2010 also beat their staff for the first time in Texas TIP history led by the great Luis (most famous Term II TIPster EVER), believe me the staff rubbed that in our faces after our horrific defeat Term II. But great job Luis! -Audrey
The truth of the matter is that everyone will remember this day forever and ever and one of the most epic days in tip history. It goes without question the Chester Chambers and his good friend Chris Mast captained one of the best Water Color teams to ever play the game.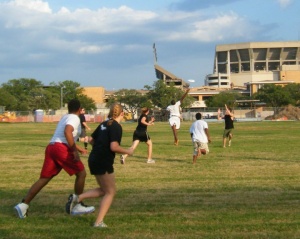 Chester
Chris
Tucker
Zach
Michale "Sun Shine"
Benn "with 2 n's"
Jon "Blondy"
Scout
Salest
This group of unimaginable tipsters bonded together and won the student staff game for the first time in over a 20 years. The students jumped to an early lead at one point it was 10 to 3. Then they began playing backup players. With the immense help of the giant RA Stephen the counselors came back into the game and the game went back and forth with huge passes by Tucker and amazing catches by Chester. On the other side Stephen seemed unstoppable in the in zone and Tucker resorted to calling cheep fouls. Then the score drew to a stand off at students 14 staff 13. Back and fourth the frisbee worked it way up and down the field both sides having scoring opportunities. in the end Tucker threw a bomb to Chester and 10 yards from the end zone Chester neglects to pass to a wide open Benn and instead looks to Blondy who miss read the frisbee and at the last moment made a swiping dive. The frisbee was inches from touching the ground but never hit the blades of grass. The amazing thing is no one contested the catch and it stood and a win for the students. ( Do not forget Zach through the majority of the scores)
After was a mess of celebratory euphoria in the after math of this historic win. The counselors gave just one piece of pizza to each Chester, Tucker and Jon.
Term 1 2011- The students won again- technically.Lead by Isaac Kravitz, the Grey team's Ultimate team, along w/ blue team member Grant, fought a hard, waterless battle for twenty minutes, before the match was called off. Final score was 3-2.
Term II
Captained by Brother Koala Kyle, the TIPsters suffered a crushing defeat, even after rallies from the Stacked Team. Kyle played a fair strategy, making sure everyone had playing time who desired to do so. Unfortunately, this was also a weakness, as not everyone is a Ultimate natural. Trying to split up the talent, some teams were exploited for their less experienced campers. After realizing the need to get points on the board quick, the Stacked Team was born. Although the players who were involved could have made two teams, the best TIPsters were assembled. (Roster later) Seeing the success of this group, the strategy of any future captain is to convince those who aren't up to snuff, to please make it easier and opt out of competing. We're smart people, we can make a winning team every year.
May any revisions be added to the recollection as viewers see fit.
History of the game
Year
Campus
Trinity
Davidson
New College
Wake Forest
East
West
Georgia Tech
Marine
Austin
Rice
UGA
App. State
Univ. Kansas
2014
Term 2
Win
9-5
Win1
9-8
2015
Term 1
Win
Win
7-2
Win
7-1
2015
Term 2
Win
11-1
Win
4-3
None
2016
Term 1
Loss
14-15
Win
11-3
2016
Term 2
No Match2
0-0
Win
15-7
Win
11-6
2017
Term 1
Win
2-03
Win
11-8
2019
Term 1
Win
31-0

1The student win debated by staff, but Cameron stepped in and concluded student win. Final catch was a diving grab by Chris Gouin.
2The staff decided to call off the tourney (students-students and students-staff) 90 minutes before it was scheduled to begin due to rain. As it was the third week, there was apparently no hope of rescheduling, to the grievous cries of nearly the entire camp. Many angry comments resulted from this.
3The game started with two quick scored by the students, but it then started to rain. The game was planned to be resumed during quadfest, but the students and staff were too tired to restart the game. This led to a game of Dream Team vs. Watercolors where Dream Team won 8-3.
In 2019, at Duke East Term 1, we finally had a staff v student game after so many years of raining!