User:Audrey Bronze Nails
From the archives of TiPWiki, the unofficial Duke TIP Wiki
Audrey Dighans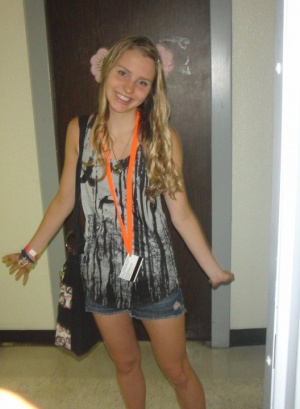 TIPster: Texas A&M Term II 2009-2010
RC: KU Term I & II 2013

Believed by many TIPsters to be a 4th year 4th year for extensive knowledge of the A&M campus and enthusiastic TIPness. Sadly, Audrey was only a 2nd year 4th year, but she turned out to be one of the most TIPpish of all TIPsters. with an incredible ability to memorize just about everything ever posted on TIPwiki.
During her 4th year she brought an entire suitcase full of costumes, face paint, and spray in hair dye for any and all TIPsters to use at leisure. Naturally she never missed an opportunity to dress up for any TIP event, and encouraged many TIPsters to take advantage of face paint. She insisted that her Ag Fest Team (White Team) wear it, and the Student Ultimate Team.
Audrey's room was a hotspot for TIPsters to acquire Cheez-its, Twizzlers and Fuze Fruit Drinks (Except Banana Colada ones because those are her favorite). She insisted that nobody pay her for eating her junk food and became rather furious at Jonathan when he did. Several attempts were made at sneaking the money back to him, all failed.
Accomplishments while at TIP include: Signer of the petition keeping 4th Year Will privileges, Instigator of TAMU's first Fort Friday, Teacher of "The Hand Game" and "The Cinnamon Roll Hug", Longest Girls 4th Year Will, 3 day reign of being undefeated at ERS, Hostess of 2010 3rd Floor Dance Parties, and Author of "TAMU Edition of YKY@NCW Jokes" and "100 Reasons Why Duke TIP Should be a Boarding School".
Sorry To Interrupt Your Flirting
In 2010 instead of drawings and artwork, Audrey's Dorm Door was covered in TIPjokes and Quotes from events happening throughout the Term. The first quote to be posted was put up in mockery of the most disliked RC of Term II 2010, for her interruption of an ERS Game between herself, Taylor and Caleb in which the RC stated "Sorry to Interrupt your Flirting". Every TIPster within earshot of this remark was offended, especially Taylor who responded with "I have a BOYFRIEND!", the incident at dinner that day was later used during Evening Activity as the plot for Audrey, Ellie and Rachel's Sock Puppet Show of "NO FUN" show.
RC's
2009: Red-hair Elizabeth
2010: Cassondra (1st place at Cattle Call)
Roomates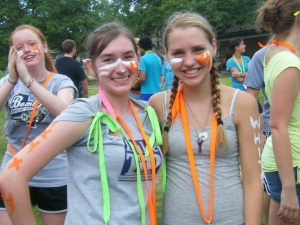 2009: Terry ()
Term Page Awards:
Audrey: Bubblegum Pop Britney

2010: Rachel ()
Audrey and Rachel played the Nerds in their RC's Roll Call Skit to the "Saved by the Bell" theme song.
The two were known to inhabit the Sneaky Box from time to time
Term Page Awards:
Rachel: Nerdiest Nerd Chick
TIPlations
In a RelationTIP with Hunter, Term II 2010
Kat a.k.a. Twin
Being greater than Best Friends, and better than just sisters, Audrey and Kat are known across the Texas A&M TIP program as Twins. Don't even try to discourage it, they're Twins. The story goes they were seperated at birth, Audrey's adopted family moved to Kansas while Kat's stayed in Texas. The two grew up where they discovered each other and were reunited at TIP summer 2009. (Note this story has no actual truth, but neither Twin will EVER admit to it. Better to just go along with it)
During Term II 2009 the two discovered they both had matching dresses from American Eagle (Audrey's is green and Kat's blue), and matching pajamas, further showing off their Twiness. Summer 2010 they used this to their advantage for Twin Day.
Andy a.k.a. BESTIE!!!
Both in Web Design Term II 2009. Not very close at first, but friendship grew throughout the term.
Both have a serious addiction to hugs and were often yelled at by RC's for PDA.
WERE NOT A RELATIONTIP! EVER! Andy and Audrey are strictly Besties. The thought of dating each other completely disgusts them. They are close best friends of the opposite gender, that is all. The only subject that they never approach is each other's love lifes, though Audrey often mocks Andy for being a Ladies Man and Andy repeadetly tells Audrey to get a boyfriend.
Andy is rather famous for running the Candy Black Market of Term II. Audrey is the only TIPster (besides himself) that gets free access to his rather impressive candy stash. Also, she is allowed to wear his beanie whenever she feels like it.
At each dance the two share at least one slow dance, known as the Bestie Dance. This is the only slow dance that has ever been approved by an RC.
Niki and Jeneane a.k.a. BFFLE's a.k.a. Best Friends For Like EVER
All three in Inspired Writing Term II 2010.
Took up the back corner of the classroom every day. That was there spot and everybody knew it.
First to peer-edit each other's works, and always caught on Facebook playing Scrabble when the class was at the computer labs.
Emmaline a.k.a. Lil Sis
Audrey's incredibly cute and amazing little sister. A 2nd year, also in Inspired Writing, Audrey took her under her wing and helped her into the TIPspirit.
Taylor a.k.a. Best Friend
In Cassondra's AWESOME RC group summer 2010.
Their friendship was formed the first night of TIP during their first of many epic ERS battles. This is the same ERS game where Audrey recieved her nickname "Bronze Nails".
Classes
2009: Web Design (Instructor Jill Nichols, TA Zach Musgrave)
2010: (Instructor Brady Nash, TA Erica Mason)
Nicknames
Audi from Guneev
Twin from Kat
Kansas from Web Design Tshirt
Bronze Nails from Taylor
Bestie from Andy
Mom from Cecile's 2010 RC Group
BFFLE from Nikki and Jeneane
Tree from
GPS from TA Erica
The Left Foot
There is a curse on Audrey's Left foot. It is always the foot that is stomped on, stubbed, smashed, stepped on, tripped on, basically any injury that can occur to a foot happens to it.
In 2009 while walking from the game to the Texas A&M Bonfire Memorial, her unbiological Twin Kat stepped on the back of her flip-flop that cut into her skin and made it unable for her to walk for the remainder of the evening without the assistance of others. Richard and Hunter acted as her crutches until RC's chased them off and the task fell to Kat.
In 2010 during the while walking to the office, she slipped on an green mint oreo smoothie spilled by an unknown second year, and was unable to walk again. Hunter and Unyime became her crutches and helped her get to Denney's for the traditional 4th year's 1 a.m. breakfast.
Her Twin, Kat, left her an un-injurable left foot in her will :)
Recently
Audrey is now at KUs campus as a beloved RC of the 4th floor. She took pictures of every event and led us to victory at the Scavenger hunt and Swampfest. Audrey decorated our floor with creative posters that we all loved! She let us use her costumes supplies when ever we need them too. She was an amazing RC who was kind and full of sparkles! I was lucky to have her as a RC and will miss her!
Recently in 2014
Audrey or as we like to call her Mommy was one of the best RC's i have ever had!. She was kind, a leader, and a role model, she has inspired me to be an RC and every guy in her RAG in 2014 is very thankful to have had her for an RC. We love you Mommy! Even Chandler although he is a Mizzou fan.