The Basement Floor
From the archives of TiPWiki, the unofficial Duke TIP Wiki
The Basement Floor
Social Group

Campus(es)
Davidson
The Basement Floor is a social group that started at Davidson term two of 2015. It is composed of Alex's RC Group (Bennett, Josh, Paul, Scott, Jack, William, Daniel, Will, Joaquin, and Adam), Elizabeth, Izzy, and Mira. Other members include Emily and Ryley. A branch of The Basement Floor is the Bro Code, being founded by Alex's RC Group. Although 2015 Term 2 is over, the members of The Basement Floor are using their group chat to find out what university they will all (more or less) be attending in 2016. Disclaimer: must be a university that has both terms or Term 2 only because Joaquin lives in Peru, and he still has school during Term 1 (Marine Lab is ruled out).
History
The Basement Floor started out small on the first day, just a small group of intertwining friendships. Then Jack went out with Izzy (July 10th), and the female members of The Basement Floor began hanging out with Alex's RC Group in the hall and at meal times. During the first week, the inside jokes started to take place in the group and a group text was formed, giving a definition of who the members were (other than Alex's RC Group). During TIPSync (the end of the first week), Alex's RC Group became closer. At the beginning of the third week, Ryley joined. Although The Basement Floor started on the first day, their name originated sometime in the middle of the first week when a makeshift beat was made at the Alex's group's lunch table (They had to sit together the first few days). Bennett stated that they should become a band (as a joke) and the convo led to coming up with the name: The Basement Floor.
Inside Jokes
Freakin A!!
Peruvian God!
Idiot!
Train!!!!
Quit being so basic.
Biscuit
The 9 Steps
Pang Zi (Fatboy in Chinese)
Bro and Ho Codes
Joaqueen
"Spades" 😏😉
Fatboy
Nine-Sided Triscuit
Memorable Moments
These events are in no particular order
Josh jokes about Elizabeth and Joaquin.
Josh jokes about meninism.
Mira eats too many powdered donuts.
William Rick-Rolls all of TIP.
William falls asleep in 1 minute and has a late reaction time when being woken up.
Josh exposes his feet and smelly socks.
Izzy uses the superimpose app multiple times in the group chat.
Joaquin tells William that he's been singing an inappropriate (in Peruvian culture) Spanish song.
Mira spills her coke all over the floor.
Mira plays with too much salt and pepper.
Jack acts clinically insane.
Josh knows all of the words to American Pie.
William dips his cookies into his Sprite.
Almost everyone from The Basement Floor chose Project Runway for their evening activity.
Playing "spades" in the basement hallway.
Alex's RC Group "bonded" over Mean Girls, Starbursts, and three hours late delivered pizza.
Alex's RC Group "bonded" over Ultimate Frisbee, S'mores, and Soccer
The Basement Floor (and some of their friends) broke the record for most people seated at a round table (16) by four.
Members
These names are in alphabetical order, not in the order of initiation into the group
Adam Sowder (with Ryley)
Bennett Andersen
Elizabeth (with Joaquin)
Emily
Izzy Leonard (with Jack)
Jack Knox (with Izzy)
Joaquin Arosemena (with Elizabeth)
Josh Kohn
Mira Thakur (with Zach)
Ryley (with Adam)
William Gordon
Music
If any music is spelled incorrectly, has an incorrect link, or the name is wrong altogether, feel free to correct it
**IF YOU KNOW OF ANY MUSIC THAT THE BASEMENT FLOOR LISTENED TO TOGETHER, PUT IT HERE**
Post-Davidson
After Davidson, The Basement Floor still thrives as a social group. But TIPression also creeps in ...
TIPression
---
TIPression is the post-TIP sadness* that [most] TIPsters feel after they get home and realize they may never see their close friends again. TIPression for The Basement Floor is easier because they have a group chat and they plan on going to the same university for 2016. These are the members that suffered from TIPression:
Okay, basically the whole Basement Floor suffered from TIPression in at least ONE way.
Symptoms of TIPression are:
Flashbacks of your best times at TIP.
Physical Sickness (Vomiting, Stuffy Nose, Scratchy Throat, Aching Muscles, Headache) [Izzy and William]
Changes in appetite; you may eat too much or you might not want to eat anything at all.
Waking up drowsy.
Laziness.
Mood Swings (in some advanced cases).
Treatments:
Disclaimer: In some cases, these treatments can worsen TIPression. Proceed with caution when carrying out treatment.
Listening to songs heard at TIP
Editing TIPwiki
Looking at pictures from TIP
Keeping in touch (text, group text, email, phone calls, Instagram, Snapchat)
Wearing your class and RC Group shirt
Basically, TIPression was (correction: IS; TIPression never truly goes away.) present in [almost**] all members.
And that is TIPression in Post-Davidson.
*The person who made this page (/William) was in Psychology and that class is very sensitive to people throwing around phrases like "depression" or "OCD." Therefore, the creator of this page tweaked the definition.
**Will liked TIP but was ready to leave on the last day.
Group Text
---
Oh man, how can I even begin to explain this complex series of radio waves and ones and zeros and inside jokes ...? Yeah, okay let's be real, it's just like any other group text that you might see. The only difference is the involvement of TIP.
Alright, so as the tale of TIPression goes, everyone's sad about leaving TIP. Tears. Constant Snapchat and Instagram (and for you alumni from years before Insta, Facebook) refreshments. Listening to TIP songs to the point where you go crazy (and your family tries to kill you/sing along and ruin the emotion), All that stuff. Most of us (not including current TIPsters in the program at this very moment) have all experienced TIPression. Because of this we all know that the number one form of communication between TIPsters is basic SMS/iMessage. So, of course, we all got each others numbers by making a group text to basically talk about everyday life with references to TIP.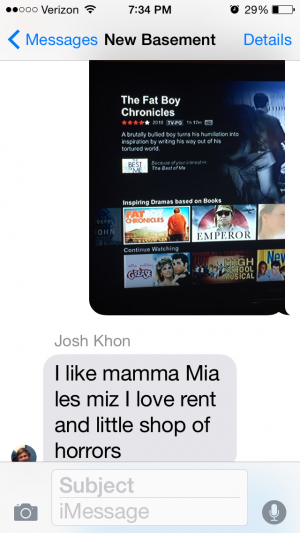 .
Announcements
Okay, just because TIP 2015 Term 2 at Davidson is over, it doesn't mean that we've stopped announcing our achievements and key moments to the world of TIPsters. This page's purpose is to post any announcement a Basement Floor member has to make.
Ladies and Gentlemen, Boy and Girls, Damas y Caballeros, Niños y Niñas, Mesdames et Messieurs, Garçons et Filles, etc. ...
HERE ARE THE ANNOUNCEMENTS!
---
8/25/15 | Mira makes her school's volleyball team. CONGRATS, MIRA!!
8/26/15 | Our page has been accessed 600 times! Yay! (Even though it's probably only been us)
8/27/15 | HAPPY 14TH BIRTHDAY, JOAQUIN!!!!
9/02/15 | HAPPY 14TH BIRTHDAY, IZZY!!!!