The Threesome
From the archives of TiPWiki, the unofficial Duke TIP Wiki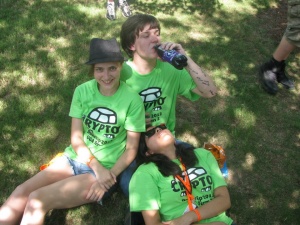 The Threesome refers to the "relationship" (or the conspiracy by the
Cryptobabies
) between Michael "Ryan" McAtee, Jazmine Monreal, and
Sam Snyder
during the 2012 Term 2 at UGA. There was a lot of controversy surrounding it, especially considering that depending on who you ask at different times, each of the three will give you different answers.
The Third Floor Incident
During evening study one night the class was split into groups of three to make clues for an impending scavenger hunt. Jazmine, Michael Ryan, and Sam were one such group- but unlike the other groups instead of coming back with their clues they stayed on the third floor for most of evening studies. Jarrad Pemberton went to find the group and found them lying on the floor by the stair case, with Ryan covered in sweat.
What The Class Claimed Happened
It was obvious to the class that when the three were the lasts ones back that something was going on. Added to the fact that Ryan was covered in sweat was proof that something went down. Jazmine came back babbling about a "dark room" which only elevated the class's suspicions.
What The Threesome Claimed Happened
Jazmine and Sam rambled on about how they'd "played spies", ran from people who actually worked in the Aderhold Hall, and the "scary dark room".
Awkward Fourth Wheels
With any couple (or threesome in this case) there's always at least one extra person, sometimes several. Over the course of the three weeks several people joined, filmed, and followed the group.
Hannah
Hannah, or HK as she was known, was the girlfriend of Sam and close friend to both Jazmine and Ryan. She never disproved the relationship and often claimed that as long as she got to film the whole thing she was perfectly okay with it.
Devlin, a fellow Cryptobaby, was the perpetual fourth wheel. He was good friends with the Threesome and was often seen with them but never "with" them. On the final day he was often asked to take pictures of them while never being in them himself- though that was remedied as there are a couple of pictures now with the others.
Osito
Osito is the boyfriend of Jazmine who, though he wasn't a Tipster, was often brought into conversations. He once stated that as long as he was there he didn't care what happened between them.