Cryptobabies
From the archives of TiPWiki, the unofficial Duke TIP Wiki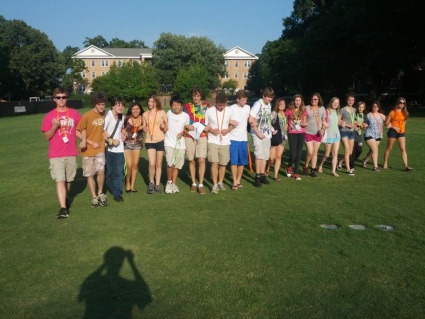 The Cryptobabies was a group of 18 students in the Cryptography, Codebreaking, and the Mathematics of Spying class at UGA Term 2 2012 (although the same class from Term 1 were also called Cryptobabies). Led by TA Anthony Valle and Dr. Crystal Clough, these TIPsters were involved in anything ranging from three-ways to "intentional" frisbee hittings. Oh, and they know your password.
The Members
Crypto"parents"
TAnthony Valle - Most likely to be late for his own funeral
Dr. Crystal Clough - Most likely to... withheld for professional reasons

Cryptobabies
Adam Williams - Most likely to glockenspiel
Allison Rosen - Most likely to become a body builder
Anthony Liu - Most likely to gather souls
Chip Allen - Most likely to steal a pole (in reference to the removable yellow parking poles in front of Aderhold Hall)
Claire Wright - Most likely to count the calories of others
Devlin Moyer - Most likely to tie-dye his children
Emily Moser - Most likely to moose Mark
Eva Cook - Most likely to fall in love with Wall-E
Jarrad Pemberton - Most likely to sell jewelry
Jazmine Monreal - Most likely to speak Spanish in a British accent
Jordan Pilant - Most likely to have turtle babies
Karen Lambeth - Most likely to dance sporadically
Kayla Saslow - Most likely to request a mustache
Laurie Sheldon - Most likely to conquer the world with cows
Mark McGuire - Most likely to moose
Michael (Ryan) McAtee - Most likely to marry himself
Sam Snyder - Most likely to Slytherin
Sterling James - Most likely to roll down Mt. Everest
Class Life
The Conspiracy
Some class members (Ryan, Jazmine, and Sam) were involved in what was known as the rest of the class as a "three-way relationTIP."
Sayings
"Leave the diversity dolls alone:" popularized by Dr. Crystal because of Chip Allen's "arrangements" of the puppets in the Kindergarten Room in Aderhold Hall
"Po-po Sci-sci:" in reference to the Poultry Science building where class was held on occasion
"C'mon guys, I'm not afraid of bananas:" in reference to TAnthony (who is scared of bananas)
"Free the trash squirrel:" because of a squirrel that TAnthony saved from a trash can on the second day of class
"Elevator party:" a party held in the elevators of various buildings which frequently included violent jumping
"Cross, cross, cross, cross, cross:" TAnthony's rambling before crossing each "road"
"The Apple Has Been Eaten": A saying that was often used as an encryption and to spam each other.
Bus Surfing
A common method of transportation for the class was the buses do to TAnthony's inherent laziness. Very soon after term started was when he introduced bus surfing to his Cryptobabies. Some of the first to take up the sport were Kayla, Chip, and Michael. Sam, Jazmine, and Anthony soon joined too. Adam made several "attempts" to join but never actually let go of the handles.
The sport resulted in several near falls across the bus, someone almost falling out of the bus, and threats from other TAs as the class spread the sport to others. Once, Super RC Cassidy joined the fun after she came to visit TAnthony.
Outings
The class would frequently be held in Aderhold Hall and Poultry Science, using an elementary education classroom and two different upstairs classrooms at Aderhold and Room 319 at Po-po Sci-sci. They ate lunch at Snelling Mon-Wed and Summit Thu-Fri. Smoothies at Summit were cherished. Evening Study was held in various rooms in Aderhold, though the Koi Pond was often visited. This led to a class-wide love of turtles, which ended up on the shirt for the term.
Often, class members would climb the trees outside of Summit while TAnthony slept. He had many bananas hurled at him, and his shoes often ended up tied together.
Skits
Dr. Crystal made the class do several skits portraying major events in Cryptographic history, most notably the conviction of Mary, Queen of Scots, for committing treason against Queen Elizabeth. When the class was given the option of changing the setting things got a little out of control.
The Bar called Scots

The group consisting of Jarred, Sam, Anthony, Jazmine, Karen, and Claire chose the Wild West as the setting for their skit. Sheriff Eliza (Sam) and Toni (Anthony), Queen of a bar called Scots, were disputing over an underground brothel run by Toni while Sheriff Eliza disapproved. Eventually it was resolved when Toni was sentenced to death by electric chair after sharing one last kiss with his husband TAnthony

World War Two
Sterling's Lovely Wedding