Vermonster
From the archives of TiPWiki, the unofficial Duke TIP Wiki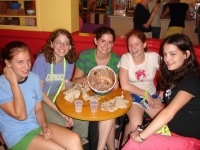 A Vermonster is a very large tub of ice cream from Ben & Jerry's. It consists of twenty scoops of ice cream in up to five different flavours. It is topped by brownies, chocolate chip cookies, bananas, chocolate and caramel sauce, chocolate chips, sprinkles, masses of whipped cream, and one cherry. It comes in a gallon-sized plastic tub printed with cows. Vermonsters are sometimes prizes.
Also, during East Term II 2007, Rachel Watson began to carry around a baby named Vermonster (he was 8 months and 3 weeks premature) who may or may not have become a TiP relic, as he has a large family and was passed down to a third year, Taush. Also, Vermonster is the first official .
During East Term II 2008, he was passed down to Fat Tony, a third year then.

and some people, like myself, believe that Vermonster will take over the Llama. (It won't)
Steve Wazny ate a 2 Vermonsters in 4 seconds flat. Without a spoon. Unfortunately, no one was there to witness it, except Chuck Norris, and he isn't going to say anything cuz Steve beat his record by 2.7 seconds.
During Term 1 2013 Andrew Tuttle, Sean Ozyazgan, Ray Xie, and Brendan Sheehan ate a Vermonster with all of the toppings on it in 11:41.3 after eating burritos from Cosmic. This smashed Connor's rag's time of 12:59 the day before, who had not eaten from Cosmic.
Stillman Hanson, Joseph Stewart, and Nick Simmons(Three!) finished a Vermonster in 21 minutes. It isn't official, because Nick and Joseph threw up in the bathroom 2 minutes later. This was Joseph's second time throwing up in the term. Jack Farris, and 2 or 3 others (including Stillman from his class, who was still hungry) finished a vermonster in 15 minutes, at Davidson Term 1 2012
Nico Leis, Parker Kelly, and Conor McAvoy (3 people!!!) ate the vermonster in 16:32 during Mike's first RAG night, then proceeded to rout Duncan's RAG in ultimate by a score 11-1. (Conor and Nico were undoubtedly their best players... And they had trouble walking, let alone running.) East 1 2012
Tyler Tinari, Javier Mirabal and Ian English finished a Vermonster in about 35 minutes. However, Tyler finished about half of it after Ian bailed out in the first 10 minutes. At the last 7ish minutes, Tyler was the only one left. He took his merry time to finish it. None of them threw up.
Danny Richey, Mehul Mehta, Patrick Russell, and Jon Drawdy (he sorta threw up) ate the last known Vermonster at Duke East Term 2 2008.
Joe Sharp(who championed the effort), Brian Strubbe, Ward Frances, Alex Goldberger, and Matt Benenati ate a vermonster at Duke East Term 1 2009.
and Sarah Garza won a vermonster after the TIPsync (east,1,2009), which was eaten by Sarah, Cat, Emma Joslyn, Emma LaBounty, David Eskin, Joe Sharp, and Cameron Howell without the knowledge of Spencer Davis, who was invited but had RAG night.
During West Term 2 2010, Kats RAG succesfully conquered the vermonster, on the first tuesday of term during RAG night. Afterwards, the entire RAG went on a fight for survival when they had to jog back from Ninth Street in the middle of a dangerous thunderstorm. Fortunately, the group took shelter under the Nasher museum and waited while RC's came and drove them back home. It was intense, and a night to remember.
During East Term 1 2010 Andrew's RAG (Third floor brown) successfully finished a Vermonster in under 5 minutes.
During East Term 1 2011 Josh's RAG successfully conquered the Vermonster in a record 1:51.
During West Term II 2011, Cyrus Homesley, Ben McFarlin, Blake Hawley, and Jacob Caudell finished the Vermonster in 14:38. It should be noted that they added gummy bears to there's, making it about twice as difficult.
Right after Cyrus, Ben, Blake, and Jacob, another group of four strapping young men did the Vermonster in 7:58!! This group was comprised of Alex Rickabaugh, Zach Copeland, Cos Centanni, and Benson Robles. They had no gummy bears xD
At East Term 2, 2012, the performing arts group, NO SHIRT BUT A SWEATSHIRT (Ian English, Clayton Delp, Tyler Tinari, Max Sowatzka and Kyle Daniel) used a Vermonster bucket (and the Llama) in their rendition of the Lion King's 'Circle of Life' after Clayton and other members of his RAG completed the Vermonster.
At Davidson Term 2 a group of young men including Richard "Lucky" Depersio, Frankie, and some other people who I don't know the name of attempted the Vermonster, but did not finish, as one kid threw up in the bucket, Lucky somehow mistook the vomit for more Icecream, and ate it.
On Hannah's first RAG night of East Term II 2013, four of her girls conquered the Vermonster in under 15 minutes. The bucket was presented to Riley Knight who promptly put it on her head and wore it that night, the last night, and at the airport.
Clay, William, Daniel, and Kent, on July 16, 2015, completed the Vermonster in 8 minutes and 24 seconds. William was the real MVP because he had done The One less than twenty-four hours prior.
Anthony's 00's completed the vermonster in 8 minutes and 31 seconds. They had seven faithful worriers take on the challenge, with one dropping out.
At the end of UGA Term 2, 2016, The Milkman (Trey Avent), Chris Gregoire, Martha (Jack LaMarche), Josh Brandon, and Sung O completed the Vermonster in 4:44. This was completed after about a mile run to this Ben & Jerry's.
On the final RC group of Term 1 UGA 2017. The RC group "Mike and the 12 Kachows" took on the Vermonster, despite their beloved RC Mike Stevens urging them not to do it. The group finished in a UGA record setting 3 minutes and 45 seconds after the heroics of Jacobi Glenn took the bucket with just the melted ice cream left and proceded to lift the bucket and drink it, spilling it all over him. Those that witnessed this truly legenDAIRY event said the true heroics brought tears to their eyes because of his true sacrifice and courage. Jacobi is a TIPster who is rumored to dip his OHouse food in his soda, then proceed to eat it. Nevertheless, this RC group tackled this challenge head on, finished off by Jacobi, to have previously had the best Vermonster time in UGA Tip History.
Durring term 1 of UGA 2018, a combination of tipsters from Aaron's thought patrol group and Tristan's unnamed group took on the challenge. In all there were 13 brave souls. They absolutely destroyed the vermonster, devouring it within 2 minutes and 46 seconds. Some of the gladiators that helped eat the vermonster (Jackson Evans, Shaun Rousso, Bennett Hargis and Fred Stanley) were also from the "Mike and the 12 Kachows" group that had gotten the pervious best UGA record a year earlier.
At West 2015, Peters RAG finished a Vermonster along with 2 pints of sorbet in 2:44.
At UGA Term 2 2018, all four 4th year RC groups attempted the Vermonster and they all completed it in record times. The most extravagant was Tristan's RC group, now known as the Sub 4 five. The Sub 4 Five consisted of Jake Huggins, Kenny Flores, Jack Campbell, Clayton Glasser, and George Hurt. They finished the Vermonster in 3:57:59, the first to finish below 4 minutes in TIP history. Maggie's RC group, Brooklyn Niravong, Claire Turner, Abigail van Pelt, Mel Giquel, and Annika Miller also finished in record time. At 7 minutes and 52 seconds, they broke the girl's record during the first week until Cameron's RC group, Madeline Gibson, Rachel Mascolo, Zoey Brewer, Tara Neufell, and Ayssia Crockem broke that record two weeks later with a time of 5 minutes and 1 second. The girls of Cameron's RC group made a bet with the boys of Tristan's RC group that if they did not finish sub 5, the 5 of them would have to sing Party in the USA, on command whenever any of the boys said so. Since they were 2 seconds away, the remaining days after were filled with starting, stopping, and starting over singing of Party in the USA. Then finally, Joe's RC group, Rudy Fabre, Alex Neale, Ethan Rodetsky, Joseph, and Luke Loyd did very well, finishing at 5:11.
At UGA Term 2 2019, Connor's RC group attempted Vermomster and at the Sub 4 Five's record of 3:57:59. The team consisted of Devon Whitesides, David Pollock, Josh Johnson, and Franklin Kennedy. This is especially significant, as they only had four members, one less than the normal five. The group had 25 scoops of ice cream, which people still believe is impressive to finish in 3:08:85. The members of the group agreed to the fact that by technicality, they did not "finish" the Vermonster, as some agree. However, the feat that these four did was still quite amazing, and when TiPsters were asked, some say that they should still have a place on the Vermonster part of the wiki for this feat, with a record, while also leaving the current record by the Sub 4 Five.
The Vermonster Competition
The Vermonster Challenge is among the highest orders of challenges that one RAG might issue another without instigating a "RAG war" and was first issued during Duke TiP Term One 2009 by John's RAG against any and all challengers- all others failed to step up to the plate as all campus knew of Joe Sharp, Brian Strubbe, Ward Frances, Alex Goldberger, and Matt Benenati's previous consumption of one such item, and were unwilling to combat these five with additional foes opposing them, as the threat was far too great.
On Friday, July 17th, 2009, the first ever Male-Female Vermonster Competition was held. On the boys team were returning Vermonster Champions Danny Richey, Mehul Mehta, and Patrick Russell. The girls team consisted of Elise Wolf, Amy Tingle, Dana Oglesby, and Madeleine Boudreaux, not to mention their enthusiastic coach Emily Slavin. The boys team allowed the girls team a fourth member upon request, though some might say it provided the girls with an unfair advantage. Thousands came to spectate. The girls started off quickly and were done with about half of the 'monster before hitting the proverbial "wall". The boys, veterans of the highest caliber, plodded along slowly, yet steadily, toughening the trash talking coming from their worthy adversaries while artfully destructing their beast in a bucket. Imagine the look of utter terror on the girls faces as their most worthy counterparts charged back and nearly finished their Vermonster in a faster time! The competition, ultimately, was deemed a draw, with the girls finishing in just under 25 minutes and the boys finishing in a bit over 27. These results have been disputed (mostly by the girls team, whom some would refer to as "poor sports"), saying that the girls team did, in fact, finish faster, and thus should receive bragging rights and the title of "victor". However, rules shook on by ALL members of both teams before the event stipulated that completion, NOT time, would determine the victor. So it was a tie. Though it is almost physically impossible for 3 mouths to eat a load of ice cream more quickly than 4, the boys, champions of the highest regard, put up a valiant effort and proved to be worthy carriers of the banner of manhood. The girls deserve major props as well, especially Elise "The Machine" Wolf (who, it is estimated, ate about 9/10 of the girls' ice cream. Needless to say, the boys submitted a formal appeal for Ms. Wolf to undergo genetic testing, similar to that one South African runner who was discovered to be a hermaphrodite. She came up clean, though she did test positive for three types of anabolic steroids and a low-grade beaver tranquilizer.). The four girls would like to thank their coach, Emily Slavin, for her "generous" suggestions. Refereed by the RC Amaresh, the event was a fantastic success and will hopefully continue in the future.
It should also be noted that at Duke East Term 1 2010, the members of AFT were proud to have vanquished the Vermonster in under five minutes. This was put to shame at Duke East I 2011, when Gabe's RAG believed themselves superior after setting a new record of two minutes twenty-five seconds. Their victory was short-lived, however, when Josh's RAG devastated the poor bucket of ice cream in a jaw-dropping one minute fifty-one seconds. Long live the Bromance.