Ben and Jerry's
From the archives of TiPWiki, the unofficial Duke TIP Wiki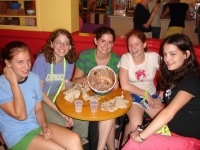 Ben and Jerry's is the ice cream store in the strip mall that also includes Whole Foods and Mad Hatter's Cafe. It sells the infamous Vermonster, a bonding tool for years upon years of RAGs.
At Davidson, the Ben and Jerry's is on Main Street and is on the corner across from the CVS. A few minutes walk from the campus and to the left. Along with the bookstore and the Soda Shop it is across the small street with which Davidson College resides.
Pints and small 3.5oz cups can be bought in the West convenience store, in the Bryan Center. The smaller come packaged with adorable tiny spoons. Other times, if West TIPsters want ice cream, they will travel to the strip mall. For example, one evening activity can be Ice Cream Social, of which they will probably pass thruogh East briefly on the way to B&J's. The chaparones usually do not encourage buying pints from there, because they will probably mostly melt on the way back.
At UGA, the Ben and Jerry's is downtown (across from the arch) along with Five Guys and Starbucks.
Products
The Vermonster
Shakes
Banana Split sundae
Chocolate Fudge Brownie sundae
Phish Food flavour
See Also