The Watercolors Frisbee
From the archives of TiPWiki, the unofficial Duke TIP Wiki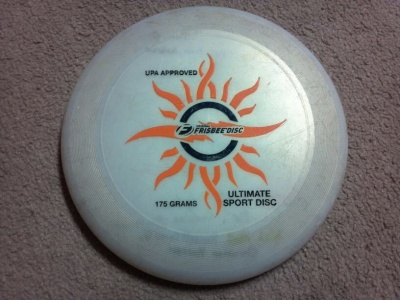 The Watercolors Frisbee symbolizes being the captain of one of the Ultimate Team at East Term 1: Watercolors. The disc is a 2003 Wham-o that has seen its fair share of play during its time. On the inside of the disc is a message that has become faded. The disc reads: "Do as much work with next year's Watercolors as you please. I love you bud."
The disc is passed on during the talent show with the other relics of East Term 1. It is passed on from the current Watercolors captain to the best 3rd year1 ultimate player. The 3rd year who receives the disc will, if they return, be the captain for the next year's Watercolors team.
Note: True captains indicated by bold font. In 2008, 2009, and 2010 the practice was to not only write the captain's name on the disc, but to write the names of the other star players as well. That is no longer done.
Watercolors was runner-up in the 2007 tournament, but that year the tradition of passing down the disc began; therefore, the captain is indeed known.
1
The Watercolors Disc was passed to a 2nd year in 2019 due to complications
| | |
| --- | --- |
| Year | Captain |
| 2007 | Michael |
| 2008 | Chester Chambers, Tucker Owen, Chris-Coach |
| 2009 | Chris Mast, Michael Sikes (Sunshine) |
| 2010 | Jon Drawdy, Bennett Cook |
| 2011 | Nick Mast/Russell Gray IV (Nick Mast did not return to Term 1, so he handed the rights of being captain off to his friend, Russell) |
| 2012 | Christian Krueger |
| 2013 | Andrew Gavin |
| 2014 | Matthew Menzel |
| 2015 | Ryan O'Rourke |
| 2016 | Wilson Morse |
| 2017 | RJ "Russ" Williams |
| 2018 | Reece Overholt |
| 2019 | Sam King |
| 2020 | Doggboi/Andy Dinh(Doggboi was unsure if he would return) |