Tipdogg
From the archives of TiPWiki, the unofficial Duke TIP Wiki
user Tipdogg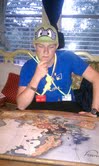 Tippdogg is the account of semi legendary tipster Charlie Hutto and his vast knoledge of tip history and traditions.
term I kansas 2009- myths and legends term II texas 2011- evoloution of millitary strategy term II texas 2012- the future of money Institutes Duke 2013- philosophy,the public and its problems
Charles is a vetran to the tipwiki and is one of the most spirited/zealous tipsters known to humanity. he often wears his shoelace lanyard for weeks after tip in complete denial of its ending. also known as glow or glowstick guy for his use of glow sticks that were compley appropriate and it was everyone else who didint have enough. being one of the more inttelegent tipsters it is worth mentioning that he discovered the true meaning and the hilarity of the "seal joke" and the joke is not that there is no joke.
The ninja turtle hat
Tipdogg is frequetly spotted wearing the signature ninja turtle hat that is arguably more well known than he is. the hat was originaly a set of four(all four ninja turtles) and is now possibly the only one that remains from ku term I 2009 were they were an icon. there were serious talks of making the hat a&m,s llama for term II but it was instead passed up as being "too hard to give up".
---
Much of the free time during Tamu term II he spent watching Star Trek on Netflix. He also spent his lunches at the Agg Cafe in heated debates and argument, especially with Britt Barrientos, one of the only tipsters that could form a copious disputation.
He has a Youtube Channel where educational videos and Vlogs are posted.
for more information check the tipster index or email me for any tip relation questions/disscusion at charlie.hutto@gmail.com --Tipdogg 01:49, 11 August 2011 (UTC)