Will Harris
From the archives of TiPWiki, the unofficial Duke TIP Wiki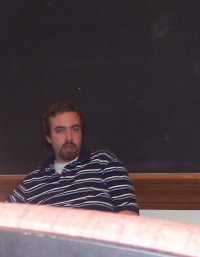 Will Harris is a TIP staff member nearing (or possibly already endowed with) legendary status. He was a 3 year TIPster from 2001 to 2003, and first joined the academic staff at East in 2007, returning both in 2008 and 2009.
As a TiPster
Will Harris was a TIPster from 2001-2003, taking Constitutional Law with Brian T. Fobi at West I, followed Game Theory and Existentialism at East I. He was a 4-3-2 and a very proud Term One Tipster.
In his fourth year, he had a RelationTIP (I know! Aren't you proud of him?) with a third year named Lily (and yes, she was named after the library, I know you were curious). Unfortunately, as often happens with relationtips, it ended at the airport on the last day. Years later, she would enter into the LSU honors college, and as Will was a sophomore there at the time, he ended up advising her on classes. To quote the cherub (see below) himself, "to this day, it is the most awkward friendship I have, with anybody."
As a Staff Member
Will Harris was the TA for the Revolution and Terror: Controversial Politics class at Duke East campus during Terms I and II, 2007 and 2008. This is a position of great importance; he knows this but also knows what it is like to be on the other side of the class. Having once been a TiPster himself, he knows what TIPsters enjoy and don't enjoy and will thus adjust his teaching style. He is always available to his students. He is an asset to the TiP community and should be allowed to return for many years. He is also thought to be one of the more awesome sentient beings in this spiral arm of the galaxy.
Will returned in 2009 as the Academic Program Assistant. In this capacity, he essentially ran TIP. His secret running of the program was no more apparent than when the Academic Coordinator Teddy was suddenly elevated to the position of OSD after the mysterious disappearance of previous post-holder Karen. Instead of simply promoting Will, who knew all about the inner workings of TIP academia, TIP hired a new AC for the last week so that Will could continue secretly holding the reins of TIP in his hands and the weight of the world on his back.
As a Person, Cherub
Will is about to begin his first year at LSU Law. He's active in politics, formerly Student Government, and formerly, the school newspaper, but it ate his soul. He is a co-founder of the LSU-Baton Rouge chapter of the new Students for a Democratic Society. He used to have Jesus hair but is now quite clean-cut, save for a modicum of well-groomed facial hair (some radical TIPsters claim that the beard is the source of his magical powers and singing voice.)
He is known for his intercession trip planning, movie trailer-type announcer voice that resembles Kip's from Napolean Dynamite, dry wit, and excellent rapport with his students.
He is 5'5", give or take a few. He is afraid of the water. Someday he will put the "wit" back in the White House. He knows who his best friends are. HIs best friends include the world famous Charlie Ziegenbein also known as Chuck. He was funny, but he died a terrible death when Will punched him in the throat after he threw the frisbee on the roof. So sad.
The two things that define his life are his Prius and iPhone. Will's iPhone is known to have many features such as dice rolling, and a lightsaber function. (Interestingly enough, in 2007, both Will's phone and car were notably old and crappy, not at all new and shiny like his iPhone and Prius respectively).
It should also be noted that Will knows all the words to "Part of Your World" from the Disney classic "The Little Mermaid" and can sing the song with some skill. On that note, he's a big fan of musicals such as Phantom of the Opera and Jersey Boys. During Term One '09, and with piano accompaniment by one Sir Peter Sloan (see below), Will serenaded Amrita's RAG to sleep with the most epic rendition of "Music of the Night" known to man. He hit the note.
At Duke East Term 2 '08, Will Harris may or may not have played the Joker in the infamous LLama's Llast Llaugh. (See [[1]])
Will and Peter
This is where TIPwiki writing gets complicated. You see, starting in the year 2007, there were these two guys named Peter Sloan and Will Harris. They met and basically became best friends forever instantly. Look, the thing is, they have this special kind of guy love, but that isn't even strong enough of a word for it, where under all the jokes and the laughing, they actually love each other. Like they would die for each other, it's widely assumed- if you've seen them, you'll agree. I mean it's so sweet it's brought tears to the eyes of many tipsters, particularly those in Amrita's RAG term one 2009. At the talent show that same term, after serenading the entire camp with an impromptu piano/singing rendition of "Don't Stop Believing," they walked away to general applause, at which point Peter pointed at Will's head and mouthed to the croud, "I love him." Will, how can you leave him alone? Seriously.
---
This aspect of their relationship was also displayed during the Talent Show itself, due to the wonderful comedic talents of Sunshine and Skeet Skeet, the entertainers that year. In between acts, they would parody many RCs. Some excerpts:
(When they were being Will)
Christopher: Man, you know, I just love TIP. And Peter.
Sunshine: Peter! I love Peter!
Christopher (lovingly): Peter.
Sunshine (as if in a wonderful daydream): Peter.
Christopher: Sometimes he calls me on my birthday!
(As Peter Sloan)
Sunshine and Chris YATTA on to the stage.
Sunshine: Hey, I have an idea! Let's go hang out with Will!
Christopher: Will! I love Will! Aw, Will, where are you?
At this point, Will actually stood up in the back of the audience, shrugged, laughed, and said, "I'm right here!"
Christopher: Oh, hey Will! (to Sunshine) Oh man, I love Will.
Sunshine: No, I love Will!
Christopher: What? No. Let's Rosh for it...
---
There are many speculations and rumors about the Peter/Will relationship. By summer 2009, there was an actual group of Peter/Will shippers (KATHERINE) and it was kind of creepy and kind of sweet. After reviewing videos from the above mentioned serenade, it was noticed that when they were standing, their hands would subconsciously twitch toward each other every couple of seconds. Also, Will was in love with the RC Amrita, a doomed and tragic love story that ended in heartbreak and amusement for all involved parties (Peter and Amrita's RAG).
As of 2009, Will and Peter are two of the most well-versed sages in the intricacies, legends, and traditions of TIP. As such, Will is viewed as somewhere between an angel and a god among TIPsters, perhaps along the lines of a cherub. Yes, Will Harris is the Cherub of TIP.
According to rumors, Will Harris may live under the bed of Peter Sloan due to their intense 'bromance'. [Edit: it's true.]
Will Today
An assembled group of tipsters awaiting termbook signatures on the last night of Term I in the year two thousand swine were privy to the information that, due to Will's legal job search, TiP 2010 will be without Will Harris. Will found a law firm job for the first half of 2010's summer but is said to have no plans for the second half. Following his internship with a (very) lucky law firm he tried to return to East Campus Term II (seeing as he had more time) but it was too late for our favorite law student and he was spurned, doomed to wander Disney World in anguish. Rising fourth years are even now discussing the passage of the seal joke.
How can you leave us, Will?