Couch Piling
From the archives of TiPWiki, the unofficial Duke TIP Wiki
One of the newer pastimes of TIP, Couch Piling was created at East 1 2007 by an incredible group of TIPsters. As the name implies, Couch Piling is the act of stacking multiple TIPsters onto the couches or chairs in the common rooms or by the store. General crushing is unavoidable, and as of now the standing record is ten people on a chair, and twelve on a couch, both limited by the fact that willing pilers ran out. Aside from the technical facts, couch piling has been said to give people a warm and fuzzy feeling inside, and leaves people afterwards feeling that they possess far too much personal space.
The original complete piling group consisted of Emily Rose, Cara Weisman, , Rachel VanDaalen, Hannah Wang, , Noah Levine, Dylan Crouch, John Tuite, Emily Tseng, Trevor Cross, Smith Mathieu and Thomas "Penguin" Morris. The following Hardcore Pilers could be found piling on any small space at any spare moment: Emily Rose, Cara Weisman, Martini Thomson, , Rachel VanDaalen, Hannah Wang, Adam Wilson, Dylan Crouch, Trevor Cross, and Smith Mathieu.
Couch piling has often been accompanied by the presence of sugar cubes, Oreos, and/or Fuze. Couch pilers also tend to be Human Knot enthusiasts.
Raising the Bar
As of Term One TIP East 2009, a new record has been broken. This record has been set in Brown, located between the kitchen and the common room. It is also known to be one of the favorite hangout places among TIPsters this year. Well anyways, there had been an idea to see how many people could possibly fit on one, large chair. There had already been a relationTIP sitting on the chair, so, the rest of the group starting piling on top and the record has been set for containing approximately 15 TIPsters on this one chair at the same time. It was an amazing accomplishment that will forever be remembered.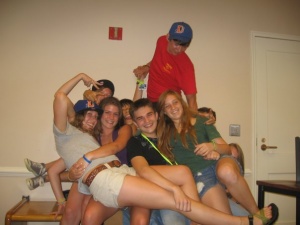 The TIPsters included in creating this new record are:
Katie Chaplin
Chris Squitieri
Alex Sutcliffe
Charlotte Hawkins
Nettie Finn
Roman Hlatky
Scout Henninger
Jasper Fu
Eliza Rothstein
Alex Maeder
Andrea Blatt
Michael "Sunshine" Sikes
Russell
Others not mentioned...
NOTE: Couch piling was hardly created in 2007. Though it may not have been a named activity, general cuddle piles on beds (pre-new visitation policy), couches, and in halls has always been a vital aspect of TIP.