Durham Bulls
From the archives of TiPWiki, the unofficial Duke TIP Wiki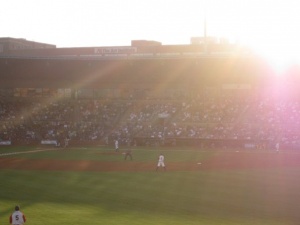 The Durham Bulls are baseball team that is the cause of much misery for many a TiPster; unwilling TiP kids are forced into attendance of one of their games every term, despite the fact that it almost always is boiling hot or violently storming.
The Bulls are the minor league team for the Tampa Bay Rays. TIPsters usually go to games on the first or second Saturday. The staff usually makes the students leave around the 7th inning, around 9:45, so the entire endeavor is truly pointless.
The TIPsters' seats are located behind the right field fence, directly in the Sun until it sets, making it almost impossible and almost painful to see the first half of the game. To leave your seats, for food or otherwise, you must travel in groups of three or more, which is a way to try and prevent TIPsters from hooking up away from staff. This strategy may not always work if you have a good friend that doesn't mind being a third wheel. Meanwhile, others have hid at the store which sells various team and baseball merchandise, while some maneuver around the playground. Institute tipsters can travel in groups of two, and stay until the end of the game.
The actual stadium includes a food court/hall, which serves general sports foods such as hot dogs and drinks. A "souvenir cup" will provide around 32oz of liquid, and there are two types of hot dogs: Jumbo, and a foot-long. All can be purchased with the 8 dollars of "Bulls Bucks" provided. Meanwhile, while being cooked watching the game, one can get snow-cones, lemonade (with real lemon halves!) and root-beer floats for a few bucks (more expensive than if you just walked up to get it). Hats are sold too, and sometimes paper fans from sponsors can be taken, if they haven't run out that day.
Notable things
At East Term 1 2009, some third years were struck by the insane hotness of Matt Joyce and the **** of the aforementioned individual. They made non-tippropriate comments at him for the rest of the game. Once, he nodded, showing that he was incredibly attracted to them too (especially Ellen). Any later TiP groups in love with Matt Joyce just wanted to be these original muffins/sheilas, but weren't cool enough.
At Duke West Term I for the past two years ('08-'09), and have made the trips to and from the stadium more interesting by singing requested songs at the top of their lungs, then getting the rest of the bus to join in.
In Duke West Term 1 '09, a gigantic Jersey was up for signing after a small fee, sponsored by Chick fil A. They also had a giant inflatable chicken by the playground, but we couldn't do much with that (although others hid behind to socialize).
At Duke West Term 2 '09, the right fielder for the Durham Bulls, Matt Joyce, received a lot of attention from the girls (and certain boys). A sign was made out of pizza boxes, and it was written "I <3 MJ". On the other side it was written "Got 'Roids?". There was also chanting, "We love Matt! Matt saves kittens!" At the game, members of Noah's rag and the Zulus noticed a handsome man doing his thing in right field and immediately found his name in the roster and then googled him on Peter Yom's ipod touch. from their research they learned that Matt Joyce is 1000 times better than Pickney and had saved the life of a cat during one of his previous seasons they then proceeded to cheer for him and propose marriage. their final cheer was "we love Matt, Matt saves kittens". this cheer was greeted with a smile that touched the depths of my heart. Meanwhile, girls were off having cooties.
At Duke East Term 1 2010, a TIPster tried to Urban rodeo the Blue Monster, which led to some interesting escapades
At Duke West Term 1 2010, all of the TIPsters enthusiastically shouted at the Bull's right outfielder Fernando, who acknowledged all of the TIPsters several times.
At Duke West Term 2 2010, TIPsters noticed the Bull's right fielder, Desmond Jennings. Love for Matt Joyce was all but forgotten in light of this new flame. Screams of "We love you Desmond Jennings!" and even "Have my babies!" from the more enraptured TIPsters (Elizabeth) could be heard. At one point in the game, Jennings turned around and gave the TIPsters a wave, resulting in girlish screams from all. Two TIPsters, Blake Hawley and Greg Wagner, even made a sign for Jennings out of pizza boxes that read "WE<3DEZ16"
At Duke West Term 1 2011, a TiPster caught a baseball, wherupon he gave it to the girl whose head it bounced off of. A flash mob was attempted, but it failed epically. Also, when Duke West was agknowledged for being at the game, we all bernied. It was slightly epic.
At Duke East Term 1 2011, #37 Russ Canzler was the Bull's right outfielder. TiPsters enthusiastically yelled "RUSS' multiple times and were acknowledged several times by him. A square had been mowed into the right outfield, prompting TiPsters to yell, "Get back in your square!" whenever he stepped out of it. Near the end of the game, Russ placed one foot in and one foot out of the square. This was probably for our entertainment, and also might have been because the game's score was 3-14 and there was absolutely no chance that they would bounce back. Two days later, posters covered the doors all around East, proclaiming Russ's awesomeness.
At Duke West Term II 2011, Brandon Guyers was the Bull's right fielder. Three TIPsters made signs for him, and one TIPster (Elizabeth Snyderman) proclaimed "Brandon Guyers sets my heart on fire." Much love was given to past right feilders Matt Joyce and Desmond Jennings as well. Elizabeth Snyderman and Jess LoVerde (an honorary TIPster) even shouted "We want Kevin Costner!" in reference to the classic movie Bull Durham.
During this very game, a group of four TIPsters did many no nos. Cyrus Homesley, Alex Rickabaugh, Zach Copeland, and Benson Robles all sat behind home plate. They were loud, obnoxious, very Bulls spirited, and constantly found swinging their lanyards since no one, not even the sniping demi-god Sean, could backpack them.
At Duke East Term II 2011, TiPsters as a whole succeeded in distracting the players by yelling at whomever was closest. They also started a wave that went entirely around the stadium six times. They also yelled at a player whose real name clearly doesn't matter, because he tricked us into thinking his name was Jeff. RC Gabe Crow was particularly disgusted with this phony Jeff, and yelled some of the best baseball insults known to man (He used the name Jeff, even after he was informed of the player's real name).
At Duke West Term I 2012, Shane Reagan started the tradition of the Roller Coaster at the Bulls game.
At Duke East Term II 2012, due to storming that cancelled the game, all TiPsters were confined to the concourse area. This led to a flash mob to the Cupid Shuffle, and a breakout into Time Warp by the 4th years (which was only allowed by the staff on the condition that the unappropriate TiP version was not sung).
See Also