High Spirits
From the archives of TiPWiki, the unofficial Duke TIP Wiki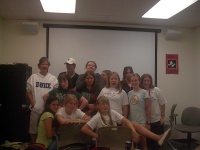 High Spirits was a class on horror and ghost stories which took place at Duke East Term II 2006. Not very ironically, but coincidentally, it was taught in West Duke room 204, where a professor reportedly killed himself and thusly now haunts the area. This is the first time this class had been taught, with the all wonderful Jen as the instructor, and Elizabeth the thrift store expert as TA. The class material ranged from Victorian corsets and post-mortem photos to ectoplasmic waste and voting welsh corgies.
Several students were reported to have suffered injuries within the last few days due to supernaturally bad puns, some of which were, "oh, the hora! the hora!" and a bad pun about a casket from one of the classmember's Spanish teachers back home. To hear the story, contact Caitlin Cummins on AIM at mme0max. There is also a very bad pun about twins from Spain and the Middle East.
Class Members
Please add your name if you were in the class.
Samantha Brooks
Victoria Williamson
Tara Sheffer
Grahame Watt
Lizzie Simon
[[[Matt Rothardt]]] (of Bagg Ragg)
Beth McGhee
Megan Yociss
Callista Robertson
Class Materials
Feel free to add to or edit this list.
Books:

The Haunting of Hill House by Shirley Jackson
A Christmas Carol by Charles Dickens
The Oxford Book of English Ghost Stories by Michael Cox & R.A. Gilbert

Specifically:

The Shadow in the Corner by M.E. Braddon
The Judge's House by Bram Stoker
The Red Room by H.G. Wells
The Clock by W.F. Harvey
Smee by A.M. Burrage

The Turn of the Screw by Henry James
The Mammoth Book of Haunted House Stories by Peter Haining

Specifically:

Ghost Hunt by H. Russel Wakefield
The Ghost Hunter by James Herbert
Computer Séance by Ruth Rendell

The Canterville Ghost by Oscar Wilde

Movies:

High Spirits (Neil Jordan)
Rose Red (Craig R. Baxley)
The Sixth Sense (M. Night Shyamalan)
Ghost Busters (Ivan Reitman)
Darkness Falls (Jonathan Liebesman)
The Uninvited (Lewis Allen)
The Muppet Christmas Carol (Brian Henson)
Beetlejuice (Tim Burton)

Major Assignments:
Presentation on Victorian Era.
20-ish minute play that incorporates Victorian Era information and is spooky.
Short original ghost story, to be read aloud for at least 10 minutes.