Jordan Robinson
From the archives of TiPWiki, the unofficial Duke TIP Wiki
Jordan Robinson is an RC at East Campus, who started in 2011. However, he survived three years without a TiPwiki article. The 2014 Duke University East Campus 1st Term TIP RAG, of the 2nd Floor of Pegram, of Jordan Robinson, decided to change that.This TiPwiki page is open to anyone of a Rag under Jordan for editing!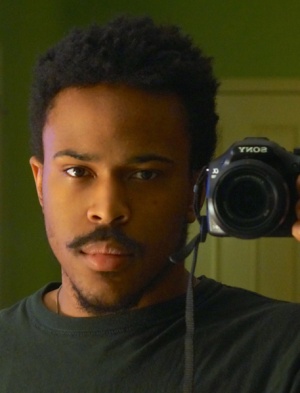 Biography
"Originally from New Rochelle, New York, I moved down to North Carolina since I was two years old and grew up in both Greensboro and Charlotte. As far as I could remember, according to my parents, I have always been into the fine arts and I have been drawing, playing music or occasionally acting ever since I was 3 years old. I became more serious about it in the later years of my childhood and began to do more drawings in my spare time. In 2004 I moved from Greensboro to Charlotte due to my dad's job and I began to draw even more. I continued to progress in my art and participated in band. I played the Clarinet, Bass Clarinet, and the Alto Sax. In high school, I joined the marching band, jazz band, and wind ensemble. I also became more serious in my work and now I am a student at North Carolina Agricultural and Technical State University as a visual arts major with a concentration in Media design. I plan to become an Illustrator and an Animator. I plan to positively influence the younger generations to living by higher morals."
Term I 2014 Information
Known Facts
He created Jolly Jordan Juice (a drink made of Sprite, orange juice, and Blue Powerade)
He won best RC for Duke East term one week one
He is a photographer
His favorite thing to say is "I'm done"
He owns Charles Melvin Haku Steve Robinson
Interview
In East Term I 2014, Adrian Scheibler sat down with Jordan for an interview. Here is what he learned:
His intentions are hard to read
He has worked at a Boy Scout camp
He has a brother named Dexter
He values honesty and sincerity above everything
His favorite quote is "As soon as I deadest my enemy, I begin to love him"
"In order to get love, you must give love" - Jordan Robinson
His favorite color is blue
He wants to be a crown eagle because it is majestic
He is very spiritual
His last words would be, "Well, it's been fun"
He is writing a story in which the main theme will be that the point of life is to enjoy it
He loves hip-hop
He wants everybody to be curious
He teaches Boy Scout Merit Badges
He also loves human anatomy
He is single and ready to mingle!
Term 2 2014 Information
The information below was collected by Jordan's Term 2 2014 RAG. The collection of information was bulkheaded by Carl Wolff, Jesse Zhang, and Alex Eldridge who convened at the Wikipedia Editathon hosted by instructor Jeff.
Only Two Tipsters knows his phone number and they challenge everyone to find it out!