Mary Elizabeth Rudd
From the archives of TiPWiki, the unofficial Duke TIP Wiki
Mary Elizabeth Rudd
TIPster
Pronouns
she/her
Social Media
@maryelizabethrudd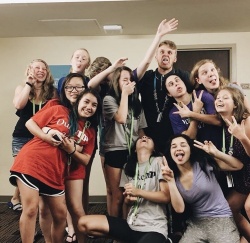 Background
Mary Elizabeth Rudd is an alumni from Charlotte, North Carolina, who attended Appalachian State University her first year, Rollins College her second year, and attended University of Georgia for her third and fourth years. She's in the IB Program study finance and Chinese language.
I made this page so that I could keep track of my TiP experience... it's been a wild ride to say the least. Thank you to everybody that I met over the past four years, they've been the time of my life. My children, I'll miss you and I wish you an amazing fourth year and a hopefully less [redacted] main office. May you all frat forever. Remember, TIP is not a place, it's a people. These memories will live on forever.
Years at TiP
2016
Mary Elizabeth went to Appalachian State University term II for her first year. She took Science on the Appalachian Trail with Dr. Travis Haas (Instructor) and Jennifer Bergman (TA), and it was probably the most grueling thing she's ever done in her life. She was in Imani's RC group, and they preformed Under the Sea for TiP Sync. Mary Elizabeth's roommate was Anna, and the two bonded over art, living in the same city, and being undeniably angsty. Lots of great memories were made like getting sick with a whole bunch of Science on the AT kids and cleaning out the chocolate milk in the downstairs vending machines. She met some of the coolest people that she will never forget like Peter, Robert, Jax, Leyton, and Alfonso. In the fall of 2017, Mary Elizabeth learned that a fellow member of her marching band, Keiran Opela, had also attended ASU term II in 2016, and thus started a beautiful tip-band friendship.
2017
For her second year, Mary Elizabeth went to Rollins College term I. She was in Aerospace Engineering with Fan Geng (Instructor) and Alberto Quiroga (TA). She could not for the life of her understand any of the math they did in that class, so looking forward to aerospace documentaries was a daily occurrence. Her crazy class made it way more bearable. Her RC was Kelly Dolan, and her group Kelly's Jelly Bellies put on one of the most iconic TiP Sync performances in the history of TiP with "You Can't Stop The Beat" from Hairspray. She was also an official emcee and mic-stand at the talent show. Her roommate and best friend was Sara Whitman, and the two had been internet friends until they met on move in day. Mary Elizabeth and Sara were part of a trio called the D Detectives with Isabelle Milford. later on in the term, Alyssa was added to Mary and Sara's dorm. She will never forget thee ants bombarding her dorm room or the dances spent playing ERS. She met one of her best friends, Nathan, during the term as well as the amazing members of Kelly's Jelly Bellies (whom still keep in contact), Adam, Owen, Nathaniel, and the amazing RC Kitchin. She loves and misses her Rollins roommates so so much, even though she may never say it.
2018
Mary Elizabeth was at the University of Georgia term I for her third year. She took and represented India and Syria during the term's simulations. The class tested her limits because public speaking makes her feel like throwing up to say the least. She was a member of Alyssa's RC group, who for tipsync preformed a mashup of You're The One That I Want and 1 2 Step. Mary once again took on a male role (which seems to be a recurring theme in my performances, not that I'm complaining). Mary had a number of accomplishments this year, receiving the title of Alpha Gay and being the dinosaur mascot for the winning Red Team (She does not endorse ever wearing a blow up suit in the Georgia heat). Mary's roommate was Emily Kitchens, the most amazing person to ever roam the earth. This term gave her the most amazing group of friends in the FoPo class that she could ever hope for. Miriam, Rob, Bennet, Sam, Hannah, and the rest of the FOPO class are some of the most talented, amazing individual's she's ever met. Mary Elizabeth was adopted during the 2018 term by her amazing parents Bennett Hargis, Rob, Hannah, Marcu Swimmer, Kevin, Alisha Simmons, and Dylan Ballentine. This was undoubtedly her favorite year at tip by far.
2019
For her fourth and final year, Mary Elizabeth was at the University of Georgia term I and took Criminal Law & Mock Trial. Becoming a master of the "oh shit, a rat" movement, beating Ranon at ERS, being a member of the og prosecution gang, and catching "woah" plague are some of the accomplishments she's made so far. She was in Yale Educated Isabelle's RC group, who performed Cruisin' For A Bruisin' at tipsync and got ROBBED along with all the other fourth years. Her roommate was Lila (Lil A or Lila Bean) Grandle, whom she loves long time. She adopted a numerous amount of children like Ava, Payton, Jessica (alpha gay 2k20), Ranon, Keith, Raven, Megan, Katie, Acey, and Nathaniel. She met the most beautiful group of friends in Mock Trial and in her RC group. The only time she ever participated in the talent show was this year, when she played an emotional kazoo rendition of baby shark to celebrate her final year. Fourth year was a wild one, and having one of the dances partially on the quad was something nobody could've expected. But no matter how rough things got that year, it turned out to be the most beautiful end to the best era of my life. Thank you. Also to confess, I sneaked in a tea kettle to tip this year and had tea wot woot.
Accomplishments (I guess)
Didn't die when hiking with the Science on the Appalachian Trail class her first year (I wasn't fit at all so this really was a big accomplishment eek)
10/10 mic stand for Sara Whitman during her performance of Hallelujah at the Rollins 2017
Winning the Aerospace Engineering paper airplane flying contest in 2017 (I can now confidently say that I am a paper airplane GOD)
Named the 2019 Alpha Gay for UGA Term 1!
Inside Jokes
2017
Please see Kelly's Jelly Bellies for a list of things our goofy bunch did. Here's the dumb stuff I did and said as a dumb second year.
"Vsshhhhhhhh"
"SpaceX does it better"
Official man of the house in the family unit consisting of Sara Whitman and their daughter, Jessica (or Hhhhheessssiccaaaa) as her mother would call her)
D Detectives (gang gang)
Whitman the Hitman
"I want TiP so badly" "God that sounds wrong"
Scary Mary
Danger N=noodle
Fokker planes
2018
The frickin dinosaur suit
"we should just nuke them"
Random kermit drawings
snOOOOOOOOOOOOOOOOOOOOOOOoOooooOP (yall know the vine)
"Something gay"
INDIA IS SHAKING
Viva La Louisiane
2019
PROSECUTIONNNNNN
"OH [redacted], a rat!"