Appalachian State University
From the archives of TiPWiki, the unofficial Duke TIP Wiki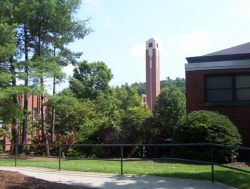 Nestled in the heart of the Appalachian Mountains, ASU is perhaps one of the more idyllic TIP campuses. Though one should still pack a fan when preparing for the term, the elevation accounts for the huge temperature difference in ASU and Duke. Considerably smaller than East or West --only six floors of one dorm are used to house students - the TIPsters who attend ASU believe it to be the best TIP experience possible. Because, it truly is... Cannon Residence Hall is the current dorm used by TIP, although Cone was used for the past years. Some of the more famous RC's include Katie of Katie's Black Bean Burgers, Jeff, Aimee, Haylee peters, , , , and Chris (Peter-Hater). A very famous TA with the name of Brian is also at ASU - he is famous for looking like the That 70's Show character Eric Foreman.
Though the cafeteria food is not fit for pigs to live off of (it has often been compared to Syphillis), one may be able to survive off the numerous coffee shops and restaurants on King Street (a toned down version of Ninth Street). Macadoos, an infamous bar-type restaurant, houses many an RC Group Night. The Mellow Mushroom is famous for it's heavenly pizza, and HUGE portion sizes.
The traditions at ASU are taken very seriously and are often screamed about when broken (see: PITfest not on the Quad '07, moving out of Cone for TIP '08). Opposite Day is one of the few traditions that ASU has... in reality it is "cross-dress day" in which many TIPsters switch clothes and confuse the other campers at ASU with their attire (the good ones apparently confused people at the wrestling camp). (There's actually four or five days dedicated to this sort of thing at ASU, which includes Cross-Dress Day, Twin Day, Celebrity Day, Decade Day, and others. It various from year to year). It often takes at least 3 days to prepare for opposite day, and very few TIPsters don't dress up. Another popular tradition is staying up and partying on the last night... TIPsters no longer visit the dollar movie to see an old (and usually bad - for example one might rather spend a night on the John than have to sit through the pain of watching Fever Pitch for an hour and a half) movie for $1.25. Although, they do have the option of staying in the dorm instead of seeing the horrible $1.25 film, which is what many "SMART" TIPsters do.
PITfest, held the second Saturday or (Sunday in 2006) of term, is the Summerfest and Quadfest of ASU. Term 1 of 2010 was dominated by the Green team also known as the Green Eggs and Ham. They however did not dominate at the cheer, the Red Narwhales did. The Blue Booties came in second with the Narwhales in third and the Purple People Eaters in last. The PITfest games consist of Ultimate, Cheesy Poof Face, Dizzy Bat, Jell-o Snarfling, Five Legged Race, Pudding Feed, and Tug-of War. In 2003, the "TIP Phantom" terrorized the various inhabitants of TIP; it was said that various other fiends had visited ASU in the past. During the week of PITfest, teams recieve points for dressing up on certain days. A Twin Day is held most years, as is a Sports Day. The most popular of these days is Opposite Day, which involves a whole lot of boys in a whole lot of make up, and countless fake boobs. ASU has mostly first years with very few second years.
Like any other TIP campus, ASU features Ultimate Frisbee as its most endeared sport. Some of it's most famed players include: , and David Cano, Daniel Lee, Scott Brockman, and Spencer Wilson.
ASU also has one of the best Unions in all of TIP. It has a game room although the Tipsters are not allowed to use it (or atleast weren't at term 1 2010) a Solarium (which is a big room with fountains and trees made make feel happy and cooled off), a coffee shop, and a little convience store that sells cookies and candies and smoothies (oh, my). The other campuses wish that they had a union like ASU's. In 2010, the gaming systems in the Hawksbill Game Room were removed. In the 2017 term 2, the dances were held in the union, but we wern't allowed to go anywhere but the quiet room, the bathrooms, and the room where the dance was being held.
Many ASU classrooms are not air conditioned so be sure to grab a seat by the fans on the first day. Become friends with your RC and you might even find yourself missing them on their day off.
Avoid getting into drama about girl/boyfriends or just gossip in general. Feel free to be yourself because you won't find many people there who are going to hold back. Have fun with your time and be sure to get some sleep, you really don't want to get sick!
Dances
The ASU dances are loved and dreaded events. Though the themes are creative, the TIPsters are forced to crowd into Cone Lobby or stand outside on the Cone Porch. As both areas do not contain the population of TIP ASU, the dances are rather uncomfortable situations for all who do no wish to grind on the dance floor (TIP-appropriateness is VERY downplayed at ASU, and TIPsters there are not complaining). The last dance is traditionally held on the last night in a rented party hall near campus, Legends. With the hall change from Cone to Hoey in 2008, the location of the weekly dances was subject to change from week to week. The last dance, however, remained to be located at Legends. The re-locating of the dances led to much disaster, with the dances in such odd locations as on the mall or in a small (and uncomfortably hot) room with an unsteady floor. For 2009 and 2010, the Wesley Foundation Church was used for some of the dances.
As of 2011, the dances at ASU are better than ever and the TIPsters love the new songs that are played.
In 2014 new traditions have been on the rise such as "Why is James Crying?" and "Wobbling" in the lobby of White! It is encouraged to be creative and come up with new traiditions for ASU! As of Term 2 2014 5th floor has been nominated as the party floor! If your dorm happens to be on the 5th floor, make an effort to hold parties and invite other floors! Keep this tradition alive and carry on 5th floor 2k14's legacy!
Commentary
hey hey term 1 2014 tipster here, I loved my time at App State and it is still my favorite campus, I loved all the people and made so many friends, including one that I am still amazing friends with today. The campus is absolutely beautiful, although I do not miss the food. Word of advice to any tipsters going here: be yourself, talk to people, and have fun. You will have the time of your life. :) -Rachel
hey there! term 2 2014 tipster here! this was my first tip experience and the people I met were absolutely amazing, from the staff to my fellow tipsters. my class (creative writing) was awesome and we had so many hilarious inside jokes. my rc group (graces) was the bomb dot com and we were the best beets in all of the universe and grace was the best dr.gre. I miss it so much and wish I could have stayed, but I'm looking forward to the chance of seeing some of my friends next year! -- Camilla
Hey (: I just want to say that this year was my first time at TiP, and it was seriously the best three weeks of my life! I made great friends (MOLIERE!!), got in a relationTiP (now long-distance), and my class was amazing! (Everything was made into a reference of Harry Potter, Doctor Who, or the blood of orphans. Instructor- Jamie, TA- Julia) ASU was incredibly fun, and I actually have calf muscles now from all the stairs and hills. Thanks for letting me have the best time ever! Term II will never be forgotten, never. LOVE, Katy Perry (ASU Term II kids will know who this is... <3)
Hey: I know, (fuzz) I am in a relationTIP too and I loved it at ASU! The jokes there were amazing and it was fun. Love, Roland (Fuzz) whatever you call me! Please do :)
Hey: ASU 2011 Term 1 TiPster here! Don`t Stop Believing will always be a major dance and the SPONGEBOB SQUAREPANTS THEME SONG! Also Love my Single Ladies!
Hey: PABLO IS MY BESTEST BESTEST BESTEST BFF EVER TO WALK THE EARTH (even though, technically, he is a figment of our imagination so he can't walk the earth... but you get the point) His flower crown collection will be remembered forever along with his fabeluzzz dance moves to treasure. To creative writing, he may be better known as Caesar of San Francisco (with small potatoes on the side) and a protector of little yellow flowers named after his roommate. maybe even as the one that got impaled by a donkey on account of the fact that his death was very imminent. Finally, he is the best person you could ever meet and I will definitely never forget him. Or lose his hat.
hey fellow ASU woodies term 2 kid here. might i say that this was my first time at tip and i loved it more than anything. the food sucked but you could order ANYTHING. no joke. creative writing is the best class. Mosh for life. Mary had a little lamb. sneeze a flower. Listerine. Small potatoes. even tho Josh (our Ta) never free styled it still was a fabeluzzzzzz class. nothing gets better than a class were your free and you can push the boundaries of ti-propitiateness, love all my fellow churous. TIP IS LOVE TIP IS LIFE. made my first friend in an elevator. anything can happen at tip. so get over yourself as my roommate would say and go to tip. wonder wall still makes me cry, love you all tho. peace out from me. HIP-HIP JORGE <3<3<3<3
hip hip jorge indeed my friend. don't forget to send me your story once i'm dead ;)

hey tipsters! ASU term 2 kiddo here. I just wanted to say that Ashley Paige Fuller is my BESTEST FRIEND EVER FROM TIP. It was three weeks with her and I love her to death. One of the great things about TIP was that we were all so alike, and we went into TIP without preconceived notions of anyone. There was genuine love and friendship, like what I found with Paige. I wish I didn't have to return to normal school, where there is so much judgment. So, TIPsters, I miss all of y'all, and Paige, I love you long time. TIP was insanely incredible and I can't wait to see what's next for all of us. <3
hey tipsters! asu was great and the weather was truly amazing. i was there in 2017 term 2 and were lived in cannon. laundry was a mess so be prepared for that. the food sucks, but the people are amazing. i've heard that 2018 term 2 was worse than 2017 term 2, coming from a tipster who was a both terms, but i don't know how much has changed since then. have so much fun at tip and enjoy it!!