Benjamin Duke statue
From the archives of TiPWiki, the unofficial Duke TIP Wiki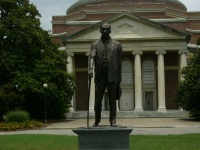 The Benjamin Newton Duke statue is a statue of Duke's namesake Washington Duke's son at East Campus. Added between the summers of 1999 and 2000, the statue (sometimes just called B. Duke) is on the Main Quad (now sometimes called the Statue Quad) and was condemned by TIPsters since it made that quad forbidden for Ultimate. Students retaliated by putting all manner of foods into his hat, such as apples and spam. An RA was even rumored to have relieved himself on the statue one night after lights out. Eventually, these actions necessitated a professional cleaning of the statue. During term 1, B. Duke was also wrapped in tinfoil for 3 years (2000-2002), though for what reason, even the wrappers don't remember. The words "B. Duke" were also used to censor non-tipropriate items in a termbook one year. Also, in 2004 B. Duke was once wrapped completely in streamers with an orange cone on his head, and was once covered completely in baby oil.
Decorating B.Duke in any way shape or form was prohibited in 2005. Edit: And by "Decorating" they mean "DESECRATING" which was the ridiculous and misused term that the RC's gave PUTTING A CONE ON HIS HEAD. B. Duke is not sacred. Sorry. Also, his awesomeness could never be besmirched by an orange cone, only multiplied!!
Also, on cross-dress day of term I 2010, the statue was dressed in a hot pink bikini for at least a week.
Decorating B. Duke was brought back quickly during term I 2006, including a giant war over his Alspaugh/Pegram-themed decorations before Quadfest entrances (He had red and blue attire - Giles completely failed in putting anything green on him.) The statue was also toga-ed for the revival of Toga Tuesday by Sam Warlick and Brett Flora. Somehow, this toga was removed, though Sam the OSC refuses to tell by whom. Once during a game of truth or dareon the last night, Megan was forced to sodomize B. Duke, to the hilarity of all watching. "Hey, B. Duke..."
It should be noted that on the last morning at Term II 2006, it was discovered that B.Duke is, in fact, mobile. The statue itself is in no way attached to its marble base. There were some discussions about how this discovery could be capitalized upon, but as it was already 7:15 AM, there wasn't much left that could be done. But maybe some mischevious TIPster can use this information to his or her advantage in the future.
Duke West has a related statue of James B. Duke located in front of the Duke Chapel, yet is never decorated or anything at all.
The Moonscreaming takes place around this statue, with the leader sharing B. Duke's pedestal. B. Duke will be decorated with sunflowers on the first moonscream of the term, a tradition started by Perry Middleton.