James Youhne
From the archives of TiPWiki, the unofficial Duke TIP Wiki
James Youhne is a second year/fourth year. I first met him at Texas A&M Term 2 where we were in Entrepreneurial Leadership together. He is known for his close friendship with Andrea, something which flourished as they bonded over their love for gold and entire packets of gum. If you need to open up a doughnut shop, he's your guy. He was a member of Swagg Nation, where he was close friends with Jamell Sirleaf (yeah, that's actually his name<3) although he was friends with literally everyone at camp. His best friend, however, was obviously Elizabeth Hitti, who he loves with all his heart and misses greatly. Let's be honest, without her class just wouldn't have been as fun ;) James has always been a terrible dancer, although that's clearly not stopped him from busting out his 'moves'. He's definitely not a shy guy. James' hobbies include hugging trees and his favourite movie is Tangled. He enjoys wearing his plaid pyjamas everywhere and carrying his pillow around the airport - although he forgot it on his second year and had to borrow one from Elizabeth. James is also known for his twinkles obsession.
He's sexy.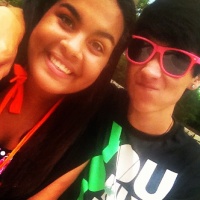 ---
At UGA he took Pharmacology and was in a RelationTiP with Leta Branham. At dinner he was known to be found drinking Chocolate Hazelnut and Pumpkin Spice tea with Elizabeth Hitti. Wait for it. Throughout both his years, James was always the most sociable person. He actually knew literally everyone's name and was always losing his clothes because he lent them to too many people and couldn't remember who had what. Oh and he had like 10000 of those flat hat thingys. James is now known to be quite allergic to bug bites.
He's an amazing friend, but tends to wake you up way too early because of his annoying morning runs. James is the nicest guy I know. You can count on him always being there for you, although if you really annoy him then you could end up not talking for an entire year - don't worry though, that's only happened to one person.. Oh and he loses bracelets easily.. But other than that he's great.
James lives in a town called "Cumming" in Georgia, something which fellow tipsters (especially Elizabeth) are terribly jealous about.
James is one of the most cheerful people ever! Consider yourself lucky if he's your friend! When I met him of the first day, he was surrounded by a bunch of people. He made sure no one was excluded and was good at keeping up a good time. He also had the free hugs hat and he got a lot of hugs from that! During Lip Sync, he did Glad You Came by the Wanted, which is my fav band. It was his idea, and even though it didn't place, it was one of the best performances. James REALLY likes to dance, so if you ever want to dance... go find James! So in conclusion... James is awesome, that is all :3
James likes to joke with ... people ;)
He took part in Pharmacology at UGA Term 2 2012 as one of the most contributing members of class.
James is also very bad with directions. His friendship with Olivia Parker grew stronger after they got lost in Atlanta together due to his terrible directions. But, he is great company and full of interesting stories. He is also one of the sweetest guys you will ever meet.<3 Once when his best friend Olivia got her wisdom teeth out he delivered her 3 cans of spaghetti o's (her favorite food). He is a part of The Cumming Trio with Olivia and Chris Buehler. They meet frequently and it was soon revealed he has a fear of scorpions. James loves skyping and he is a great texter. If you do text him you will probably end up talking all day long and never running out of things to talk about. <3
| | | | | | | |
| --- | --- | --- | --- | --- | --- | --- |
| Year | Campus | Term | Course | Dorm | RC | Roommate(s) |
| 2011 | Texas A&M | 2 | Entrepreneurial Leadership | Moses Hall | Nate | Austin Partridge |
| 2012 | University of Georgia | 2 | Pharmacology | Myers Hall | Joe | Ian Hargrove |