Kyle Dzwonkowski
From the archives of TiPWiki, the unofficial Duke TIP Wiki
Kyle Dzwonkowski was a fourth year fourth year Tipster and is currently an RC.
Time As A TiPster
| | | | | | | | |
| --- | --- | --- | --- | --- | --- | --- | --- |
| Year | Year at TIP | Campus | Term | Course | Dorm | RC | Roommate(s) |
| 2006 | 1st | Davidson | 2nd(Unconfirmed) | | Belk(Unconfirmed) | Clare | Joseph |
| 2007 | 2nd | Davidson | 2nd | Algebra II | Belk(Unconfirmed) | Jessica | Phillip Hu |
| 2008 | 3rd | Duke West | 2nd(Unconfirmed) | Java for Video Games | Unknown | Scott | David Adler/Haven Wang |
| 2009 | 4th | Duke West | 2nd | Genetics | Unknown | Andrew | Francis Galego |
As a TiPster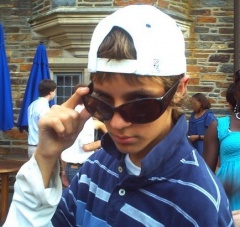 His first year was spent at Davidson. He was in Clare's RC Group and the Algebra I class. His roommate was Joseph "Butters". He participated in the student staff frisbee game, which was won by the staff.
His second year was also spent at Davidson. He was in Jessica's RC Group and the Algebra II class. His roommate was Phillip Hu, who was the designer of the cover of the Davidson Term II Termbook for 2007. He participated in the student staff frisbee game again, and the staff won again. He participated in the talent show as a dancer in the "Tipalicious" performance.
His third year was spent at Duke West. He was in Scott's Rag and the Java for Video Games class. His roommates were David Adler and Haven Wang. Haven was not originally one of his roommates, but the Duke staff accidentally placed Haven in a girl's Rag so he was promptly moved to Kyle's room.
His fourth year was also spent at Duke West. He was in Andrew's Rag and the Genetics class. His roommate was Francis Galego. He was a member of the blob and was known for starting the "Fetus" outbreak. He participated in the Talent Show several times. He performed with his Genetics class in which they sang the song "PCR". He performed in "Doctor, Doctor", "Ten People in a Line Answer a Question", and "The Waiting Room".
Kyle attended Duke West Term 2 2009 as a fourth-year and was essentially an amazing person.
He was a notable member in the Blob, and was also known for impregnating Jeanne Q. (also a Blob member) with 16 fetuses. Started the West fetus obsession when his Genetics class did a hands on activity that involved having 16 babies. Jeanne Q. was his partner and thus, Kyle and Jeanne plus sixteen was born. Shown below is a picture of Kyle "the babymaker" Dzwonkowski from his third year at TIP, Duke West Term II 2008.
As an RC
In 2012, Kyle became an RC at Trinity University in San Antonio, Texas. He was an RC for both Term I and Term II. Both Terms, he had the boys at the end of the long hall on the first floor of Prassel. It was at Term I where Kyle acquired a new nickname, Jagger. According to eye witnesses, Kyle was walking past a girl's room on his floor and Moves Like Jagger by Maroon 5 was playing. Kyle was known as Jagger by much of the first floor for the remainder of the Term. During Term II, Kyle's group dressed him up as a beautiful woman for dress up your RC/movie night. His group did "You Drive Me Crazy", a Britney Spears song, for the 90's themed lip sync competition. Kyle performed with his group while wearing women's clothes again and was known as Britney for the rest of the term. This caused numerous shoutings of "LEAVE BRITNEY ALONE!!". Kyle was also a third party participant in World War Three between Michael the RC and Smeagol.
As an RHL
In 2014, Kyle was a RHL at the newly opened
Georgia Tech
Campus, he led a majority fourth year group during Term II which consisted of Mason, Francisco, Amit(Who went back to India in the middle of the term), Tevin, Joey, Patrick, Dylan, Levi, Trenton, Alex, Sam, Kuber, and Tuttle. His group was very well known throughout camp due do their many extravagant acts to compete against other RAG groups and the Staff.
The group was known to practice every morning during morning workout to practice for the upcoming Student-Staff Frisbee game, their hard work payed off finally during the fourth year game in which they completely obliterated the staff. [(It's funny that this was written because students actually lost that game to staff)<- In Response (Actually the fourth year game was won by the TiPsters, the official game with everyone was the point where the students lost by one point)---
Yoloballer
() 10:39, 10 August 2014 (EDT)] Another interesting act of competitiveness was the "Scrabble" Game that the group would almost always be playing the week before TiPSync. Eventually, the whole camp figured out they were practicing for TiPSync. Their performance of Black Widow can be seen here at time 7:08
[1]
, was tied against Sonja's Rag Performance of Talk Nerdy to me which can be viewed in the same video at time 3:21. The tiebreaker was a dance off to the song Party in the USA by Miley Cyrus in which the two performances were so similar that the judges had to give it to Sonja's RAG due to slightly better Choreography. There is no known video of the Tiebreaker that exists currently.
In 2015, Kyle was also a RHL at the Georgia Tech during Term I. He was wrongfully removed from his position at the end of Term I.