Duke West
From the archives of TiPWiki, the unofficial Duke TIP Wiki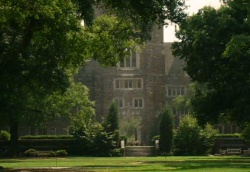 For the Duke East building, see West Duke.
Duke West is one of the flagship sites for Duke TIP . It hosts both a Term I and Term II. It serves courses that relate more to scientific concepts. This includes areas ranging from classic sciences, medical and biological studies, technology, and social analysis. Meanwhile, Duke East is more art and humanities based. West is considered by most to be the more restrained of the two flagship campuses, however West is usually regarded to have the best dances and the nicest tipsters.
General
Approximate map of the area TIP uses at Duke West
As of 2006, Duke West is air-conditioned, as it was not air-conditioned beforehand. However, unlike some campuses, West does not allow frontal hugs and the 'side hug' is a running joke in West. West was first located in Kilgo, but it was not renovated as it is now. The conditions were similar to the Crowell Quad, in which it was relocated in 2000. The Summer Studies program used to reside in Kilgo; however, in 2015, construction forced tipsters to be moved to Few, AKA a huge maze with obnoxiously narrow halls and no windows. As of 2017, camp still takes place in Few.
Duke West has the Bryan Center, complete with Red Mango (which sells smoothies and frozen yogurt), McDonald's, Panda Express, The Loop (a restaurant), The Duke University store, a convenience store called The Lobby Shop, and more. It's pretty much the 'cool' place to be on break. It isn't quite as unique as Ninth Street, but surpasses it in practicality.

Duke West is also known for its several attempts at invading the East via using . The West TiPsters consistently try to deny it but its official truth cannot be denied.
Dances
Dances are usually held outside on the Few Quad. If it rains, dances are held inside. The location varies from term to term. When the program still resided in Kilgo, the Kilgo basement generally became the new dance area, with trash bags taped over the lights to make it as dark as possible, and music blasting, and people being so cramped they couldn't help grinding on each other, despite the strict 'No Grinding' rule. But like anyone followed that anyway. Once (year unknown), before going to the basement, the party was in RC Will's room, who blasted the music, and if you think grinding was hard to avoid in the basement, try fitting 250 people into one dorm.
Food
According to people that have attended the camp, food can range from being tolerable to truly appalling, except for , for whom the chef personally cooked dinner for every night, and who was therefore universally envied. Meals happen at the Union, passing by the iconic Duke Chapel.
In 2015, the West Union began construction, so meals were held at Penn Pav. In 2016, construction was mostly finished, so meals were moved back to the building; however, the quality of the food amidst the construction was questionable at best.
As of 2017, the West Union renovation is finished, and the quality of meals has improved greatly, especially considering Duke spent 90 million dollars on this renovation. Tipsters can choose from several restaurants, such as:
Il Forno (Italian)
Au Bon Pain aka ABP (Soups, sandwiches, pastries, and more)
Ginger & Soy (Rice bowls, ramen, poke bowls, dumplings)
Gyotaku (Sushi and sashimi)
The Devil's Krafthouse (burgers, sandwiches, wings, fries, and more)
Farmstead (Southern cooking & gyros)
Sprouts (Vegetarian)
Tandoor (Indian)
CaFe (Bakery and coffee shop)
Tipsters are given cards loaded with over $600 and told to balance their own budgets when purchasing food. They are told they could spend roughly $8 on breakfast, $12 on lunch, and $14.50 on dinner in order to have enough money to eat for the whole term; however, most Tipsters underspend and have plenty of money to spend on 12 pizzas, 60 lbs of nuts, or 4 cases of San Pellegrino on the last day. (NOT ANYMORE! As of 2019, Duke Cards don't have money, they provide 3 meals a day and nothing more. Another result of the new totalitarian regime.)
VOLATILE
First created at Duke West Term 1 2019 by Gianni Lugo.
This drink was created as a byproduct of Gamer Sauce (and before that Gamer Juice).
In order to make this, students have to be willing to spend a significant amount of money at the Duke merch store.
This mildly dangerous concoction was created in order to help students survive boring lectures, classes the day after midnight interrogations, and the classic end-of-term all-nighters.
(Yes, it does actually taste really good.)
- 3 Extra strength 5-hour energy drinks - 1 flavored Monster - 1 Mountain Dew Kickstart - 1 Liberty Blue Mountain Dew - 1 Mountain Dew Game Fuel - 1 Red Bull
Dorms
Kilgo
The dorms are arranged in an odd manner, which can be initially disorienting to many. Kilgo is, in essence, a giant square (or more specifically a square-shaped 'Q' as P-Hall forms the 'tail' with the center being the quad). TIP does not occupy the entire building so students are unable to travel in a full circle. Fortunately, access to any part of the building is available through the interior. This thwarts the 'cards-stop-working-at-10-PM' rule. There are three floors, and sections labeled by letters. TIP occupies Houses K-P. The third floor always has fourth year boys and one or two groups of third year boys. The second floor usually has second and third year girls. The first floor usually has the second year boys, the remaining third year boys, and the fourth year girls. This pattern is thought to be a way to keep fourth year boys and girls as far apart as possible (since they are the most likely to "do" something). For more, see Houses.
Few
Similar to Kilgo, Few is arranged roughly in a giant square shape. The arrangement of rags changes by term, as does the amount of floors occupied by TIP. For example, in 2016 Term 1, the basement was off limits, but in 2017 Term 1, a RAG of second year boys resided in the basement. The fourth floor, too, is a contender for TIP occupation, as one RAG has resided there for multiple terms. Not to mention the fact that the entire building is a fricking labyrinth.
Duke West Dance Circles
Term II 2006
At Duke West, there is ALWAYS a , and a few of the best dancers do show up at TIP, including Ballet Dancer Little Richard, and Poppers Mack Lee, andTim Johnson and Hot Coco Hershey. And of course there's always Echo (T3H 133750R5). Be on the lookout for special performances at the TIP West Talent Shows.
Term I 2009
Once again there was a dance circle, yet to the dismay of many boys, no grinding circle. The dance circle was dominated by a group of guys who could break dance and the best dancer of the term...probably one of the asians, but maybe .
Term l 2017
During the second dance Jordan's RAG did a remake of their glorious first place winning TiP Sync rendition of I Will Always Love You.
The Anatomy and Physiology class is always in a dance circle with some others joining in.
Hell raisers. These kids I swear to God. I don't know how this happened but everyone got in trouble and everyone was being stupid. RCs targeted campers. for example, built a hatred for Chris Sedlock , Grant, and Campbell. Other RCs were also wary of the troublemakers, but they came to learn that many of them were actually pretty cool people. Chris Sedlock was publicized as the legend of west 2k17 after an incident involving a fire extinguisher.. god help him. Friendships were forged from understanding one another. (quick note: aleika totally called it with most of the troublemakers. she handled it well, actually pausing to figure out the facts.) The fourth year boys hall was always patrolled with about four RCs. They couldn't do anything which was super annoying. Then again, they had their .
Term II 2017
Barrett from Desmond's RAG along with other fourth years Ethan, Jacob, Trey, and Jack, led many hype circles during the dances. Jay's RAG created their own hype circle both in and out of the dance slowly building up suspension then changing "BIG BOOTY".
Features of Duke West
The philosophy of Unsun
Nice People
Dancing!
Side Hugs
AC and CH
Lots of other stuff that's much cooler than anywhere else. (except the food (or, maybe including the food as of 2017.)
Quads: Main Quad (West), Class Quad, Kilgo Quad, Few Quad
Duke Gardens
Courses at Duke West
Most courses at West are math and science-based, with a few exceptions (such as Ethics in Science Fiction). The teachers, TAs, course materials, and general experiences for the courses vary by term, so recommendations from other Tipsters aren't always going to be very accurate. The courses offered at Duke West vary by term; for a complete list, see this page.
Snoop at Duke West
It is known that the coolest Duke Janitor who worked in the often called "not-so-great hall", Delmari (nicknamed Snoop for his resemblance) is the coolest Janitor ever and is a beloved character at Duke West. Snoop was first recognized by Tipsters such as Jake Bashuk, Sloan Ungerman, Patrick Smith, Attican Knight and other great Tipsters.
Traditions of Duke West
Wear a Skirt Wednesday (ATTEMPT at being discontinued (somewhat successfully))
Pirate Day (Friday after WaSW) (discontinued)
HELLAwesome dances, including:

My Heart Will Go On (Term 1 2014 and hopefully onward)(didn't work, never played at west for term 1at dances)

Casino Day (discontinued)
Talent Show

4th year/staff skits

Crest
Doctor's Office
Question/Answer Monster
Is it Time Yet?

Slideshow (Carolina)
the Last Night
Goodnight Sweetheart
Term I
Screaming Weird Al as loud as possible at dances
Jump On It
Red Carpet Night
Titanic "My Heart Will Go On"
"It's 2015 and we're better than this."
Boom (original boom squad; 2015)
Term II
Here's to the Night
Fetus
Morphsuits
Party Rocking
CBKSIRD
Supa Hot Fire
Besitos
Big Booty
Note: Some of these traditions are for only one term and should not be regarded as traditions for every year/term at West. Another Note: Explanations for real traditions would be appreciated.
Events
West 2015
During the 2014-2015 school year, construction was started on many different sections of Duke, including the Chapel and some of Kilgo, meaning that TiP was forced to move to Few Quad(HH and GG Houses). It sucked. Also, construction on parts of the Bryan Center restricted access to some parts of the building. Also, Fourth Year Wills were shortened from 200 to 150 words in 2014, to 100 in 2015.
Term I 2018
The spoon game got intense and was banned after a few days along with taking plastic spoons from Broadhead or buying them.
Term II 2018
Quad Fest was won by the Blue Team by sportsmanship, spirit, and talent. Please note that it was a tie with the Blue Team, before Blue Team won a two hour dance off that didn't even matter and ended with a cheer off. Also note that Red Team played plug walk so therefore they should've won
TipSync was won by Nya's rag for Britney Spear's Toxic.
Team Team[1] won the Ultimate Frisbee tournament and beat the staff 15-10.
Term 2 Pictures: https://term2photos.shutterfly.com/
Term I 2019
A term that will forever live in infamy for TiPsters decides to be idiots. TipSync was won with a performance of "Want U Back," with runners up Baileyz Boiz and TiP Brothers, although the 14 Fully Clothed Cowboys were the clear victors. Though there was no confirmation of who won QuadFest, it was most likely red. The QuadFest was another way Admin failed to pull through with traditions. Biased judges, failure to freeze the t shirt correctly, and overall failed execution of many activites such as interpretive dance made QuadFest pretty awful. They also failed to provide icecream spoons. Speaking of spoons, it was not banned, maybe due to a decline in the activity, though it certainly still existed. At the end of the term, the 4th years championed the term's misfortune in an iconic, beautiful, artistic Doctor Doctor skit.
On the last night of T1 2019, three TIPsters living on the first floor decided, at around 3:40 in the morning, to sneak up to the fourth floor and spend the wee hours of the morning in a certain room. One of these TIPsters brought with them some prohibited beverages. The TIPster who brought these beverages was the only one to drink them, being a possible cause as to why the other two TIPsters went back to their own rooms shortly after 4. Another reason may have been that a TIPster living in not GG407 had tried to trick one of the girls into taking the drink as water. The other two TIPsters cautioned the third to "be responsible" before leaving (she wasn't). Due to the "Great Witching Hour Raid" that happened a couple nights prior, one of the TIPsters living in not GG407 became paranoid that the one drinking would get caught, leading to her hiding in the space underneath the bed and behind the drawers. It was, allegedly, the perfect hiding spot. Once there, she laid down and passed out shortly after at around 5 in the morning. She woke up around 6:30 a.m. to several other people in the room trying to wake her up, including one of the TIPsters who originally came with her at 3:40 but had left. One tactic her friend used, unsuccessfully, to get her up was threatening to pour Fanta all over her, but they only ended up pouring water on her. She, for some odd reason, genuinely thought they had poured Fanta on her. She eventually made it back to her own room with her friend's aid and, later, was dragged to breakfast where she felt better after some food. She is now fondly known as "Vodka Girl", and there is a very funny photo of her on a certain TIPster's phone.
(Also known as the "Witching Hour Raid of Duke West 2019.") On the last Thursday morning of TiP at 3:20 AM, every Tipster was woken up by police officers or an RC, some more patient than others (we thank Dale for her consideration of her girls and gentle wakening tactics), starting with the first floor and moving up. Their rooms were searched while they were forced outside their rooms. They waited until the admin checked for their entire RC group's attendance and then they could go back to sleep. Many people are suspicious of their authority to search our rooms. A small number of almost 50 Tipsters were found in other Tipsters' rooms.
The Tipsters caught outside of their rooms or with others in their rooms were taken to the first-floor lounge HH101. In this room, they were kept from 3:30 am to 5:45 am. They were kept in absolute silence as, one by one, they were taken to a room and asked to give a statement. Police officers and RC's circled, as the administrators gave them lecture upon lecture. Many of these Tipsters got two or fewer hours of sleep but were forced to go to class at the usual time. In class, Tipsters were pulled out and given an opportunity to change or add things to their statement. They were asked questions such as "How long have you been doing this without being caught?" and "How long has this been going on?"
This is an account from one Tipster from their experience with the police and admin. "I was sleeping after climbing into bed at 1:30 AM, and I heard a loud bang which shook the mirror in my room. After putting proper clothing on, the pounding grew louder and louder until the sound was at my door. Two police officers said, "Get outside your room with your roommate!" They asked if my roommate was in there and turn the lights on. After being confused from waking up to the sound of something like an FBI raid, I said 'yes, and no one else is in here.' They searched my room from top to bottom. Shook my suitcase, flipped my mattress, and searched through my cabinets in my room, and I had to spend 20 minutes just fixing my room. I felt like my personal space was being invaded, and I didn't know what to do. This was one of the worst experiences I have ever had at Duke TIP."
Rumor number one (known false) is that Tipsters, to display dominance over the horrible admin staff this year, left their rooms open and lights on in the middle of the night and escaped to Brodhead, leaving a police-issued raid to the rest of the camp, forcing many out of their sleep. This rumor has now been confirmed to be false. Rumor number two (our main lead) is that someone left their door unlocked and lights on and went to someone else's room. Upon admin's searching of the camp, they found 40+ kids in the wrong room which prompted them to start the missing person protocol and a double headcount. Rumor number three, an RC suspected one of their tipsters was in another room and waited until it was empty to search it. This resulted in the start of the great tipster roundup because once a kid is "missing," they can call the campus police and open all the dorm rooms. Rumor number four is that the campus police were pulled in to search certain people for drugs and disguised it as a random headcount. Rumor number five, although known false, is that "the social psych class are doing a kidnapping experiment and the police got involved and that it's a whole big conspiracy and just some big joke" however this rumor has been confirmed as false.
Moment of silence and respect for our fallen fifty soldiers who were partying on this glorious night and got caught. May the traitor who sold them out die and never Rest In Peace.
—also known as "The Great Tipster Roundup"—

With that being said, here are the main bruh moments of TiP West Term One 2019:
The 35 people who got caught outside of their rooms
Reese being caught three steps away from his room
Miles leaving an opened bottle of mouthwash in his suitcase
The Conjuring 2 getting shut down ten minutes before it ends even though 5 other RCs watched it with us
Justin Lee getting in trouble for reading his class book when the two people next to him were dead asleep
Aavik and Anish waking up at 9:40 AM and being very late to class

Vansh did the same but he woke up a 9:00 AM

Miles falling asleep in class, oversleeping in 4-5 free time, falling asleep at dinner(we stole some of his food)
Here are also some of the second year's notable bruh moments.
Having a nosebleed every day for seven days straight
Drinking 9 full glasses of water and throwing it up immediately after
Refusing to get out of bed during the 3:00 AM police raid
Leaving his class notebook on the Duke Transit Bus
Falling out of his chair twice in thirty seconds
Running into a paper towel dispenser twice
Hitting his head (very hard) on the ceiling while watching bird box.
Leaving his violin in the Bryan auditorium after the talent show.
Losing his 3ds in Heather's office
Insulting Drew(the Greatest TA of all time)'s hairline
Spooning and RC and then getting caught
Getting caught climbing the railings of a spiral staircase
Putting in his laundry without tide pods
Term II 2019
WASW
Ignited by the uproar that Te's Kings were specifically told NOT to wear skirts, leggings, or thot knots (even without skin showing), and how all other rags (mostly girls) dressed as guys with sharpie mustaches, the Tipsters needed recompense. Previously having read the Tipwiki on West's traditions, Arman Tavallaei had the idea to promote Wear a Skirt Wednesday (Wear what you want Wednesday) as a channel to put that outrage into. Not yet knowing the Spirit Week days, it seemed like the PERFECT idea--revive an old tradition and break social norms (as Social Psychology is the best at doing). To be able to fight with admin on the issue, Arman talked privately with Chara (RLC) about the anti-organized-nontraditional-dress policy. Being presented with a guideline to prohibit nontraditional dress days (seen below) (and although the guideline didn't prevent nontraditional dress itself), the conversation led to Chara calling a meeting with all Fourth Years during 4-5 free time that next day (Tuesday). At this meeting, it was made very clear that it was not a good idea to hold WASW, especially since it would be coinciding with the admin-sponsored "Wacky Wednesday". Fourth years complied and pushed it back, heat increasing. Main Office in fact caught wind of this movement and that very next day (Wednesday), a meeting was held during 4-5 free time (and even going past 5:00 into Dinner). Consisting of David (Res Life Coordinator), Karen (lady from Field Studies), and the site supervisor, the Main Office's representatives allowed voices to be heard and it came down to many things: positive intent not matching with potential colateral damage, potentiality of some Bad Apples ("5%"), and the fear that the tradition would carry on the way it has in the past as a transphobic day, Mr. David required the fourth years submit a proposal with a plan of action and solutions to mitigate collateral. then typed up, with input from others, a document that night. The next day (Thursday) three Tipsters had dressed up: Nic, Arman, and . Another meeting with just fourth years and Chara was held and a day--Monday--to meet "Nic from the Gender and Sexualities Center" on Duke Campus (in the Bryan Center) was set. If we were going to have WASW, then it would be after Monday. Other solutions, however, such as Fassion Show Free-time Friday and banning cross-dressing for TipSync were suggested. With this meeting, Friday passed with ease, yet several Tipsters were getting a whiff of delay tactics being used by Main Office...
Links
Official Duke TiP Locations | Duke University West Campus