Tyland Duggins
From the archives of TiPWiki, the unofficial Duke TIP Wiki
Tyland Duggins
TIPster

Attributes
Funny, Outgoing, Friendly, "Dirty Tipster"
General
Tyland Duggins isn't a very popular TiPster, but those who know him think he is a great frisbee player, and is noted for his exceptional backhand and Hammer. Contrary to popular belief, he never played frisbee outside of TIP, which is part of the reason why his Ultimate skills are impressive. He loves to make people laugh, and is often considered a quiet leader. He is also good at ERS.
1st Year
Tyland arrived at the University of Kansas not knowing what to expect of TIP. He was forced to attend, and wanted the three weeks to be over. However, after the first week went by, he found himself friends with many of the people, and especially close to his roomates. This term was much more known for ERS than most other TIP campuses, and is where it was first introduced to him. His competitiveness and the very skilled players at KU is what made him really fast at slapping. The University of Kansas is where he first layed hands on a frisbee. Although he is known for his arm, he didn't have that skill yet, but instead, he caught the most scores out of everyone that term during the Ultimate Frisbee competition, which they ended up winning first place in.
2nd Year
Tyland came into UGA with low expectations. He didn't think that it would be as good as Kansas. However, he was quickly proven wrong when he bonded with his RC group, as well as his classmates. He spent a lot of time with Noah Rainbow-Douglas, Ian Hargrove, Ryan Joseph, and Isaac Carbajal. All of these guys were African American, except for Isaac, who was bi-racial. He was called the "white boy" when he hung around them. However, he loved this group, and thought they were one of the funniest groups at TIP. He thanks a lot of his love for TIP from his RC, Chris, who really showed what TIP is all about. He was sad to see him leave in the middle of the term, but his replacement, Cassy, turned out to be really cool as well. This was the year he started to develop his throwing skills, with the help of his TA Andy Bradshaw, as well as the 4th years. This would prove to be valuable to Green team's championship run during Dawgfest. They came in second to the red team. Although they lost the game, it was still impressive, as Green team consisted of mostly 2nd years, with some 3rd years, while Red had two 4th year groups. At the end of term talent show, a fourth year gave Alex Coughlin the Bora frisbee. Tyland, not knowing a frisbee existed, wanted the honor of having a frisbee that other skilled players had before him. After the show, he went up to Alex and said "You have to give me that frisbee next year", in which he replied "You have to earn it." These five words would push him to become a great frisbee player, and it showed his next year.
3rd Year
Tyland returned to the University of Georgia, and was glad to be back. Although he didn't bond as much with his classmates and RC group as the year before, he still found a few close friends. This was Tyland's breakout year, and was widely considered one of, if not the, best Ulimate Frisbee player at UGA. He perfected his backhand, and threw really nice hammers, which would prove to be a key component at Dawgfest. Xander Brotherton once said that Tyland has the "Arm of God", and that when he throws his backhand, it is "The 8th Wonder of the World", and that it is a "pleasure to catch". Although his RC group had solid frisbee talent, they were the only male RC group on the Yellow team, which put them at a disadvantage.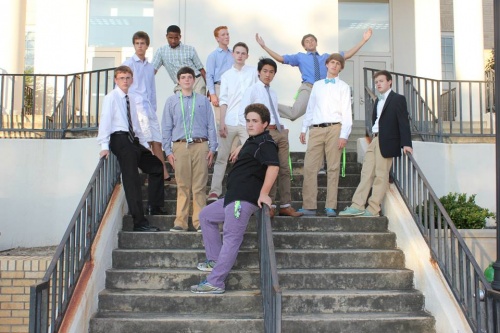 However, they over came that easily. Their first game was against the Red team. This game was considered the best match at Dawgfest, and it was widely determined that whoever won this game would win the championship. Many of the people on the Red team played with Tyland on the Green team the year before, so it was a personal game for him. He hated losing, and didn't want to lose to the Red team two years in a row. He played almost every minute of the game. At one point during the game, the score was 7-6 (Yellow was winning), and Tyland had the frisbee. He was located on the sideline when he saw Andrew Mull running down the field. Tyland threw what he considered his "greatest pass in an Ultimate game ever". He threw it to where no one on the defense could get it, and just became of matter of catching it. Andrew dived for the frisbee and summersaulted into the endzone for the score, and it became a turning point in the game. The Yellow team ended up winning 10-9 against Red, and won the championship 8-3 against Green.
After Dawgfest, it was widely speculated that Tyland would recieve the Bora Frisbee, which was usually passed down to the 3rd year with the most TIP spirit and leadership. However, the holder at the time, Alex Coughlin, passed down the frisbee to Daniel O'Conell, who also played on the yellow team at Dawgfest. Despite not recieving the frisbee, Michael Xu, a 4th year, gave Tyland his frisbee, and said "You're too good not to have one". Tyland made him sign it the next morning. Whether Michael knows it or not, he started a new frisbee named after him, the "Xu Frisbee". Oddly enough, the holders of all of the frisbees at that time (Bora, Barbuto, Xu) were in Chris' Trap Crew (CTC). Tyland was officially made Co-Captain with Daniel for the Staff-Student game of Term 2, 2014.
4th Year
This was the final year for Tyland at UGA. Even before he arrived, he had already accepted the fact that it was his last time, and he tried to make the best of it. This year started off with some disappointments. The staff had scheduled the frisbee game on the first Saturday (which is usually on the second one), and with that came an unprepared student body. He was the co-captain of the game, and he took full responsibility when the students lost to the staff once again, 13-6. He was very upset, and looked to redeem himself during the Ultimate Frisbee tournament. The next Saturday, it had rained a lot, and the quad was flooded. Thus, the tournament never got to take place, and he never got the chance to play frisbee one last time. He was on the Blue team this year, and despite receiving the best cheer and most sportsmanship points, they still ended up in last place (which they wouldn't have if they had played frisbee. Tyland was not nearly as close with his RC group as the previous year, and although he loved his instructor and TA, he often times found the content boring and tedious. However, despite all of these drawbacks, Tyland's 4th year was made great for a different reason. He was in class with a girl he thought was cute, and into the second week, he realized she felt the same way. Even though he was nervous, he was convinced by his friends Kate and James to go ask her to the second dance. He went to the third floor and asked her, and, because she was nervous too, said "Um, yeah sure...potatoes!" while turning to her roomate.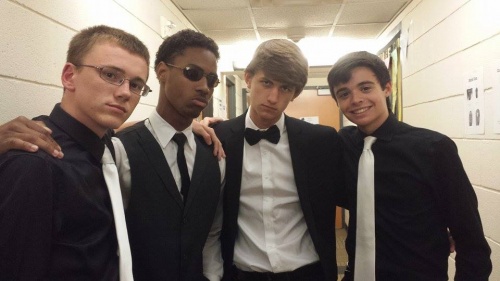 Though he was very confused, they ended up having a good time (she ended up admitting she was very nervous and caught off guard, so she panicked). They went into the next week, and Tyland made his first
promposal
. It was at Snelling during lunch time. Tyland was with his class, while Carson was with her friends. His classmates convinced him to do it, so he stood up on the chair. He tried to get everyone's attention by banging a fork on the glass cups, but within one hit, it shattered everywhere. It wasn't what he expected, but it got everyone's attention, and they were laughing. He then proceeded to Carson to the dance, in which she replied "sure". During this whole event, there was a man from Snelling yelling at him to get off of the chair. They had a great time together, and was a great way to end Tylands years at TIP. Also, some notable things he did this year was consistently say "Bruh" with Andrew Mull, James Sifford, and Chase Davis. Another popular thing was referring to Carson as "FrisBae", and even though he found this clever and quite fitting, he disliked people using it around her, because she did not enjoy being called anything besides Carson. He also gave a very compelling 4th year speech. He started it off by saying "Sup Nerds", and then giving the Xu Frisbee to Michael Jones. He then thanked some of the people/groups who had effected him during TIP, and then he commented on Carson, much to her dismay. Many thought it was very cute and sweet though, and even made one girl cry. All in all, it didn't go the way it planned, but Tyland had a great 4th year, and is grateful for everything TiP has done for him. He plans to come back as an RC at UGA, and expects great things to carry on for the TiPsters.
Preceded by:
Michael Xu
Owner of Xu Frisbee
Succeeded by:
Michael Jones