Elizabeth S
From the archives of TiPWiki, the unofficial Duke TIP Wiki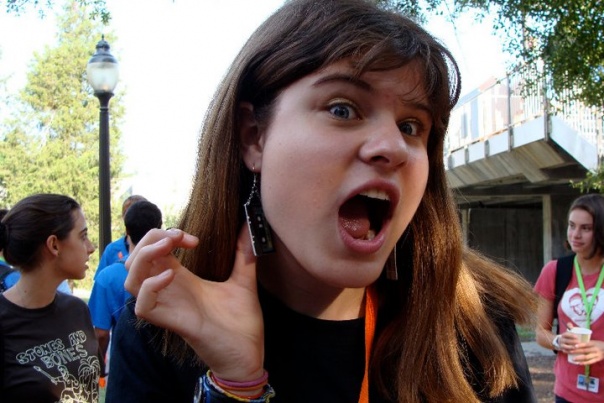 Elizabeth was a TIPster who attended Duke West term II for three years. In 2009 she took Forensic Science, in 2010, Genetics, and in 2011, she took Electrical Engineering.
Elizabeth is perhaps best known for her dancing. She attended many hallway raves as a second year, although a few of them were shut down for exceeding the awesome limit. She even raved with the Zulu Force once, which some believe is where her powers came from, although it is generally agreed she was just born funky fresh. As a third year, she was known by all the members of the awkward dance circle for her mad dancing skillz, and was left control of the awkward dance circle in many a fourth year's will. As a fourth-year, she became the self-appointed Minister of Raves, a title no one disputed, because of her love for dancing and inconsistently lit parties.
Elizabeth is known to love Jewish boys and Michael J. Fox. Beloved by many and friendly to all, Elizabeth prefers to hang out with people who are even nerdier than she is, and was Kate's not so secret lesbian lover. One of the leading researchers on vicarious menstruation, her favorite flavor of tampon is green apple. She will steal your food at any opportunity, but is willing to listen to you talk about anything while she eats it. She is incredily good at Jello snarfling, but her greatest and most storied Quadfest contribution was her amazing save during Pass the Apple in 2011, which helped lead the Green Team to their first victory in remembered history. She had a great affinity for certain baseball players (Matt Joyce, Desmond Jennings, and Brandon Guyer) and made her love known at the Durham Bulls games, screaming such outpours of emotion as "Desmond Jennings, have my babies!" "Brandon Guyer sets my heart on fire!" and even "We want Kevin Costner!" in reference to the movie Bull Durham. While she was a generally well-behaved TIPster, she was known for strong disdain for the police. In 2009, as a second year, Elizabeth invented Communal Naptime, a platonic way to sleep with friends. In 2011, as a fourth year, she helped to complete the One and a Half (one of every item on the Taco Bell menu, two of every Taco) in 10 minutes and 33 seconds. As a third year, she accompanied Ed Kerr down the red carpet, and as a fourth year, she went down the red carpet with Joe Schermer (who wins all the awards). Elizabeth was never part of an official relationTIP, perhaps because her love was to great to bestow upon only one TIPster at a time. At the end of her fourth year, she "went out swinging," fist pumping and swinging her lanyard on her way out.
In the future, Elizabeth hopes to follow in the footsteps of her mentor in awesome, Nick Michel, and become an RC with her goood friend Fiona Shauger.
Elizabeth is a beautiful and amazing TiPster and she is always the most enthusiastic for any event. At dances, she keeps the party jumpin', and at Quadfest her excitement was unparalleled. Once you meet her you can never stop loving the minister of raves, the knitting EMT, whose Elizaboobs are Elizaboss. I am proof of this. I love you Elizabeth ♥