Hannah Hale
From the archives of TiPWiki, the unofficial Duke TIP Wiki
Hannah Hale is one of the greatest people ever! She's on the same level as Queen Rania <3 Hannah is fab and one of the best friends you could ever have. She knows how to treat a woman. During UGA Term 2, 2012, she made possibly one of the biggest mistakes ever: she was in a relationTiP with Coopersmith.
Hannah Hale
TIPster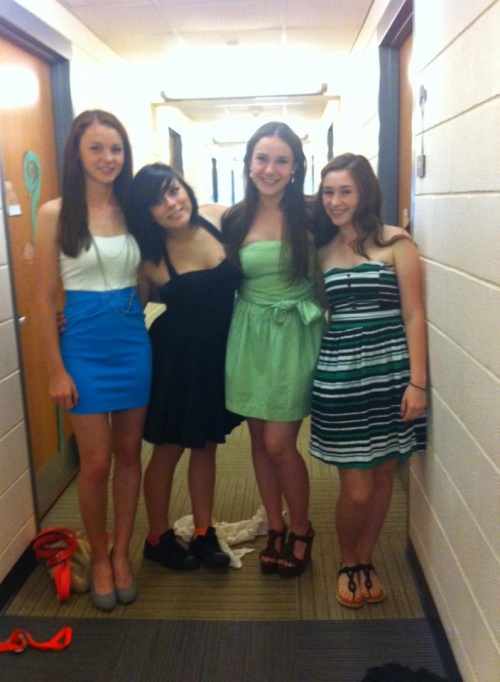 | | | | | | | |
| --- | --- | --- | --- | --- | --- | --- |
| Year | Year at TIP | Campus | Term | Course | RC | Roommate |
| 2011 | 2nd | ASU | 2 | America and the World | Morgan | Kylen Smith |
| 2012 | 3rd | UGA | 2 | Criminal Law and Mock Trial | Ray-Kelle | Savannah McCaskill |
| 2013 | 4th | UGA | 2 | American Foreign Policy | Amelia | Shaylyn Motter |
General
Hannah Hale was a third year fourth year from Plano, Texas. Her opposite day/ lip sync alter ego is Hank, who's in a standing bromance with Kathryn Hood's Kyle. She's an all around awesome person whose knowledge of the universe knows no bounds. In what would become the worst decision of her life, Hannah missed her first year at TiP because she thought she had something better to do (probably nothing) and was skeptical of the type of people that would go to academic camp in the summer. Thankfully, she had the good sense to come her second year and fell in love with TiP.
Second Year
Her Second year, Hannah's RC was Morgan, who let their entire RC group watch funny YouTube videos before bed each night with favorites being Marcel the Shell, Curtis the Bacon King, and Unicorn after Wisdom Teeth. Morgan's group was also noted for teaching the entire campus how to crump properly. While at ASU she went on several quests to the fabled Boone Bagelry and bought a shirt that she still cherishes to this day. Hannah took America and the World with the amazing Tori Sanchez as her instructor and Casey as her TA. Her class had many amazing inside jokes including 212, transformers, the freemasons, and impeaching the president; Notable classmates include Hannah Cole, Kyle Mckean, Roland George, Sam Strobel, and Christina Arias. She was a spirited member of the 3rd place yellow team in Pitfest, losing her voice after cheering too loud, leading to no one being able to take her seriously and several Justin-Bieber-going-through-puberty impersonations. Hannah participated in Lip-Sync doing the song "Forget you" and won second place. Her RC group superlative was "Most likely to spend income on gum" and her class superlative was "Most likely to break a diplomatic meeting because of a facial expression. Or blow an epic bubble from her gum". Apparently she was into gum that year.
Third Year
This was Hannah's first year at UGA and after the first week she knew that she wanted to spend her fourth year there. Her roommate was Savannah McCaskill and Meredith Gentry, Madeleine Clarke, Jocelyn Honore, Clara sparkman, and Laurie Shledon, among others, were in her RC group. The odds were not in her favor for having a good time, however, as her RC was not the most friendly person in the world and early second week she got her phone taken away for the rest of the term because she checked the time during dinner. None the less she had an amazing time. She took Criminal Law & Mock along with Joey Dierkes, Alex Coughlin, Sunshine Ryan, Duckie Greibno, Andrea Gardner, and Noah Rainbow- Douglas and it is here she created the infamous cobbler joke. This joke consists of making a creepy face and using "Ay gurl imma eat you like cobbler" as a pick up line. It was also on a field trip to the Georgia Supreme Court that Hannah went to Chick-fil-A, and ordered a milkshake that happened to randomly have a quarter in the bottom of it. It was christened the milkshake quarter and had a place of pride in Hannah's wallet. As a class they also talked about the death penalty and spirit names a lot. She was a very active member of the Blue team (The Blue-pers) during Dawgfest, earning second place solely on sportsmanship she suspects. Hannah once again won second place at Lip Sync with Hot Chelle Rae's "Tonight, Tonight" This high ranking finish was mostly in part to a synchronized Joe kick and pen tattoo. Her RC group superlative was "Most likely to be classy always" and "Most TiP spirit" and her class superlative was "Most likely to rule the world.
Fourth Year
Hannah had, arguably, the best fourth year in existence. She had amazing RC, Amelia, and the best RC group she's ever had. Her, Laurie Sheldon, Andrea Gardner, and Natalia Badger were near inseparable and Hannah would often be seen entering Andrea & Natalia's room in order to be sprayed with "Pure Seduction" perfume. Needless to say they all smelled rather seductive at all times. This group of friends is also responsible for creating Waffle Wednesday (Eat a waffle for breakfast), Tate Thursday (Exercise the 4th year right to go to Tate, the bookstore) and Seductive Saturday (Eat everything as seductively as possible).Andrea and Hannah also started a tradition, that "popsicles are a 4th year thing," these girls and nearly all of Geoff's group would eat popsicles as seductively as possible every time they ate at Bolton (dinners on the weekdays, lunch and dinner on the weekends). While at TiP, Hannah was introduced to the majesty that is the Giraffes? Giraffes! book and loved it so much she ordered it on Amazon then and there (It was during phone hours). She, along with Cal Stephens organized the second annual Rock Party, which was soon shut down by Sarah,the RLC. Hannah also coordinated the first ever 4th year Girl Serenades to the 4th year boys. Their set list was Drops of Jupiter by Train, I'm Yours by Jason Mraz, and Hallelujah by Jeff Buckley and it was beautiful. She played in the Student-Staff frisbee game and the Dawgfest frisbee game and was only helpful on defense. She took American Foreign Policy and weirdly had the same teacher as her second year, Tori. She loved every single person in that class which included Shiv Daftari, Jasmine Hawkins, Joey Dierkes, Alex Coughlin, Trevor Jones, Alex Coopersmith, and Duckie Griebno to name a few. In class she had several very successful presidencies, ending with a 67% approval rating on the last simulation (which was lower than her starting approval rating by one), kicked everyone's butt at the Road Game and formed the Russo-Turkish alliance with Shiv Daftari to win Diplomacy. She one of the driving forces in the Great Game of 2013. Hannah participated in the one time they were allowed to use the nerf guns, Zombies vs. Humans, and got several bruises and cuts to show for it (Which have turned into scars nicely). She was on the historic red team during Dawgfest that tied for first with the Blue team, causing the first-ever purple term book cover. After less than 2 hours of prep and 1 song change, Amelia's group did Check Yes Juliet by We the Kings for Lip sync. Hannah broke her 2 year second place streak but she got to show her love for Andrea to the world by finishing their groups act by proposing to her, Andrea was of course overjoyed and said yes, so that's almost as good. Her RC group superlative was "Most likely to have boys vying for her attention" and her class superlative was "Class Mom".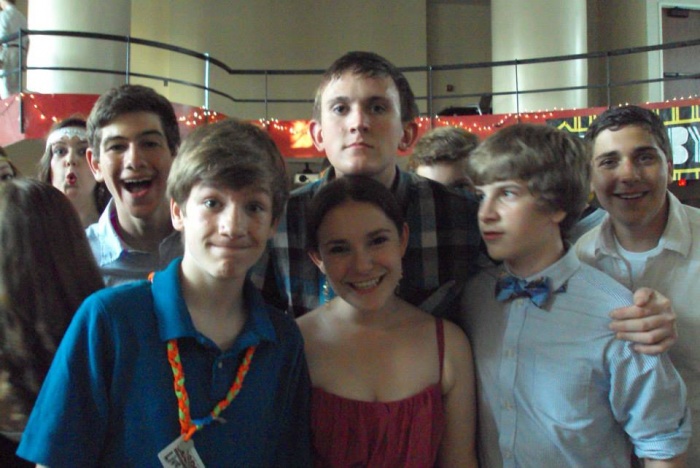 Preceded by:
N/A
Owner of Eunice the Umbrella
With Alex Coughlin
Succeeded by:
Joey Dierkes