Texas A&M
From the archives of TiPWiki, the unofficial Duke TIP Wiki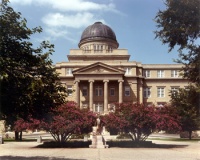 Texas A&M University (called A&M), formerly the Agricultural and Mechanical College of Texas, was an academy location. It was founded in the 1876 as the first public college in Texas. It has a rich military history, providing more commisioned officers to the United States Armed Forces than any other college other than United States military academies. It also was the first school to experiment successfully with cloning animals. As it is in Texas, the state where if at least one county does not hit temperatures of 100 or greater during the summer something is WRONG, it is air conditioned.Indeed!
Many a tipster was disappointed when he or she discovered it was an Academy, not a Center, site. Although this is not official, if you're a Center tipster and want to go to Texas, you might have been able to do that -- you had to call TIP (919-668-9100), but I know of a couple exceptions that have been made.
Texas A&M is no longer a TiP campus due to the destruction of Moses hall and troublesome internal affairs. RIP On a visit to Texas A&M immediately following the conclusion of Term 2, it was found that Moses Hall had not been demolished, and will be a co-ed dorm at the start of the 2015 school year. It's unknown whether Texas A&M will be a Duke TiP campus again.
Courses at Texas A&M 2008
Robotics and Engineering
Introduction to Veterinary Medicine
Algebra (I and II)
Politics in America: Divided We Stand?
Computer Programing
Cryptography
Nanotechnology
Courses at Texas A&M 2009
Algebra 2
American Foreign Policy
Architecture
Astrophysics
Criminal Law and Mock Trial
Engineering Problem Solving
Introduction to Quantum Mechanics
Introduction to Veterinary Medicine
Outsiders, Aliens, and Strangers: Invasion of the Other in Literature and Pop Culture
Wars of the World: The Apocalypse in Literature and Pop Culture
Writer's Workshop
Writing with Power
Courses at Texas A&M 2010
Geometry
American Foreign Policy
Robotics
Architecture
Zombies and Vampires: Mythical creatures in Literature
Criminal Law and Mock Trial
Engineering Problem Solving
Web Design
Neuropsychology
Entrepreneurial Leadership
Courses at Texas A&M 2011
Algebra 2
Criminal Law + Mock Trial
Architecture
Robotics
Neuropsycology
Modern Medicine
Engineering Megastructures
Zombies and Vampires: Fear in Popular Literature
Team Programming for Video Games
Writers Workshop
Entreprenurial Leadership
Courses at Texas A&M 2012
Term 1: June 10 - June 30
Algebra II
Architecture
Criminal Law And Mock Trial
Engineering Problem Solving
Evolution Of Military Strategy
Modern Medicine: Disease And Immunology
Neuropsychology
Robotics
Some Bad, Some Misunderstood: The Villain In Literature And Popular Culture
Team Programming For Video Games
Writer's Workshop
Term 2: July 8 - July 28
Architecture
Astronautical Engineering
Criminal Law And Mock Trial
Evolution Of Military Strategy
Inspired Writer: Refining Your Creative Voice
Modern Medicine: Disease And Immunology
Neuropsychology
Robotics
Team Programming For Video Games
The Future Of Money
Courses at Texas A&M 2013
Term 1: June 9 - June 29
Algebra II
The Brain, Intelligence, and Creativity
Criminal Law and Mock Trial
Engineering Problem Solving
Inspired Writer: Refining Your Creative Voice
Military Leadership and the Theory of Warfare
Modern Medicine: Disease and Immunology*
Neuropsychology
Sports Medicine
Villains in Literature and Popular Culture
Term 2: July 7 - July 27
Architecture II: Beyond the Foundation
Astronautical Engineering
The Brain, Intelligence, and Creativity
Criminal Law and Mock Trial
The Future of Money
Inspired Writer: Refining Your Creative Voice
Military Leadership and the Theory of Warfare
Modern Medicine: Disease and Immunology*
Neuropsychology
Team Programming for Video Games
Campus-Wide Activities
Texas A&M was also the home of the mythical Term 3. --71.21.164.207 02:34, 3 August 2010 (UTC)