Rollins
From the archives of TiPWiki, the unofficial Duke TIP Wiki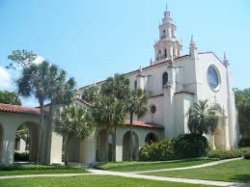 Rollins College, founded in 1885, became a TIP campus for the first time in 2015, where it hosted a Term I and II for that year. The courses offered there didn't have any set theme, ranging from Medical Science to 3D Printing. Due to being a fairly new campus, not much is known about it, other than what's kept in the minds of the TIPsters who attended. The secrets of the campus could be locked away forever...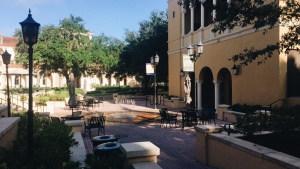 General Information
With its slight overbalance between nature and buildings, the campus is utterly cluttered with wildlife. It has an abundance of lizards, squirrels, and various types of bird of prey. You really can'y go anywhere without seeing some sort of wildlife. The weather is hot, humid, and nearly daily afternoon thunderstorms. This is unfortunate because it causes tipsters to not be allowed to leave the building during the thunderstorms, although creative solutions are a TiP specialty. The buildings mostly look the same, aside from structure. McKean Hall was where every student attending TiP was housed (how they managed to fit everyone in that one hall is beyond me). Floors one, two, and three were female floors and floors four and five were the male ones. The laundry room was located on the right side of the first floor. The library was a library, with a door on the right side of the room you first encounter once stepping into the building; that room was used to house the Creative Writing Class. The library connected into a tower above it, which houses areas full of enormous navy blue beanbags known as Quiet Zones. Quiet Zones are the best view on campus (rivaled by the 5th floor of McKean). These were frequently used by the From Wonderland to Hogwarts (AKA Wonderwarts) class. The dining hall, which was large and fancy, had flags from most countries hanging from the ceiling. The dining hall was shared by tipsters, girl's volleyball camp, boys' basketball camp, and Tech ID kids. This lead to much conflict. For example, once a member of The Breakfast Chaches threw a tater tot at a Volleyball girl because they had stolen all the french vanilla from the coffee machine--again. The Dining hall also housed the second Term I 2015 dance due to a thunderstorm preventing people from leaving the building, and housed all the dances in term I of 2017. The room is usually decorated based on the theme of the dance, aside from the chairs that were lined up on the sides for people to rest on and the tall tables where you would almost always see a group of kids playing ERS. There is also a small lounge area with board games and such that people would use to get away from the dance. Then there was the building which housed many of the classes, the Bush Science Center. It's also home to the auditorium, which is used for the Talent Show, Quiz Bowl, Orientation, TiPsync, and various activities as needed. Also see: Rollins College list
Term One Toilet Terror
2015 Term 1
The very first term on the Rollins campus went pretty well. The campus was happy to have young, bright, genius, tipsters around. It was mostly a smooth run through besides one little hiccup. I guess you could say it's because of the whole fourth floor being stinkers (pun intended). The boys on the fourth floor had one guy who went the whole three weeks unnamed but will always be remembered. This kid must have had a phobia of toilets because he rarely used one. Instead this kid would do his business in other places, whether it was in the middle of the bathroom floor or in the shower, and by business I mean number 2. The first time it happened everyone thought it was a joke. All the boys on the floor were pushed to confess but none of them did. Then the second time it happened the boys of the floor got a nice talking to (I was on the third floor and it didn't sound like very much fun), and the boys had to go to bed early that night. Everyone thought it was all over, especially the boys on the fourth floor, until the day someone walked into the bathroom to take a shower and, there, smeared all over the wall, was the poop, yet again. This time the boys all had to write personal letters to their RC's telling them why they would never find it funny or TIPropriate to poop in the shower. For those boys it was somewhat of a nightmare, but for everyone else at TIP Rollins Term 1, it was the laugh of the century. Some boys on the third floor even made a rap about it.
Term Two Insanity
2015 Term 2
The Breakfast Chaches have a lot of information about what went on during this term.
The link above should give you some major insight on what occurred during the second ever term at the beloved Rollins College campus. Other than those adventures listed, there were a few other quite unforgettable moments at TiP. For instance, we had the fire alarm scandal. Someone at the campus was coming out of the shower when they were pushed and stumbled into the alarm. Nobody knew this incident was an accident, of course, so the entire building was in turmoil. Each RC tried their hardest to manage their wild and chaotic group, but were unsuccessful, eventually giving up and allowing the TiPsters to leave the building in a "calm and quiet" manner with two RC's leading them safely out. They lead us to the quad, an enormous, circular patch of green grass, and waited for all the RC's to arrive, taking attendance of their own groups. There were people in their pjs, regular clothes, some with socks, others barefoot, the lucky ones in shoes, and a few unfortunate boys and girls who were only wrapped in a towel as they were in the middle of taking a shower. After a while it was confirmed that the incident was, in fact, an accident and the student who mistakenly pulled it had come forward.
There were other events that weren't as major but as a common courtesy to the history of TiP, they will be listed. There was a point in time where the fourth floor (or the fifth; I may be mistaken) was banned from playing ERS in the common room because the floor below it was sending in noise complaints; it turns out the boys were playing so aggressively that the chest was making too much noise. Another event was in which a boy named Trinton wore a dress at TiPsync to portray the fabulous Dancing Queen. There was also a famous incident in which a girl dropped her entire tray in the middle of the cafeteria and every single person stopped and turned to stare at her, and she was in tears. Her roommate, not knowing what to do, shouted "OPA!" and the cafeteria began to clap, making the girl feel much happier about the whole situation. Josh, an RC, was obsessed with whipping everywhere he went, causing a few frenzied girls to tape colorful signs inside the ENTIRE building with phrases like "No whipping allowed at this point", "Josh can't whip here", "Whipping? NO", etc. Soccer was played in the halls often.
Courses
2015
Term 1-June 7-27
Aerospace Engineering
Aquatic Biology, Conservation, and Policy
Choosing Sides: Debate and Persuasion
Crime Scene Investigations
Design Challenges: Physics and Engineering
From Code to Construction: the Many Layers of 3-D Printing
Introduction to Medical Science
Mathematical Problem Solving
Psychology
Theater Arts
Term 2-July 5-25
Aerospace Engineering
Aquatic Biology, Conservation, and Policy
Choosing Sides: Debate and Persuasion
Creative Writing: Express Yourself
Crime Scene Investigations
Design Challenges: Physics and Engineering
From Code to Construction: the Many Layers of 3-D Printing
From Wonderland to Hogwarts
Introduction to Medical Science
2017
'Term 1- June 11-July 1'
Aquatic Biology, Conservation, and Policy
Creative Writing: Express Yourself
Design Challenges: Physics and Engineering
Engineering in the Virtual World
Math, Money, and You
Psychology
Theater Arts
The Human Body
2019
Term 1 : June 9 - June 29
Aerospace Engineering
Aquatic Biology
Crime Scene Investigations
Design Challenges: Physics and Engineering
Engineering in the Virtual World
Human Body
Math, Money, and You
Mock Trial
Theater Arts
Term 2 : July 7 - July 27
Aquatic Biology
Choosing Sides: Debate and Persuasion
Crime Scene Investigations
Engineering in the Virtual World
Math, Money, and You
Mock Trial
Myths and Legends
Mock Trial
Myths and Legends
Traditions
•The Songs of TiP, played at the dances: Time Warp, The End of the World as We Know It, We Are Young, Bohemian Rhapsody, Don't Stop Believing (2017) and American Pie
•Staff vs. TiPsters Ultimate Frisbee Tournament
•FoxFest. [Rollins' equivalent to Quadfest, Hootfest, Pitfest, Marshfest, Roofest, etcfest]
•TiPsync, which in 2017 Term 1, Kelly's Jelly Bellies made people question their sexuality with their performance of, "You Can't Stop The Beat", where Mary Rudd and Sara Whitman preformed the most iconic dance move of TIP history.
•Talent Show, which gave birth to Margaret, the Ratchet Queen.
•Themed Dances (surprise)
•Spirit Week, or as some called it, Insanity Week
•
•Lexism (best cult ever)
Suggested Packing List
Some things that you should (and shouldn't) bring that might not have been on the list. This is an imperative topic, especially for the first year tipsters.
T-shirts will all the primary colors (and maybe green) for FoxFest
A fan! The windows in the residence hall don't open and sometimes the AC is not enough
Musical Instruments- The students at Rollins tend to be very musically inclined, with many people bringing drums, ukuleles, guitars, pianos, and even a mandolin to the campus. Instruments make way for amazing jam sessions and great collabs during the talent show.
Cards- can be used to play ERS and always make for some awesome bonding experiences during free time and dances
If you're taking Aerospace Engineering, it's a good idea to bring a laptop for research, looking up any math stuff you might not know, and for playing Kerbal
it is a good idea to bring as many pairs of shorts as possible. Rollins is an extremely hot and wet campus and if you aren't used to sweating whenever you step outside, it'll be some real trouble.
Quotes
2015
Term II
"HOOOUDINI"
"JOSH YOU CAN'T WHIP THERE"
"Aye aye, captain!"
"None of that"
"The sky is never the limit, since we live in an endless cosmos where we are nothing but specks of dust. :D"
"I'm just a dancing queen, with hype man ambitions."
"I'm really feeling it!!!1111!1!!1111!!!"
"Everybody is better than Aquaman"
"Same"
"Roy's my boy"
"Y'all are tragic"
"In a past life, I was Mickey Mouse"
"You're a cute 'lil patoot"
"YEEEEEEEEEEEEEEEEEEE"
"UNCLE GRANDPA FOR SMASH 4 DLC"
"WHAT ARE THOOOOOOOSE"
"ANDREA WHY DID YOU KILL THAT GRASSHOPPER"
"If you want to be a space cowboy..."
"TRINTON STOP BRINGING GIRLS UP HERE"
"TRINTON STOP BRINGING GIRLS OVER HERE"
"TRINTON WHY ARE YOU IN A DRESS"
"TRINTON WHY HAVEN'T YOU AND PABLO KISSED YET" (Trablo5Eva)
"BURRITO GIRL STOP ROLLING AROUND LIKE A MANIAC"
"Notice me Benpai"
"Notice me Jo-senpai"
"Girl Banana!"
"Who's the kid who always changes his voice?"
"Who pooped in the shower again?"
Term II (Breakfast Chaches Edition)
gr11
m11
h11
rip
dead
h2O is life
,,,,,,,,,,,
you put me in a coffin
boobested
the heart code
brain eating amoeeba
what even are you?
fuack
hore
my grandparents are a restaurant
noice
voice cracks
anushka luvs 69
puberty moose
scrub/scrublord
hydrosexuals
skrub sin
chaches (the best one)
scrotch
lord and savior jesus scrub
parkour
can i have yo number? the back of yo head is RIDICULOUS
tony is a goalie
mcdreamy & mcsteamy
you're not even nice
roasted
you dumb chicken nugget
tighten up
get wrecked
the finger thing
#longdickstyle
the HEIGHT
famihy
squadily
slutty towel
volleyball whores
laurpe
rap battles
omgoodness
leaving to cuba bye
cojones
melevator
rated r for rare pepes
roommate talk
roaster strudel
dank memes
the rarest pepes are the ones in your heart
IT ENDS NOW
straight savage
netflix and chill ;)
SQUARE UP MATE
FIGHT ME (HELEN)
fetty wap
obama's daughter
mom's spaghetti
you look like a pear, you make people stare
212
shaving company
laundry room
mints
shi labeouf
grape you in the mouth
don't hug me i'm scared'
paranoia
whip at every dance for every song
football drills
papa johns
i asked for dominos and got papa johns
BRING EXTRA FORKS
keep it tippropriate guys
cries in spanish
cries in every language
FAMMM
you don't even Pg = Δt / (Tg • C2)
star wars spider
la gringa
la dinga
phalange
#bless
babyface
pirate
fuze tea
poof in it's final form
OPAAA
drops plate instead of mic
jesus soap
feels trip
#done
gey
yeg
BUSH GARDENS LMAO
pencil? i thought you said mentos
THE DOCTOR (is a strong 9)
slore
walmart and target need to find their inner chill
does everything in spanish
you got kik?? ;)
brother zoned is better than friend zoned
chill level = -666
send candy in the elevator
100 bottles of beer on the wall
minions are an abomination
smhd
tony will always get roasted
TOASTEDDD
join the club? i AM the club
rip roasted or tip toasted??
so toasted it's burnt
what are you gonna do, kick me out?
i'll shove an umbrella down your throat and press the button
pudding (makes annika and laura gag)
you know what's hotter than an iron? a gluten allergy
you know what's hotter than a gluten allergy? ultimate frisbee
you know who has a gluten allergy and plays ultimate? anushka
2016
Term I
"Parkour!"
"Bun huns."
"Say sandwich again and I'm calling your parents."
"Do not actually eat shit."
"Yeah, I always wanted to get married with Shrek."
"Pene pasta."
"I don't like tea cake!"
"Work those glutes Brenda."
Term II
"You f***ing heathen"
"BUCKETS!"
"Gluteus Minimus"
"Hi, my name's Julian.. and I'm really scared of pads.."
"Hey girl.. Can I get your number?"
"DUBAI WAS LIIIIIIIIIT!!!!!!"
"Pit of doom! Pit of doom! Pit of Doom!"
"Who's your daddy? RON!"
"How about we just put Ron Swanson's face... on a cow?"
2017
Term 1
"MINGO"
"BOTTLETICS! BOTTLETICS!"
"3 MILLION"
"Is this the hallelujah line?"
"HHHHHEEEEESSSICAAAA"
"Mystery Cups"
"Galactic Overlord Rita Paixao"
"Lead Male Mary"
"KLINK KLINK IN THE KITCHIN SINK YA DINK"
"Respect your elders"
"Boys night out/in"
"Chicken"
"Pocket Boys" - Isabelle Milford
"I'm Bisexual F***ing deal with it" - Oliver Boyd
"So Feste was like a total savage" - Taylor Smith
"Wait What Just Happened? Oh there was a gay shark wedding. A gay shark wedding? Yes it was the girls idea" - Oliver Boyd and Taylor Smith
"XD Funny Memes" - Dylan's Believers
"Gucc succ" - Aerospace
"VSSHHHHHH" - Aerospace
"SpaceX does it better" - Aerospace
"Fokker planes" - Aerospace
"Danger Noodle!" - A phrase formed when Aerospace Engineering found a snake in the bushes outside Bush Science Center. Danger Noodle became a myth/legend all over campus, and only select classes have every seen him in person.
Term 2
"F=ma"
"Yellow Kitchin"
"Humerus, Radius, HA HA HA"
"It's a blue whale"
"Physics is Phun!"
"EVERYBODY CLAP YOUR HANDS!"
"You said what... BEKFAST!!!"
"Chicken is real"
"Kitchin is god"
"Lawnmower/debt collecter"
"spidget-finner"
"dear Senpai, rawr xD"
"paw patrol fan fiction"
"can you DANCE?"
"pro-pathos"
"that's debatable"
"lexism"
"lanyards = collars"
"UNIFORMS!!!" *cue eye rolling*
"that's ratchet"
"Larry Harry Derrick, the TiP baby!"
"Ribeye"
"body sauce"
"PASS THE CHEESE"
"HAIL THE CHEESE"
"moist/juicy"
"noodles"
"Luci's brush"
"Crazy KZ"
"Nepal's flag"
"squad fam"
"let's go see the emoji movie"
"ipads"
"our spidget-finner company is worth sextillion dollars"
RC Groups/Squads
2015
Term 1
RC Groups
-Addie's Illuminati
-Becca's BAEgals
-Hayley's Llamas
-The "Nun-touchables"
-Maddi's Wild Things
-Christian's Cheetahs
-Andrew's Puller Posse
-Josh's Chipmunks
-Shakeal's RC
-Tonte's Terrors
-5th Floor SQUAD
-Brandon's Group
Term 2
RC Groups
-Addie's Baby Crocs
-Andrew's Little Einstiens
-Average Joes
-Becca's Unitatoes
-Brandon/Brad's Group
-Christian's Chickiees
-Christian's Cheetahs
-Hayley's Hedgehogs
-Ijele's Pineapple Fam
-Jo's Boys
-Josh's Pears
-Leah's Cupcakes
-Maddi's Wild Things
-Shakeal's Boys
-THE BENCHWARMERS (Tonte's Group)
SQUADS
-The Breakfast Chaches (the one and only)
2016
Term 1
RC Groups
-The Mulan Fam
-The Gabsters
-Hailey's Soccer Moms
-Dog Pack
-IZ's RC Group
-Josh's Ace of Spades
-Leah's Ballerz
-Maggie's Swaggies
-Morgan's RC Group
-the HIT the QUONS
-OH BOYS
-Stacey's Scouts
-Taryndactyls
Term 2
RC Groups
-Ben's Breadstick Boys
-Hayley's Supercalifreaks
2017
Term 1
'RC Groups'
-Kitchin's RC Group
-Calandra's Hot Tamales
-
-
-WIll's RC Group
-Bek's group (the loud ones)
-Hallie's Flawless Girls
-Annie's Rugrats
-Shaq's Kings
-Kelly's Jelly Bellies (the best RC group)
-Sydney's RC Group "Garebear & the Rico Suaves"
-Hayley's 10 Million Fireflies
SQUADS
-The Country Of Mingo (Only the best country ever tbh)
Term 2
'RC Groups'
-Hayley's Ladybugs (best RC group)
-Dylan's Group
-Hallie's Savages
-Will's RC Group
-Chance's Girls
-Annie's Pineapples
-Kelly's Group
-Shaq's Group
-Bek's Group/ BEKFAST
-Kitchin's Kitchen
-Calandra's Gurlz