Political Cultures and Counter Cultures
From the archives of TiPWiki, the unofficial Duke TIP Wiki
Political Cultures and Counter Cultures
Offered
2011
Course Description
Since the beginning of recorded history, politics has been a struggle between two opposing forces: elite and popular power. While elite history is recorded in the actions of kings and the growth of empires, the politics of the lower classes is expressed in an era's popular culture. Examine grassroots movements and their efforts to subvert political regimes throughout history. Analyze Greek tragedy, Shakespeare's Elizabethan propaganda, Whitman's Democratic Romanticism, Beat poetry, 1960s protest music, and the current blogosphere in conversation with political theorists such as Plato, Rousseau, Emerson, Marx, and Harvey. Follow the transformation of political cultures from the ancient to the modern world by analyzing the development of popular culture from Dionysian festivals to the modern blogosphere.
This course was created by Carl Najdek (also known as a giant Care Bear), and he taught it first at Duke East Term 2 2011. It also had Matt, the bangin' hipster TA. On the first night, all Louis the AC had to say was "One is a hippie, the other's a hipster". Apparently this was changed from "One is a curmudgeon, the other is... Matt". These two created the power team to expose a knowledge-hungry tipster to the joys of Rousseau, Horkheimer and Adorno, Karl Marx, and Plato. Because Carl is a giant Care Bear, readings were often done outside or at Francessca's on Ninth Street. In 2013 Term 1, the TA was Seth Borden. Seth created the class into the new set of Spice Girls 2.0. The girls in the class created a cult revolving around Seth and all things Seth. Valeria was a devoted leader in this fan-base. Abby was very devoted to Seth as well, and he was reportedly left to her by many fourth years in their wills. The boy to girl ratio were extremely unbalanced, causing Carl to force the boys to give their perspective many times.The class would spend most of its time reading, going off topic, listening to Alex's life stories, questioning Rachel and Valeria's sanity, hugging Alexa, making jokes about Luke's inability to smell, or being really freaked out by Abby's cruel punishments. This class during this term got surprisingly very close. The whole class cried (excluding Gene) on the last day.
Past Classes
2019
Term 1
Carl did not return to teach PCULT this term. Instead, 2018 Term 2 instructor Jessie taught the class with TA Breanna. The duo worked quite well together and brought a wonderful learning environment to this group of eighteen. On the first day, because the class could not enter Unnamed Learning Building until nine on the dot, Bre made the class stand in a circle and announce where they were all from. It was very hot and the class just wanted to go inside. At this point, Grey Olson declared: "I think Bre hates us." Bre, in fact, might've hated us, but we quickly grew on her. Jessie began a monday ritual that consisted of us writing a happy note for two of our classmates and it made everyone smile. Jessie then made the class READ like a lot but it was okay because sometimes she would take the class outside where Sam would complain because he would burn and Lee would complain because there was ants. However, it was nice being outside because the outdoors is good for y'all. PCULT would spend the majority of its breaks in Cuddle Puddles with Ryan as the base. However, there were also frisbee kids in the group which consisted of John (Dream Team (Duke East)), Sam (The Watercolors Frisbee), Will, Saranna, and eventually TA Bre found a large love for the game. On the first day, it was very apparent just how many TIP Relics were in this class because Jessie asked the group to describe the "culture" of east and Brooke Huffman wrote every relic on the board. This class had both frisbee captains, , The Pastorship, Sockeisha, Blazemaster, The Book of Dev, and the which probably breaks a record or something. Jessie, on the second day, gifted the class with a big green squishy stress ball that the class named "Karl." Karl was a loving and devoted stress ball that the class would throw around in comradery. Karl the Stress Ball was named after Karl the Cockroach that ran across the class on the first morning. Since PCULT is political in nature there were many rivalries which consisted of Brooke vs. Will and Garrick vs. Everybody. Ryan and Brooke would be the proponent of the joke "Rose, Bud, Thorn" which was said a lot in the class. It was said so much that after watching Gulliver's Travels (which was a massive meme within itself) Lorena exclaimed. "Name: Gulliver. Male. Rose: My journey. Bud: My journey. Thorn: This island!" which would become a class chant. In addition, Chris could replicate the "My, my" from Gulliver almost perfectly which made the class laugh. Chris and Ryan were experts at making the class laugh. Chris was Ryan's foreign girlfriend as well. Brooke would also say "CHRIS! Vibrate!" and Chris would be like "no" even though he could vibrate. PCULT came up with a "Breeeeeeee" chant that would annoy Bre. However, towards the end Bre admitted that she loved us. Grey would often insult Bre and Bre would be like: ";(" at him. Kavi was very good at brightening EVERYONE'S day and her compliments always came across as incredibly genuine. Katrina claimed Kavi as her favorite greenie and John claimed Saranna as his. Brooke would also tell Lorena every day that "Evelyn looks just like you" and Lorena would be like "k." Lily and Brooke's relationship was very iconic. Lily's dad, Alan, was also an icon and provided the entire class with soap on the last day as a parting gift. Lucy and Lorena should be banned from ever doing presentations together because both their "Wave Check" skit and their "Feminist Retelling of Tangled" ended in absolute disaster (with Wave Check leaving Lorena on the ground laughing and the retelling confusing the entire class). The class also was obsessed with Katrina's TED Talk about BARS. This class also took many field trips, the first being at Duke West. They also went to this really fancy art museum where everyone was able to take pictures and eat yummy snacks. John had some kind of issue with his ice cream cone whilst on this field trip and it resulted in a button. The final field trip was to the Durham Farmers Market where Ryan bought a ugly frog made out of sheep's wool. Karl, the Squishy Ball, popped on the second to last day. Everyone sobbed. On the final day, Jessie was like "I know y'all were just gonna be crying messes so just write sweet messages for each other on the board." So, on the final day, every member of the class stepped out of the room as the other members wrote messages of love and appreciation for each other. Karl the cockroach also made a comeback on this day, running across the floor during Lee's presentation and scaring the entire class in the process. Karl, the Squishy Ball, had his funeral on the last day as Jessie threw him into the trash. Ryan, as a parting gift, gave Jessie and Bre a ball with sharks on it for the Term 2 kids to throw around. The class also named this ball Karl. Saranna created a beautiful digital drawing of all of the PCULT memes and if I ever figure out how to upload images, that's the first thing I'll upload.
Jessie: Most likely to close the book
Bre: Most likely to trust us when we shouldn't be trusted
Lily Martin: Most inclusive
: Most likely to pet your hair
: Most lovable bad boy
: Least likely to spare some
: Most likely to rock a neck tattoo
Evelyn: Most likely to be a fashion icon
Lauren Watson: Most likely to worship Doug
: Most likely to be the next Beyonce
: Most likely to be a puppy in her next life
: Most likely to adopt an entire orphanage
: Most likely to be a sperry-wearing giraffe
: Least likely to eat ice cream correct
Brooke Huffman: Most likely to win Alessandro's heart
: Most likely to tell grandma to take her pill
Ryan Hess: Most likely to enjoy her journey and hate the island
: Most likely to be a Hungarian Philosopher Queen
Sam King: Most likely to help you "hit that woah, when you low"
: Most likely to overthrow the capitalist government
Iconic Items
Karl the Green Squishy Ball
Karl the Shark Ball
Will's Hat
Brooke's Sunglasses
Sam's hat
Ryan's Ganja Froggie
Doug the 6'4" Tortuga
Katrina's BARS
ALESSANDRO'S SUNGLASSES
Term 2
Jessie: Most likely to bless the rains down in Africa
Bre: Most likely to ditch you in the woods
Idan: most likely to be a stand up guy
Adam: most likely to need a juice box
Zev: most likely to brighten your day
Madelyn: most likely to choose peace
Ash: most likely to leave an impact
Liv: most jazzy
Lexie: Most likely to save the boys
2017
Term 1
A Carl-proclaimed "wild" class, 2017 PCULT had the time of their lives yawping to their heart's content, banging their heads against the quote board in the designated spot, and ogling at Carl's "phenomenal" legs. This class was so unruly that Karlyn's chapstick had to be used to create at least an illusion of order in lending the sole power to speak to its holder. Their time was also marked by luxury when the dietarily restricted members of this class enjoyed being a part of the culinary bourgeoisie at the art museum. They also collectively enjoyed getting turnt to Save That Money by Lil Dicky and screaming "but that's not the point, right" in Alabama accents courtesy of Jack. Through it all, this class became a family that each of its members were and still are exceedingly grateful for.
Carl Najdek: most likely to read the Communist Manifesto to his 3-year-old son as a bedtime story
Jackson Feezell (TA): most likely to star in a Shrek live-action remake
Jonah Tupelo: most likely to die from eating ice cream
Isaiah Wright: most likely to wear slides
RJ/Russ Williams: most likely to be somebody's grandpa
Ben Hetherington: most likely to tell a great story
Alexis Williamson: most likely to throw salt
Devak: most likely to get on the quote wall
Philip: most likely to wear a slammin' shirt
Sadie Siegel: most likely to drop the world
Ani Russell: most likely to spit rational fire
Karlyn Simcox: most likely to respect the chapstick
YaYa/Julia Kagiliery: most likely to complain about philosophers complaining
Dayne Ware: most likely to fall asleep
Lily Smith: most likely to order sweet tea in the North
Jack Bryan: most likely to not get to the point
Miranda Straubel: most likely to poke someone's eyes out with a lanyard
Niamh McKinney: most likely to bring her own tea to breakfast
Karissa Korman: most likely to make a vegan joke
Eden Sokoloff: most likely to sleep slap
2016
Term 1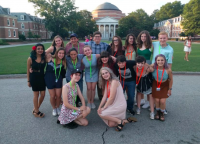 Carl Najdek: Most likely to feed Ben Franklin to trolls
Stefanie Boyd: most low-key hipseter
Tosca Langbert: Most likely to be salty sweet
Anna Platt: Most likely to make everyone smile
Chandler L'Hommedieu: Most likely to steal Christmas and apologize for it
Bailey Ingham: Most likely to baguette what she wants
Delaney Epley: Most likely to take the pain out of campaigning
Elena Panzitta: Most likely to beat Ramsey with a golf club
Francesca Vaneri: Deadliest ninja
Hilary Griggs: Most likely to fire you
Kiri Ashley: Most likely to beat you in a knife fight
Mai Allison: Most likely to be the tooth fairy... but with hands
Noah Risley: Most pure cinnamon roll
Rachel Greenwald: Tiniest mom
Roberto Delgado: Most likely to have the healing touch of E.T.
Ruby Walker: Most likely to Marx
Skippy (Kolya at beginning of term): Most likely to steal your seat
Sophie Cleghorn: Most likely to make you bring a sweater
Talls Thomas: Most moxie per cubic inch
2015
Term I
This class was honestly so great. On the first day of class our instructor and TA (beautiful cinnamon rolls, too good for this world, too pure) gave us bandanas, which would become the symbol of the class. We also had a manifesto and song and a bunch of other super cool secret cult stuff. We had a (one-sided) rivalry with RevT, which culminated in the epic stealing of their flag during Doggy Doggy. Basically we just did a lot of really cool stuff with a lot of really cool people.
2014
Term I
This was a pretty weird class, but weird in weirdly different weird ways from the weirdness of previous classes. It's a pretty safe bet to make that everyone in this class wonders what would have happened if different events had transpired. There was a lot of educational triage, and lying on the floor, and poetry, and snapchat, and mild discomfort, and reading in weird places. And ultimately that was okay.
TA: Georgia - adorable, shipped with Chris/Christian/Jim, made Ryan read Langston Hughes (to be fair he volunteered)
Julie: most likely to work it, thirsty peasant
Emma B.: most likely to make faces when raising her hand, made list about Georgia
Emma G.: most likely to moose
Alex: most likely to reach Nirvana
Hannah: most likely to carry a false sense of innocence
Ryan: most likely to find Addie
Brendan: most likely to stab (smang) Caesar, has cardboard knife, does not smile
Ethan: most likely to bae
August: most likely to cackle manically
Rose: most likely to be the first female president
Katie B: most likely to be a strong, independent Salisbury steak
Cynthia: most likely to reject people in Chinese...three times, ticklish
Eliana: most likely to have the best emo jacket
Addie: most likely to be found by Ryan, taco tuesday
Sam: most likely to jort
Casey: most likely to be an honorable hombre
Ariel: most likely to wear Lily Pulitzer
Stanton: most likely to be brutally sarcastic
2013
Term I
What Carl describes as his weirdest class TA: Seth- The best thing to have happened to students in the class
Ally, 2nd year, BFFs with Alex. Also the founder of anosmic anonymous ,drawer of Richard III, and future wife of Gene (he doesn't know it yet shhhhh).
Alex, 2nd year, BFFs with Ally. Also had a "vulgar" boyfriend. By the first day, she was labeled as the most talkative. Best dressed of the class.
Luke, 2nd year, has anosmia and has to attend anosmic anonymous with Ally. Also was a part of the Devengers.
Gene, 2nd year, grumpy but blessed with beautiful eyes. Knows nothing of pop culture thus leading him to historically laugh every time the class watched a movie.
Meg, 3rd year, defended west Kentucky. Also saved interesting Wicked gifs on her phone. Knew everything about musicals.
Cara, 3rd year, got in bar fights. Famously quoted, "it's not a thing; it will never be a thing" after asked about SCARA.
Abby, 3rd year, bourgeois. Came up with cruel punishments.
Sam, 3rd year, Old Spice Guy. Famous for "ohhhh yeaaaaahhhh."
Alyssa, 3rd year, loved One Direction.
Liddy, 3rd year, loves Disney and singing church songs.
Andrew, 3rd year, Macbeth as well as Cripple, Crippled Guy, and Guy Who's Living the Crip Life.
Aleya, 3rd year, loves to gossip about Sara (Sam and Cara). (NO THE NAME IS SCARA)
Claire, 4th year, bubbly classroom artist.
Celine, 4th year, wanted to be a mortician
Alexa, 4th year, starfish who likes hugs.
Katharyn, 4th year, the only normal person in the class. Awesome at European history.
Valeria, 4th year, keeps Alexa in her pocket. Praises Seth. Said to have started a mission to find Seth's younger brother once she found out he's her age.
Rachel, 4th year, scares people with tape and loves Gene. Whether or not Rachel and Valeria were on something during evening study is questionable.
2011
Term II
The legendary inaugural PCult class was one lucky group. The... interesting.... members of the class can only be described through their quotes (sited from the termbook):
Sarah Welsh- My beard would be curly, therefore it would be infinitely better.
Logan Laird- That's like an automatic win.
Stephanie Cook- Thine glock hast best not blow in the winds of mine spectral lands.
Emily Bergquist- That's going on the wall.
Hyung- (....)
Liz River- Carl! You tricked us into having fun!
Jordan Harrison- Just make up something clever.
Claire Shin- Bloodthirsty ambition is frowned upon.
Claire Hildebrandt- One hundred!
Chris Patton- Your people wear pants.
Will Hyry- If you signal, it's considered a sign of weakness.
Joe Milholland- SUPER COW!
Mike Cooper- We're not selling babies anymore.
Robbie Powell- A boy with gold in his soul.
George Saussy- Imagine if Godzilla were to frolick...
All the instructors had to say was:
Carl Najdek- EAT BOURGEOIS BABIES
Matt Cole- Your mom's a shadow of a form!
This class was one of the more "spirited" groups, and was known to:
Tip cars
Compare things to microwaves
Work Ke$ha into every conversation
Watch videos about Cleveland
Watch videos about anything
Have bangin' evening sessions
Wonder why the llama was not in our classroom
Make hipster jokes
Receive five points for aforementioned hipster joke
Rap Super Bass
Write on the walls
Act out Macbeth in a new galaxy
Learn how petty theft equals llama llove
Deal with crazy philosophers
Hide when it was time to go inside
Play Marco Polo
Fall asleep in the reading rooms
Have mind blowing experiences on a regular basis
Cheer any time the TA (and sometimes instructor) walked into the room
Nietzsche.... yeah