TiP Sync
From the archives of TiPWiki, the unofficial Duke TIP Wiki
TipSync is a traditional performance by TIPsters that typically occurs at the end of the second week of the term. Performers rehearse in advance to give a site-wide dance-and-mouthing routine. The performances range from raunchy to avant garde to downright terrible. Although not commonly known, at some campuses it is optional. RC(s) at TiP West have confirmed that the event is indeed optional, but at campuses like Davidson, you are required to join in.
History
Edit: The History of Lip Sync started many years before 2006 and typically began with a staff/RC performance. This was followed by as many TiPsters or groups of TiPsters as had tried out and been accepted. In 2004, a TiPster who at this time is name unknown performed Piano Man doing all parts singing, playing piano and also playing harmonica. It was epic.
The Duke East Lip Sync 2006 term II featured several groups of TIPsters. The show was set up, as usual, as an American Idol competition, with "Sid Luscious" and "Tober" (AKA and , the teacher and co-instructor for Bach to Rock) in the mean judge, 'Simon' role. The night concluded with the awards, with first place going to "Mary Magdalene and the Unholy Trinity, feat. Yabo" aka Yabo, Alyssa, Rashmi, Natalie, and Wenfei.
In Term I East 2007, this tradition continued. Revolution and Terror TA Will Harris and Political Theory TA split the hard-line position at the table, and Enlighten Me TA softened the blows. A charismatic rendition of Avril Lavigne's "Girlfriend" by Emma Johnson and company took home the Vermonster.
Memorable Moments
2006
Some quotes from the 2006 judges, as said to various acts:
"You girls stand up and look at those two fans onstage. Take a good long look, 'cause those are the only fans you're gonna get."
"That was not suggestive at all."
"Does your mother know you packed that dress?!"
"You guys definitely have a career in this business. If you look onstage you'll see what that career is." (Onstage there are RCs mopping milk.)
"That was.....disturbing."
"I was going to get a subscription of the Abercrombie and SPAZ catalogue, but I think I've seen enough."
RC acts included the "Gangsta Rap" aka "A Thousand Miles" and "Can't Touch This" by OSC Sam.
In most TiPster's opinions, however, "The Final Countdown" with Tyler Mefford, Brad, and Luke P, should have won. It was disqualified for too much "sexuality" (i.e. Luke humping air after he unsuccessfully counted down).
2007
http://www.youtube.com/watch?v=bZKqR18zAYc Captain planet-RC lip sync
2008
During Term I East, fourth years Adam Wilson, Cara Weisman, Trevor Cross, Dylan Crouch, Emily Rose, Blake Montgomery, Nik Padinha (who took to being ill and couldnt perform), Smith Mathieu(who sub-ed in for Nik), Rachel VanDaalen, and third years Cat Hollander, Charmee Mehta, and Joe Sharp did an extremely risque cross-gender version of "Cell Block Tango" to cheers of all TIPsters. The comment by the judges was "This is not a Dance contest- this is a Lip Sync", the group didn't really care. During Term I at Duke East, a group of enterprising RCs, led by editing mastermind and choreographer (occasionally known as "T-Pain" or "3.0"), performed a creative and well-rehearsed "N'SYNC vs. Backstreet Boys"-themed act, culminating with a collective rendition of the titular line of the N'SYNC chart-topper "Bye Bye Bye." The performance was especially notable for the raucous nature of the crowd; several TIPsters even created apparel celebrating their favorite RCs, particularly James Hicks and Peter Sloan, both members of the fabricated Backstreet Boys. The video of the performance can be seen here on YouTube: http://www.youtube.com/watch?v=vO4FA71yCxE

Majority of the TIP East II 08 TIPsync can be found on Emily Fry and Nicki Lemay's Video Website!!! http://web.mac.com/mleefry/Site/Welcome.html
2009
During Term 1 East, only eight acts participated. The lack of acts wasn't really a bad thing, because they were mostly pretty good and the Lip Sync was held to a reasonable length.
Spencer Heim danced with bunny ears and cyborg sunglasses. It was an interesting way to start the night.
Mya Wilkes performed "If I Ain't Got You," singing it to Darius Greyer. It was really good. She wore a bathrobe, painted her nails, etc., as if she were preparing for a date (with Darius.) Many think that this act should have placed.
A 2nd year rendition of "I Kissed a Girl" was an interesting sight. The lip syncing wasn't great, but it was an overall funny act because both of the boys were totally into the act.
There was a song called "Lollipop," performed by five 3rd year girls. The dancing was pretty good and they threw out candy, but something about the act just screamed "NOT TIPROPRIATE." The lyrics went along the lines of, "I'll bite your lollipop." Judge and Writing With Power TA James Hicks suggested the girls "look up the word 'euphemism'" in a dictionary.
One memorable act was "Wannabe" by the Spice Girls, who were actually members of the Muffin Rag. They had good dancing, good lip movement, lots of personality, but they didn't win or even place.
Taking third place was Chris Squitieri, John Vaughan, Michael Sikes, Zach Getson and Chester Chambers dancing to "I Want It That Way" by the Backstreet Boys. As a part of their routine, the boys serenaded various TIP females (Nettie Finn, Kelsey Cannon, Katie Chaplin, Molly Cowger, and Scout Henninger). The highlight of the performance was when four of the five guys (Zach forgot...) ripped off their dress shirts, revealing their wife beaters. This routine could have won the Lip Sync, but it is specualted that the blatant lack of TIPropriateness knocked the performance to third place.
In second place was "Tainted Love," performed by Joe Sharp, , and Emma Joselyn. The act wound up being very amusing and cohesive with impressive dancing by Joe Sharp. The performers pulled off a great performance, despite the worries of individuals who knew of the act prior to the TiP-syncing competition.
The winning act was "Take Me or Leave Me" from Rent, performed by and . It was applauded for being well-rehearsed and for breaking the "fourth wall" of the stage. These talented girls pulled it off although they had only practiced for the first time that morning. Some may argue that this act won because of seniority, which is totally rediculous because Cat was the only fourth year in the act, while Sarah was a third year, and there were far more fourth years in several other acts.
Of note is the fact that of the nine people on stage who won, eight of them were 4th years living in Bassett, clearly a reflection of just how superior 4th years are to underlings.
2010
, Alex and Trish Sullivan, Haley Sheehan, Joey Swanson, and Sona Kumar performed a well-choreographed dance to "I won't say I'm in love", a song from the Disney movie Hercules. Joey was Meg and Sona was Hercules. It was a very nice act, and Joey had a highly amusing wardrobe malfunction. It was a very good act, but they did not win. Moral of the story: never (always) make a strapless dress out of a skirt.
Also, the gorgeous Miss Yuri Lee, along with her umbrella and her faithful sidekick/soul mate Ezila performed a wonderful rendition of "The Cars that Go Boom," along with Kristen, who was super sexy in a car that went BOOM, and Misha and Tim (two poor, BOOMless nerds). They didn't rehearse at all, but the performance was still pretty great.
The RC's made fun of Justin Bieber.
At ASU Term 1 Alex's RC group did one of the most memorable Lip Syncs of all time doing the Pokemon theme song. According to many tipsters of varying levels of tipness, it was the best Lip Sync that they have ever seen. It can be viewed here http://www.youtube.com/watch?v=Sr_0ZIZjutM
2012
The two groups who made the top two in Duke East's Term 1 Tipsync were splendid! Jordan Adams's RAG made third place, while Nathan's Hotdogs and the Almost Touch My Body Boys had a dance off for first and second. The champions were Nathan Tuttle's RAG (Nathan's Hotdogs) after performing Hips Don't Lie by Shakira which can be seen here The second group is commonly known as the jorts guys (Christian Krueger, Jack Warman, Chris Drawdy, James Walker, Andrew Lee, Richard Hays, Tim "Tasty", Liam Foskett); they started off with a performance of Call Me Maybe, unexpectedly wearing comically short, tight jean shorts- seen here There was a tie and a tie breaker was issued. Nathan's Hotdogs were given Journey's Don't Stop Believin' while The Almost Touch My Body Boys were given N Sync's Bye Bye Bye. While few believed they could rise to the challenge of Bye Bye Bye, the jorts guys performed the incredible feat of skinning the snake, thus ending with an excellent performance, although sadly, second place. Bye Bye Bye:
Another memorable performance was Brandon's RC group. The fab 14 did "We are Young" and acted drunk and high on stage. This was the group that Joseph Stewart the trouble maker was in. They all got yelled at for breaking so many rules. Here is a description:
Brandon's RC Group did a VERY memorable performance of We Are Young. They acted drunk and high and just staggered around the stage. It got even more funny when no one knew what to do because they played a remix of the song instead of the original. Obviously Joseph the troublemaker was in this performance. The whole group got yelled at for acting drunk on stage later. Once again Brandon's RC Group was the unofficial record for most rules broken in one tipsync.
At Duke East Term 2, 5 young men (Tyler Tinari, Ian English, Clayton Delp, Kyle Daniel and Max Sowatzka) joined together and created the performing arts group, 'NO SHIRT BUT A SWEATSHIRT'. Together, they created a rendition of The Circle of Life from "The Lion King", but it was no ordinary TIPSync performance. To make it all happen, it took the destruction of several girls' make-up in a miniature bathroom party, convincing the Llama Mama, Emily Bergquist, to let us use the Llama (to represent Simba, obviously) and SEVERAL minutes of careful preparation. In return, received a standing ovation... TWICE! They delivered a performance that may have been one of the greatest of all time (despite not being ranked).
2016
Wake Forest Term II Henry's RC group told the amazing love story of Preston, Michael, and Tristin to the tunes of "Careless Whisper" by George Michael and "Girlfriend" by Avril Lavigne. It started with Michael and Tristin slow dancing, while narrator Jackson sung to the tune of "Careless Whisper". The music then stopped, and Preston walks out to sing "Girlfriend" to Michael. Preston ends up seducing Michael, and the two "kiss" to the sax solo of "Careless Whisper".
A clear winner in the crowd, and left judge Mallory "speechless".
However, no winner was chosen do tue a racketeering scandal with the judges. The scandal can be found by searching Judges Council Bust on the Tip Wiki.
Davidson Term II Jovan's RC group is about to do Watch Me by Silento but changes at the last moment.
Winning RC group is about to do Sweatshirt by Jacob Sartorius but ends up doing It's Raining Men.
Dickson Chicks lose their rightful crown
2017
Rice Term I TipSync was very early this term: the second Sunday. In addition to the group that disturbingly did the Macarena to the Friends theme song, to which one judge replied that they "did the Macarena 100 times and weren't together once," there was additional debate over sexism and gender roles.
It started when one judge claimed that she thought "all of the girls' groups did better than all the guys' groups," to which innocent victims of the statement replied with claims of oppression and bias.
When all four groups that won, including a two-way tie for second, were girls' groups, there was outrage. The fourth year boys started a Caillou Won campaign, backed by the opinions of the majority of parties that did not benefit from the rankings that "Caillou was definitely better than Little Einstein's," which was the fourth year girls' first place performance.
As there is clearly bias towards females, it is hard to say how the groups should have placed, but it is clear that the fourth year boys put in the most effort, even paying Caillou (Brian H.) $50 to shave his head.
UGA Term 1 TIPsync did not disappoint the UGA TIPsters this go around , with spectaular preformances by many RC groups, including "I'll Make a Man Out if You" and "Classic" being some of the TIP top contenders. But no RC group's TIPsync was as memorable as Mike Stevens' boys RC groups choreographed dance to "Toxic" by Brittney Spears. Headed and Choreographed by third year Fred Stanley, this all boy group will never be forgotten because of their sick moves getting down and dirty for the judges. Three TIPsters took turns being Brittney Spears herself in this number, headed off by the legendary Nathan Lee, and followed by Shaun Rousso, And Jackson Evans. Despite the many good performances that night, it was clear that Mike's RC were the clear winners , taking home the first place prize. When asked how they felt after the performance , third years Fred Stanley and Nathan Lee only had one thing to say...... "KACHOW"
2018
UGA Term one There were many great preformances during this year's tip sync. These included Spice Girls' Wannabe, Carly Rae Jephsen's Call Me Maybe, and Migos' Stir Fry. The placing songs, however were Magic by BOB at number 3, Time of My Life from Dirty Dancing at number 2, and Stick to the Status Quo from High School Musical taking the number 1 spot. There was no honerable mention this year.
Davidson TiPSync
2019 Term 2
Winner: the boys who did how far i'll go (jason did amazing)
2nd:
3rd:
Honorable Mention:
2019 Term 1
Winner: Savannah's group—It's Tricky
2nd: Marissa's group—Evolution of boy bands (A mashup of their own creation)
3rd: Kate's group—Wannabe
Honorable mention: Ava's group—Man's not hot
Angela's group—Uptown funk
Ben's group—Goofy Goober rock
Henry's group—RAH RAH RASPUTIN
Madee's group—A Danny DeVito song from Hercules
Sam's group—I want it that way
Sarah's group—Country roads
Taylor's group—Fergalicious
William's group—Party in the USA w/ a rickroll
Zaria's group—(forgot)
3 RC's preformed Super Trouper from ABBA & now it's stuck in my head
2018 Term 2
All male group performs "All the Single Ladies," proceeds to get second place. Protests ensue, eventually leading to signs saying things "not TiPropriate" being plastered on the walls. Many say it was rigged, as a group performing a Disney medley somehow beat the aforementioned spectacle.
Umbrella was good especially jazzy, zoey and kyra as gangstassss
2018 Term 1
Highlights:
Grace's group winning with "We're all in this together," although some nostalgia on the part of Sam may have been involved.
the ultimate Rick Roll by Dove's group
two different groups getting up when Shrek was mentioned
lots of Fortnite dances
A recurring theme of one person actually trying with everyone else standing in the back
Pikachu (and all the other Pokémon) flying during The Pokémon Theme Song
Everyone singing to all of the songs
more Fortnite dances
Sam making an appearance as Ryan from High School Musical
Taylor's group doing random dance moves during "Firework", and Sam's confused face afterwords.
Enrique's group doing terrible dances for Rasputin, a song no one knew.
THE DUCK WALKED UP TO THE LEMONADE STAND AND HE SAID TO THE MAN RUNNIN THE STAND-
2017 Term 1
Louis as "Taylor Swift" in Lorna's groups rendition of shake it off
Madison's RC group with Schuyler Sisters
(chAd) and his group did Titanic and laid on the floor waving their arms the whole time
Grant with the Thomas the Tank Engine
Kellan as Caillou in the Caillou theme
Aadi and his RC group doing Ice Ice Baby
2016 Term 2
Songs:
It's Raining Men by The Weather Girls (Best Overall Boys Group)
Don't Stop Believing by Journey (Honorable Mention)
Toxic by Britney Spears (Best Choreography)
Summer Nights from Grease (Best Overall Girls Group)
Girls Just Wanna Have Fun by Cindi Lauper
2016 Mid Year Pop Mashup
I'll Make a Man Out of You from Mulan (Best Costume)
Baby by Justin Beiber
Pokémon Theme Song
Hotline Bling by Drake
It's On from Camp Rock 2
22 by Taylor Swift
Everybody Talks by Neon Trees
Never Gonna Give You Up by Rick Astley
Can't Feel My Face by The Weeknd
Wings by Little Mix
Hooked on a Feeling by Blue Swede
2016 Term 1
Songs:
Sweatshirt by Jacob Sartorius
Mickey by Toni Basil
Elmo's World
Me Too by Meghan Trainor
Single Ladies by Beyoncé
Shia LaBeouf by Rob Cantor
I'm Walking on Sunshine by Katrina and the Waves
Popular by Kristin Chenoweth
Get'cha Head in the Game by Zac Efron
Friday by Rebecca Black
Phineas and Ferb (theme song) by Bowling for Soup
Never Gonna Give You Up by Rick Astley
Don't Stop Believin' by Journey
A Thousand Miles by Vanessa Carlton
2015 Term 2
I cant believe a term 2 one wasnt done
Light Em Up by Fallout Boy (the girls' group winner)
Bad Blood by Taylor Swift (the boys' group winner)
Never Gonna Give You Up by Rick Astley
Harry Potter and the Mysterious Ticking Noise disqualified (should have won, btw)
ABC 123 song
Demons by Imagine Dragons
I'll Make A Man Out Of You from Mulan
Beat It by Michael Jackson
2015 Term 1
Songs Done:
Don't Stop Believing by Journey
I Threw it on the Ground by The Lonely Island
Everybody by The Backstreet Boys
Lip Gloss by Lil Mama
Never Gonna Give You Up by Rick Astley

A video of their performance can be found here -

Pompeii by Bastille
The Lazy Song by Bruno Mars
Blank Space by Taylor Swift
Little Einsteins
Wiggle by Jason Derulo
ABC by The Jackson 5
Fabulous from High School Musical
Best of Both Worlds/Wrecking Ball by Miley Cyrus
What Does the Fox Say by Ylvis
2014 Term 2
Songs done:
I threw it on the ground by The Lonely Island
Reflections from Mulan
Single Ladies by Beyonce (Chipmunk version)
Space jam from the movie
YOLO by The Lonely Island
Happy Birthday by Arrogant Worms
Poker face by Lady Gaga
Baby by Justin Bieber
Sexy and I know it by LMFAO
What makes you beautiful by One Direction
Be our guest from The Beauty and the Beast
Pompeii (with the Cup Song) by Bastille
2012 Term 2
1st Place: Áine's group did Friday by Rebecca Black! Using funny props such as actual playing cards andplastic bags which they threw into the crowd, and strange dance moves.
2nd place: Chris' group did Firework by Katy Perry and included and kick line in the chorus. They were very funny and reprised their performance at the final dance.
3rd place: Brittani's group did Up All Night by One Direction. They all knew the words and were in sync, and it was very adorable. They had their song chosen by the first Monday night and spent all week practicing during free time which is why they were all so close to each other!
April's group did I'll Make A Man Out Of You from Mulan and were very convincing in their roles.
Taylor's group did It's Raining Men by The Weather Girls and they made everyone laugh by doing the sprinkler.
Ciera's group did King of Anything by Sara Bareilles and had very creative use of the stage.
Alex's group did Everytime We Touch by Cascada. They had a very intricate dance choreographed, even though they had to change their song due to in TIPropriateness,
Abbey's group did Be Our Guest from Beauty and the Beast featuring Grace as Belle. she did a split onstage and pointe ballet, and she wowed everyone.
Elena's group did Stronger by Kelly Clarkson. Their very animated performance was very good with very accurate hand motions.
Kathleen's group did The Mysterious Ticking Noise from Harry Potter Puppet Pals. This was very hilarious as their facial expressions and movements were quite funny.
John's group did some zombie song. It was quite creepy.
Davis' group did Where Is My Hairbrush from Veggie Tales. A little red head was a very convincing Larry, and he wowed us all with his acting chops.
Sean's group did Payphone by Maroon 5 with some serious rapping. Michael even threw his hat into the audience.
's group did Summer Nights from Grease. Half of the group were girls and half were guys and the entire audience was thoroughly entertained.
Jim's group did The Tigger Song. It was interesting.
Sam's group did Call Me Maybe by Carly Rae Jepsen. Two of the smaller guys in their group dressed up as girls and the others took turns trying to get the girls to date them. It was really funny and their dance moves were surprisingly good.
Brandon's group did You've Got A Friend In Me from Toy Story. It was memorable because the entire group just stood with their arms around each other swaying back and forth. We were speechless afterwards.
2012 Term 1
Sam's RC Group did What Makes You Beautiful. Arjun and Ryan dressed up as girls and were carried around the stage. It was so funny!(edit- some knew them as 2.4 directions)
One group did Gotta Catch'm All, the Pokemon theme song. All the guys were actually in sync and Spencer did a back flip, securing their 2nd place spot.
Kathleen's RC Group did a music video worthy performance of Popular from Wicked where 4ish girls dressed as losers and 6 dressed as popular makeover girls. By the end all the girls had been changed into popular. Aisha played Elpheba and the group dyed her skin green using chalk.
A group did Firework by Katy Perry. The girls all dressed up in pajamas and sang into hairbrushes... Somehow they won 3rd place.
The winning group did We're All in This Together from High School Musical. They may or may not (or may) (or did) have taken all of their choreography from the movie.
's group did Boyfriend by Justin Beiber. They won Honorable Mention and were SO funny. Andrew (Ginger Peeta) crossdressed and butt waggled.
One of the highs of the show, and what became a camp legend was the Both of Us performance by Taylors group. The girls did this one part where they stood up with a partner and each put half a heart up to make a whole heart. From then on holding up a half heart was a sign of love<333. (edit- it was hard to choreograph and took the whole week. there was a lot of yelling by the one who shall not be named. but we got the only positive comment from Simon)
A low of the show was Jim's group. They did...Old MacDonald. It was kind of disturbing.
The other low was Fruit Salad. It was very repetitive and uneventful and the only good part was the people in the audience dancing. (hey... we all liked that one.. but it was a low)
A mediocre performance of Bohemian Rhapsody was put on by Tara's RC group. It took a long time to choreograph and SOMEONE was very uncooperative, but even after a week of planning it still sucked. The song is like 6 minutes long and we had to shorten it... A LOT.
Brandon's RC Group did a VERY memorable performance of We Are Young. They acted drunk and high and just staggered around the stage. It got even more funny when no one knew what to do because they played a remix of the song instead of the original. Obviously Joseph the troublemaker was in this performance. The whole group got yelled at for acting drunk on stage later. Once again Brandon's RC Group was the unofficial record for most rules broken in one tipsync. (edit- rumor has it that their only planning was buying red solo cups from cvs and "choreography" 10 minutes before the show.)
2011 Term 2
's RC group had a very memorable performance of 'Party in the USA'. All of the guys dressed up in dresses and stuffed themselves. A certain someone's tube sock was hanging of his dress without him noticing. Sam's RC group Dougied to 'Teach Me How to Dougie' where the good dougiers in the group, like Tyler Tinari portrayed nerds and the bad ones portrayed 'cool' people. Sade's RC group won most Original for singing Tik Tok with glitter smeared on the faces along with yelling apple juice whenever alcohol was suggested. Brandons RC group holds the unnoficial record for most rules broken in one tipsynch performance, one of which was tying up their shirts and exposing their stomaches which had written acrossthen "CL GIRLS"... D-I-S-T-U-R-B-I-N-G surprised they didnt get kicked off for that, their song? "California Gurls". Never forget that Evan's RAG won with their beautiful mix of songs that culminated with Clayton Delp being romantically lifted by Kobi Johnson
2010 Term 2
The most amazing rendition of Burning Up (by the Jonas Brothers) was performed by Harvey's RC group. They had Kevin Jonas (Peter Litts), Joe Jonas (Sanjeev Prasada), Nick Jonas (Jackson Dellinger), Demi Lavoto (Zac Brenner), Big Rob (Kendall as the legs with Andrew Zhang on his shoulders rapping), and a kick-line including everyone else. Special thanks to Madie Wolff for letting the JoeBros borrow 1 pair of skinny jeans, 2 tight T-shirts, 1 scarf, 3 vests, and 1 bandanna. The saddest part of the whole thing is that you need girl clothing to be the JoeBros.
Also at Davidson term 2 Sydney's amazing RC group created a music video worthy preformance of "Accidently in Love" a song commonly known for it's use in the movie Shrek. In their exciting preformance half of the girls dressed up as boys and danced with the others. A Thanks to Dylan Wieger for graciously lending clothes (although some of them were not returned by his "TIP fling"). Also thanks to Maggie for giving us inspiration with her Shrek plushie that ended up in the Searching for Clues Classroom the next day when Sidney decided she wanted to "babysit".
West TiP Sync
At West, every RAG has their own tipsync; participation is mandatory.
2018 Term I
Single Ladies
Phineas and Ferb
Mesothelioma Commercial
Fabulous
No Scrubs
90s mashup
My Heart Will Go On Despacito remix
Africa by Toto
Mine Diamonds
Term 1 2016
Term 2 2015
3rd Place - TimRag: The Infamous SandRoll

most would agree that Laure/Sarah rag (4th year girls) should have won
Term 1 2014
1st Place- Kanise's RAG Dubstep Circle of Life
East Lip Sync
Description
Fourth year boys and fourth year girls each have their own tipsync; its tradition for one of the fourth year groups to win. A handful of RAGs and individuals perform; not everyone participates.
Lucas Partridge, Charley Snyder, , Hanna Bridges-Curry, and Billy McCormick performed "Party All The Time" by Eddy Murphy. Because they had not auditioned their act and had not performed their full choreography during the pre-show run through, no one knew how inappropriate their act was. They won, but were punished by Sam afterwards, They had to go to bed at 10 for two nights, and were originally not allowed to perform in the talent show. Lucas got Sam to change his mind about the talent show, which led to Lucas, , and Emma Johnson MCing. They did a fantastic job and will go down in TIP history as total badasses.
Term 1 2012
1st place- Nathan's Hotdogs, 'Hips Don't Lie'
2nd place- The Queef crew/Frisbros (The Almost-Touch-My-Body Group), 'Call Me Maybe'
Term 2 2012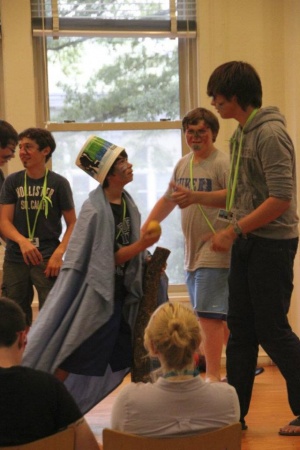 1st place - California Girls (Sam and Gabe's RAGs)
2nd place - What Makes You Beautiful (Lexi Stewart, Emily Bergquist, Maggie Player, Savannah Seiler, Saara Hassoun, and Samir Gadre)
3rd place - I Will Always Love You (Henry Saussy, Leland Ott and Sam Feldman) / I Can't Decide (Nicole Googe, Angelina Brookins and Charlie Pie)

Other acts -
Circle of Life (which surprisingly did not place)(Ian English, Tyler Tinari, Clayton Delp, Kyle Daniel, Max Sowatzka)
A Whole New World (Ashwini Krishnamurthy, Maddie Pollack, Hailey Wozniak and Mia Weathers-Fowler)
A Mash-up of songs (Nathan's RAG)
Boyfriend (Jackson Schaap, Victor Harper, Aidan Kahl, and Drake Breeding, also known as Actual Size)
Granger Danger (Kathryn Jason, Kelsey Powers and Lily Haskins)
Term 2 2013
1st place - Everytime We Touch, performed by "French Fries and Neopets Party, Yes" (Clayton Delp, Tyler Tinari, JR Culpepper, James Sadlo, Gregor Haas, Ian English, JJ Lee)
Term 1 2014
YouTube playlist, kind of incomplete: https://www.youtube.com/playlist?list=PLKaXtyzW1WHbvkTKYDsfRYoRVnM23CsE1. Look later for links in the judging videos to the actual acts. Parker Kelly recorded the acts, I recorded the judges' responses. This playlist does have all 4th year acts, and "Sunny's (Breakfast) Muffins feat. Jew Chainz" was the winner.
Term 2 2014
A group of third year boys dancing to the song "It's Not Unusual".
A group of fourth year boys cross dressing and dancing to "Single Ladies". Creatively, they were called The Single Ladies.
A group of girls rolled around on the floor while one of them lip-synced to "Rolling in the Deep". And then Roman joined them in the rolling.
Sparkle Motion (Vann) danced to "Dark Horse". She choreographed it herself and everyone was impressed and clapped very loudly.
A group of fourth year boys performed to "Toxic". It was the same group of boys that won last year, except for Joe who was replaced by Roman an hour before the show due to injury.
A group of fourth year girls cross dress and danced to "Everybody (Backstreet's Back)". It was so good and everyone was impressed with their dancing talents.
While the judging was going on, the staff danced to "What Does the Fox Say?", with new Sean being the Fox. It was during this act that the Llama was stolen, "unbeknownst" to Mia, the Llama Mama.
1st - "Toxic"
and also 1st - " Everybody"
Everyone then chanted for a dance-off, which was impressive, and the David the judge said that they both got 2nd place.
Term 2 2017
There was the performance from Sam's RAG- the Petty Dance. The group served us fierce looks and attitude. There was also an amazing performance to the trap remix of Little Einstein, accompanied by a hat throw. A pair of RCs gave us an intense performance of Lady Gaga's Bad Romance. Both improv performances were the best. The RCs did Moana. The TIPster performance can be remembered by three words: "Gabe, Gabe, Gabe." There was no dance off this year.
Winners:
1st- "Roar" by Katy Perry- second-year RAG (everyone did the flashlight thing with the phone)
2nd- the 4th year girls routine
3rd- An individual performance by Natanya
There was a small upset about the 4th years not winning first place. And the absence of a placing for the 4th year boys at all. It is believed that this performance did not place because there was a non-TIPropriate male-on-male kiss at the very end. But some say that the choreography was just too simple. All in all, it was a super fun time.
The above description is not true at all. The main controversy was a result of what was felt to be a disregard for traditions by the admin staff. With disturbances like the preemptive stealing of the llama and highjacking of free time for crappy Moana trivia night, the night was prime for a 4th years vs. staff confrontation. This came when after the 4th year girls were done the staff decided to go on stage for their own (quite good) performance, at which some 4th year guys booed jokingly, as befits the running joke of the 4th years hating on the staff whenever they do anything. Admin being admin and in this case one of the judges, one of the admin higher ups decided to lecture the 4th year guys on how disrespectful they all were to the staff that had put so much effort into their performance, even though it was only 2 guys and even though is was an obvious joke. When the results were revealed, 4th year guys in particular were immediately angry with admin. This was because the usual way it works is that two deserving performances get second and third, and the 4th year boys and girls tie for first, then there's a dance off, and the winner is decided. By completely ignoring that precedent, as well as not even putting the 4th year guys in the top three, despite the fact that they did really well (aka they were really cute in those dresses), admin royally screwed up that night, something agreed upon by all 4th years as well as anyone else that had gone to east in years past or understood traditions. After that, all tipsters departed Nelson in a generally pissy mood, including Tien's rag, which chanted "I'm <name> and I'm pissed" all the way back to Brown.
Special shout out to the Creative Chronicles professor who gave beautiful commentary.
Term 1 2018
Friends Theme Song
Gregorian Chant
Tainted Love
Hellfire from Hunchback of Notre Dame
Kpop song
I've Got A Dream from Tangled
Disco Inferno
Beyoncé mashup
Mean Girls song
Hearts Throbbing
The Greatest Showman Theme Song
Whoop de scoop de poop
Born This Way
Young Wild and Free/Who Let The Dogs Out
Sidenote: Dance off between fourth year girls and Soren (Young Wild and Free/Who Let The Dogs Out) and those who did The Greatest Showman Theme Song to Hey Ya (shake it like a Polaroid picture). Fourth year girls and Soren, as usual, won.
UGA
Lip sync at UGA is held the second weekend of term, and the emphasis is usually on more of a dance contest. But that's ok, because dancing is enjoyable.
2017
Term |
Only one TIPsync is worth mentioning in 2017. This being Toxic by Brittney Spears preformed by MIKE AND THE 12 KACHOWS. The 12 courageous men wowed the audience with their in sync and amazing feminine dance moves. The well choreographed yet comedic number stole the heart of the audience right from the start with Nathan Lee taking the lead as Britney. Later on, both Shaun Russo and Jackson Evans got their turn up front as well. The number will forever be forgotten, due to the scandalous moves, and the effort that went into producing this first place finish. After the song was over, every member of the RC group would agree in saying "We did it for Mike Stevens."
2014
Term II
"Love is an Open Door" - Frozen (Tri Delta duet) Best Couple Performance
"Phineas and Ferb Theme Song" - Phineas and Ferb (Emily's RC Group)
"Pokemon Theme Song" - Pokemon (Olivia's RC Group)
"Bruh" - Lil Homie Twon x Headgraphix x DillyBeatz (Tim's RC Group) Third Place
"Spooky Scary Skeletons" - Andrew Gold (Mix of Tim and Steven's RC Group)
"Grown Woman" - Beyonce (Gianna's RC Group) Second Place
"Fresh Prince of Bel-Air" - Will Smith (Allee's RC Group)
"Bicycle Race" - Queen (Carter's RC Group)
"Rude" - Magic! (Carter's RC Group duet)
"Burnin' Up" - Jonas Brothers (Becca's RC Group)
"Never Gonna Give You Up" - Rick Astley (JD's RC Group)
"A Girl Worth Fighting For" - Mulan (Kanesisha's RC Group)
"Don't Stop Me Now" - Queen (Garphil's RC Group) First Place
"Jump On It" - The Sugarhill Gang (Desireé's RC Group)
"Get Off The Phone" - Rhett and Link (Kris' RC Group)
"F.U.N. Song" - SpongeBob (James' RC Group)
"Straight Through My Heart" - Backstreet Boys (The Backdorm Boys)
2013
Term II
"Can't Hold the Circle of Life" - Lion King/Macklemore (Chris' Trap Crew) Best Boys' Group
"Check Yes Juliet" - We the Kings (Amelia's RC Group)
"Hot Cheetos and Takis"- Y.N Rich Kids (Steven B.'s RC Group)
"Dunked On" - Froggy Fresh (Steven L.'s RC Group)
"Any Way You Want It" - Journey (Brick Squad) Best Overall
"Hollaback Girl" - Gwen Stefani (Brick Squad third years)
"Hot and Cold" - Katy Perry (Cal and Nick)
"Don't Want You Back" - Backstreet Boys (The Backdorm Boys)
"Good Girls Go Bad" - Cobra Starship (Calek's (Casey and Alek) RC Group) Best Girls' Group
"I've Got The Magic In Me" - B.o.B (Micah's RC Group)
"Trololo" - Eduard Khil (Patrick's RC Group) Melted The Heart I Didn't Know I Had | Utterly Ridiculous.
"I Love It" - Icona Pop (Mary-Francis' RC Group) (Care don't I) (It Love I)
"Facebook Official" - Heart2heart (Grace's RC Group)
"Barbie Girl" - Aqua (Hannah's RC Group)
"Burnin' Up" - Jonas Brothers (Elizabeth's RC Group)
2011
Term II
Don't Stop Believing- Glee cast (Sarah's RC Group)
Baby- Justin Beiber (Blaze's RC Group)
Macarena- Los Del Mar (Emily's RC Group)
Dream On- Aerosmith (Carson's RC Group) (Second Place)
The Creep- The Lonely Island (Jesse's RC Group)
Threw It On The Ground- The Lonely Island (Ashley's RC Group)(First Place)
Milkshake- Kellis (J-Dawgg's RC Group)
Boyfriend- Big Time Rush (Lyida's RC Group)
Summer Loving- Cast of Grease (Amanda's RC Group)
Party in the USA- Miley Cyrus (Naomi's RC Group)
Nice Guys-NigaHiga (Geoff's RC Group)
Larger Than Life- Backstreet Boys (Same as th guys who did "I Want It That Way" last year, no set RC Group) (Bora, Jacob, Riley, Dart, Chris B.)
Every Time We Touch- Cascada (Cody's RC Group) (Third Place)
We Are Family- Sister Sledge (Megan's RC Group + any fourth years that cared to join)
2010
Term II
At Term II 2010, there was a three-way tie between "My First Kiss", "Girls Just Wanna Have Fun", and "I Want It That Way". There was a dance-off to "Every Time We Touch" that determined the winner, being Patrick's group, the 4th year boys, with "My First Kiss".
I'm on a Boat- The Lonely Island
My First Kiss- 3OH!3 (Patty-Cake's RC Group) (First Place)
Danjo-Danjo- Unknown Japanese artist (JW, Leland separated)
Can't be Tamed- Miley Cyrus (Tessa's RC Group)
Jessie's Girl- Rick Springfield (Jessie's RC Group)
Girls Just Wanna Have Fun- Cindy Lauper (Amanda's RC Group) (Third Place)
I Want It That Way- Backstreet Boys (Matt's RC Group)
ASU TiP Sync
2016
The Lip Sync for ASU was... jaw-dropping to say the least.
First place went to Julia's Gems with their performance of "Hot and Cold", which was fitting as they had Katy Perry in that group (<3 youu).
Second place was Peter's Perfect People and their outstanding reenactment of Justin Bieber's "Baby". Where Jeremy dressed up as a girl (an idea we totally had first).
Third place was Erika's RC Group with a grand act of "It's Raining Men", complete with choreography with actual umbrellas!
Some other memorable Lip Syncs were performed as well.
Sonja's RAG with "Tik Tok" which performed well, but apparently not enough to beat a group who only practiced for about 45 minutes (i'm only playing :p).
Jojo's Friendly Dinosaurs with a remixed version of the theme song to Barney, where Michael played Barney-or as my RAG thought as a terrorist.
Jenna's Beastmode Boys Better Than Ta's Group (what a mouthful... guess that's what happens after you compromise) did an awe-inspiring performance of the late Michael Jackson's "Thriller". We only practiced for a total of about 45 minutes and I say we did maybe fourth or fifth place (I'm totally guessing). We had Jaden dress up as a girl, mostly because we made him, hehehe. And then we finished it off with a Batman off the stage and Keeren carrying off Jaden.
2012- term 2 The night got started with RC Jeff and That's Debatable's teacher, Amy challenging one another to a "battle". What was the song? Anything you can do I can do better. Then a group of DJ's cereal daters ( Eloise, Maja, Abby, Naomi, Heidi, and Emily) performed Wannabe by The Spice Girls. Then Camden, Jediael, and Jacob busted their moves to Weird Al Yankovic's White and Nerdy. They placed second and made the whole crowd die of laughter. Samantha beautifully performed, Sombody's Hero. No one was expecting what came next. The boys of upper v, also known as "The Jeffites", performed Bohemian Rhapsody. Now this was not your typical performance, once the first sock puppet came up from the table. It was not the TIPsters lip-syncing but their sock puppet pals. Thank you Adam, Rhett, Preston, David, Dylan, Conrad, River, Pierce, and Ethan for making the night super memorable. Not only did they win first place, they also did a live re-enactment (no puppets) at the last dance. Conrad had a lot of fun with his rock and roll part. Maybe a bit too much. Puppets, puppets, and more puppets? After the sock rencarnations of Freddie Mercury finished up, the stage held host to a "Harry Potter Puppets Pals and the Mysterious Ticking noise" performance by Valentina, Rachel, Kira, Sophie, Emily, Calder, and Catherine. Two- fifths of One Direction anyone? Logan and Eric performed a fist-pumping rendition of "What Makes you Beautiful". Last but not least RC's Andrew, Emmanuel, and Fabrice danced to "Funky Poison". It was definitely an interesting and entertaining night.
Wake Forest
2013
Term One: During this term, there were many hilarious performances. One of which was gangnam style. This dance/lipsyncing performance had the whole audience laughing. Some of the performances were just plain cool like Smooth Criminal. Another dance that stood out was Come and get it. (By: Selena Gomez) The victor of the competition was Flo's (one of the many Colins) rag. The group included Zane, Hunter, Vijaya, and the box-head Albert. This performance involved multiple shirts and was a hilarious addition to the competition.
2014
Term Two: This term was amazing, filled with fantastic choreography and things like that. The winner was a fabulous performance of "Let it Go" by Scott's RAG, which turned into a Rick Roll, cutting into Rick Astley's "Never gonna give you up". The most memorable performance (which certainly elicited the most cheers) was a medley of "Twinkle Twinkle", "Too Sexy", and "Call Me Maybe", which involved Daniel's RAG "stripping" and cross-dressing. The crowd loved it, but the judges didn't. One judge said, "(In a frightened tone) I'm not sure who to call now. I don't know whether to call you, or social services." Another said, "I was scared. I didn't know what was going to happen." The drag queens were led by Diego (who represented Carly Rae Jepsen), while the Twinkle Twinkle performance was (humorously enough) done by Mozart. Another good performance that didn't win was Lexie's RAG's performance of "Mirrors", which involved beautiful interpretive mirror choreography by Clara. The drag queens, however, were most fabulous and the general agreement was that they should've won something. Erica's RAG performed "can't touch this", with amazing choreography and stunts, impressed most of the audience, how ever, they didn't any thing for some reason. Radioactive was panotmimed and playe on violin, leading it to win Most Creative. An emphatic performance of "I Threw It On the Ground", climaxing with cake being thrown on the stage, won "Most Funny".
2015
Term 1: Shane's RAG had the best performance in TIPsync this term. However, they lost because the judges were bribed.
2016
Wake Forest Term II Henry's RC group told the amazing love story of Preston, Michael, and Tristin to the tunes of "Careless Whisper" by George Michael and "Girlfriend" by Avril Lavigne. It started with Michael and Tristin slow dancing, while narrator Jackson sung to the tune of "Careless Whisper". The music then stopped, and Preston walks out to sing "Girlfriend" to Michael. Preston ends up seducing Michael, and the two "kiss" to the sax solo of "Careless Whisper".
A clear winner in the crowd, and left judge Mallory "speechless".
However, no winner was chosen due to a racketeering scandal with the judges. See Judges Council Bust
Georgia Tech
2014
Term Two: The final winner for this term was Sonja's RAG. They performed "Talk Nerdy to Me." It was really good. Second place was Kyle's RAG with a performance of "Black Widow". It was probably the most memorable performance. They also succeeded in getting that song stuck in the heads of 75% of camp. Originally the two RAGs tied so a tiebreaker was held. The RAGs each sent five people up and each group had a minute to prepare a routine to Party In The USA. Third place was Caroline W's RAG with "Get Your Head in the Game." Other performances included:
"The Mario" by April's RAG
"Check Yes Juliet" by CTodd's RAG
"Grace Kelly" by Livy's RAG
A medley of jungle-related songs by Noah's RAG
"Space Jam" by Allison's RAG
"Dancing Queen" by Emily S. and Catherine of Sarah's RAG
A medley of various songs of all genres by Ham's RAG
"When Can I See You Again" by Lily, Gabby, and Leia of Sarah's RAG
"Big Ego" by Josh's RAG
A Kidz Bop version of Thrift Shop by Dan's RAG
"Tik Tok" by Lindsay and 2 other people (somebody fill them in please)
Hardware Store (Weird Al song) by Dan
"Talk Nerdy To Me" by Sonja's Rag
(There were 2 more performances by RAGs; somebody please fill those in too.)
2015
Term One: First place was Hannah's RAG with their a capella performance of "Lip gloss". Second place was Spencer's RAG with a performance of the Little Einstein's theme song. This was probably the most memorable performance. Third place went to Ham's RAG, who performed "Threw it on the ground". Other performances included:
"See you again" by Matt's RAG
"Stacy's Mom" by Katie's RAG
"Uptown Funk" by Bina's RAG
"Bad Blood" by Callie's RAG
2016
Term One: First place was Angel's Angels with a stunning routine to the song "Hollaback Girl". Second place went to Nate's RAG for "Fruit Salad". Third place was Dee's group with a mashup of Taylor Swift and Justin Bieber. Other performances included:
"Panda" by Dan's RAG (Likely the best performance, but they unfortunately did not place)
Pokemon Theme Song by Duckie's RAG
Some rap thing by Alex's RAG
"Ring of Fire" by Sarah's RAG
"Lazy Song" by Andreas' RAG
Term Two: First Place was Caroline's RAG with a mashup / dance routine, they lost two weeks of free time, but it was worth it. Second place went to Nate's Hot Dogs with a mashup of the Minion theme song (There was a noose involved). Third place went to Andreas's RAG with Panama (Van Halen / The best).
Honorable Mention to Andrew's RAG for "Viva La Vida" <-- They should have gotten second.
2017
Term One: First place was Ray's RAG with "Wrecking Ball" by Miley Cyrus, which consisted of Tristan running thorough every other member of his RAG and lip syncing at the same time. He eventually ripped off one of his shirts and threw it at the crowd. Second place went to Jared (The RC)'s RAG, which consisted of Shan as Smashmouth in the song "Allstar", Jackson as Bill Nye in the Bill Nye theme song, Walker and Joaquin as emos in "Bodies" by Drowning Pool, "Call Me Maybe" by Carly Rae Jepson, and "Mr. Brightside" by The Killers with Evan as a girl, Zach as his/her boyfriend, and Christian as Mr. Brightside. Third place was Duckies RAG, who performed TikTok/I Will Always Love You by Kesha/Whitney Houston.
Trinity
Timbi's (RC) group did amazingly well but earned only an honorable mention due to likely bribery. They were lead by Jonathan Griffin and featured many other RC group members as they killed it in their performance of "The Most Beautiful Girl in the Room" from Flight of the Concords. Some memorable quotes from the song being "You could be a part time model" and "You're so beautiful... Like a tree"
Nick's (RC) group did very well but only got second, despite their hard work and the choreography by the extravagant Tony Wen (actually stolen from TA Xochitl the previous year) doing "Hips Don't Lie" by Shakira, with blips of "Watch Me Whip". Led by Tony Wen, they killed their performance, which included many popular moves, including "the stanky leg" and the "nae nae". They're best dancer Bryan, still danced alongside them, even though he tore his ACL 2 days before, playing basketball. The most memorable part was when everyone stripped down their top shirts, and threw them in the crowd, leaving only... their undershirts.
In a surprise twist, a rag-tag group of TAs who called themselves "OutTASync" took the stage at the culmination of the event. They wowed the crowd with their sick dance moves and unique boy band medley. Lead singer and History of Guilt TA Niki Patel was quoted saying "I've never felt so alive." The crew also consists of Chisom Dimiri, Xochitl Butcher, Griffin Guinta, Matt Larsen, Kaci Lambeth, and Aly Mann.
Emma's group came in third with "Bad Blood"
2015 Term 2
The group that won had done the song "Popular" from Wicked but had the nerd girls telling the "cool girl" that they were going to transform her. It was very well-done and creative. One runner-up was Meghan's RC Group who had done a "Single Ladies" act. Izzy Mendoza was a very aggressive snapper. At the end of the song, the "boys" had proposed to the "ladies" with Ring Pops, but all were rejected. "OutTASync" also made an appearance. If anyone has the video email it to me ( kwatramegan@gmail.com )
2016 Term 1
Not much info. Update: THERE'S MUCH NOW, YOU'RE WELCOME <3. Bad news: I forgot most of the winners. Update if you can.
1st Place:
2nd Place: Emma Pederson's Mayonnaise group, who performed Bye, Bye, Bye by 'Nsync.
3rd Place:
Erin's group performed the Spice Girl's "Wannabe" amazingly and the background dancers were truly inspirational. Vanshika's group synced to the Backstreet Boys' "I Want It That Way" with clever choreography.
2016 Term 2
Most performances were not memorable because of being overshadowed by the debut of The Mouseketeers singing "Mickey Mouse Clubhouse" which lost because of bias of the judges against the song. Many people thought they should have won. The Mouseketeers even had props. Edit
1st place: Some weird Disney Medley many considered cheating. (It was NOT cheating it was totally legal and awesome Elsa was epic)
2nd place: I'll Make a Man Out of You (We should have won we had a freakin DRAGON)
3rd place: Vanshika's Ameobaes preforming Under the Sea. UNDER THE SEA WE GOT A THREE!!!
2017 Term 2
The theme was kids show music.
1st place: Hard Knock Life by Jennifer's Group
2nd place: Friend Like Me (I think??)
3rd place: I'll Make a Man Out of You by Kerrigan's Kardigan's with a K's (In the same hall as Jennifer's Group, aka, we have the BEST HALL)
Honorable Mention: Thomas' group danced to Tunuk Tunuk Tun
Austin College
2017
Term 2
1st place: a group of Jess's boys that started a temporary trend at the camp from flossing to "Baby" by Justin Bieber
2nd place: Estence's girls dancing to "Single Ladies" and throwing plastic rings into the audience
3rd place: Michelle's boys doing "White and nerdy"
honorable mention: Ana Lucia's group dancing to "Dancing Queens" with added dabs and juju's
special: a group of boys singing "Big green tractor" and started a "light show" (everyone turning on their phone flashlight and started to wave)
Rice University
2018
Term 1
Term 1 TIPsync was simply put amazing. The performances were all (mostly) good with two standouts being Chris's RAG's performance of Umbrella by Rihanna featuring real umbrellas and Rohanna herself. The other standout was Fernando's RAG's performance of We're All In This Together from High School Musical in which the entire crowd got involved in a giant Wildcats conga line. (The real best one was performed by Harper's RC group.) Honorary mentions include a large group of adolescent men shaking their hips to Single Ladies, and a group (Paul's Blessed Kids) that did Hey Ya where one third year boy (yours truly, Omar Jamil) jumped on the judge's table and started grinding (I did that a lot). Karina's RC group likely would have won (if a winner had been named) with their performance of Avril Lavigne's Girlfriend.
Judges
Marine Lab
2017

The 2017 year at Tipsync brought inside jokes to the campus which would last for over a year and eventually be brought back to the 2018 term because of how significant these performances truly were. One such performance was D3's (2nd year guys) showstopper of The Wiggle's "Big Red Car". The boys brought up chairs and arranged them into small squares of 4 chairs each. They then proceeded to have one guy in each group play the role as it was sung in the song. The guys created the whole sequence in under 2 hours and while performing had the bigger, goofiest smiles you'll ever see. The chorus moves were memorized by the whole campus as was repeatedly sang throughout the rest of the term. The song was chosen by Ben, The Dad of DUML Dorm 1 Even though the group didn't place, the reason the performance was so hilarious was the amount all the guys truly got into their role as a Wiggle. An encore performance was performed at the 2018 term at the 3rd dance by the same core group of guys. 


Another significant group which also did not place was D2's (3rd year guys) performance of "Hooked on a Feeling" brought back this decade by the use of the song in the movie "The Guardians of the Galaxy". The song started with legendary Tipster, Chris Choi, alone onstage sweeping before the song started and he broke out into dance and the rest of the guys came onto the stage. During the song, two tipsters took on the role of passing out fake drinks to the audience to follow the lyrics: make me thrirsty for another glass of wine. Tipster Jack got especially aggressive with his two stomps following along with the beat right before the chorus. It was truly one of the greatest performances. An encore of this was also given at the 2018 term during the 3rd dance by the same core group of guys, but much choreography was forgotten as it was not nearly as simple as "Big Red Car".


The first place winner that year belonged to the Fourth year guys performance of "24K Magic" by Bruno Mars. The boys should've taken 2nd place behind the Fourth year girls but won for their ingenious use of actual carrots during the chorus. They also came along and bopped members of the audience with the carrots in the head which actually hurt towards the end. Following their performance, they ate their carrots thinking they wouldn't need them again but after it was announced they won they were called for an encore and had to repeat the performance with no carrots.


The second place (first place in our hearts) went out to the Fourth year girls for their performance of "Take on Me" by a-ha. They all had swim goggles on to take the place of clout goggles and tie-dyed large blue shirts. They stared the performance like the legendary vine and the whole seem was reminiscent of a synchronized swim team's chroregrapgy as many circles were run around people in the middle. It was overall an exhilarating performance where you could see lots of hard work was spent on it.


Third place went out to one of the RC groups in D6. A group of 2nd year girls managed to take a place with a performance of "I Will Survive" by Gloria Gaynor. The performance was choreographed mostly by Charlotte and Abbey and resembled a chorus line. Sunglasses were worn and shade was thrown in this sassy spectacle.


The other performance that year went out to the other RAG in D6 (also 2nd year girls). They did a TIP rendition to "When Will My Life Begin" from the Disney movie Tangled. They were led by their RC to believe this would be a good idea, but a less than okay idea mixed with no motivation and horrible choreography led to a truly horrible and embarrassing show which left the audience speechless in not a good way. The reasons it was a TIP version were signs were held of places visited by tipsters and activities tipsters would do. At the end, the tipster Beth wore her RC's blue lanyard so when the line "Mother might just let me go" Mother was changed to my RC and Beth screams, "No!" making fun of how the RC never ever let them do anything .

2018
D1- "Africa" by Toto
D2- "Baby" by Justin Beiber
D3- "Holding Out for a Hero" by Bonnie Tyler
D4- "Hakuna Matata" from The Lion King
D6- Carla's RAG: "A Thousand Miles" by Vannesa Carlton

       Erin's RAG: "Sweet Caroline" by Neil Diamond


In my personal opinion, the 3rd/4th year girls in Erin's RAG had the cutest and best performance and deserved more than Best Choreography but the judges decided D3 (4th year guys) had the best performance. In this performance a tipster named Andrew dressed in drag and really got into the lip singing and even managed to lay on the judges table. Three other tipsters were dressed in togas and fought for each other's love throughout the performance and even managed to do the lift from Dirty Dancing. The rest of the RAG were backup dancers. They won first place as well as Best Costume.


Runner-up went out to D1 (3rd year guys). Ben, The Dad of DUML Dorm 1 once again came up with the idea to perform this song. In this performance, half of the RAG was onstage including Ben on the drums and Will M. on the electric guitar. The other half of the RAG minus 1 were explorers and walked around the audience during the performance. They also carried umbrellas which they opened during the lyric "I bless the rains down in Africa". Willard, the remaing tipster, served as the local Africa native hunting the antelope. He had draped his sheet around his body like a cloak and carried a broom handle which served as a spear. As the song went forth, many people were almost trampled as the hunt went on including a poor tipster videoing the show for the group. At the end after Willard threw his spear at some of the antelope at the main stage, he dragged Diego off by the legs after a very dramatic and very real fall. It should also be noted one of the band members on stage, Nathan, took off an outer shirt and threw it to the crowd revealing an under shirt.


"Sweet Caroline" was undoubtedly the sweetest performance. It centered around two girls playing a guy and girl who meet in Paris and travel the world and fall in love together in their travels. They visit Paris, swim and dine in Hawaii, and a proposal is made before getting married in Vegas. The tipster playing the guy had overalls on and her hair up while the tipster playing the girl had on a blue dress. When the proposal was made an actual ring was used and Miriam served as the pastor while the other girls served as members of the party and the chapel. The girl playing the guy was in a relationtip and after the performance she went over to his RC group where she was served with many tidings of "Why'd you have to go off and cheat on Alex like that?" and a disapproving smile from Alex himself. The group took the choreography very very seriously despite not practicing much before the 3 hours allotted the day of Tipsync to get the performances together. They were cheered on and helped by the wonderful RC, Erin, who had been a dancer.


D4's (2nd year girls) performance was also cute but many technical difficulties occurred before the complete performance was actullay made (almost 15 minutes of difficulty). Once the show began one tipster served as Pumba and the other Timon while the rest served as line dancers in the backThere was not much to say about the performance other than it made you smile because of the simpleness of the whole thing and the cute choreography. 


Now D2 (2nd year guys)performed the Macarena to "Baby" by the Biebs. That's it. And they didn't even make it through the whole song because of laughter. What it did effect were the egos of multiple "Chads".


The Chads were a frat group created by Carla's RAG consisting of mostly 2nd years with 3 3rd year girls. All these girls wore oversized hoodies, backwards hats, and some form of sunglasses- basically the more frat the better. They are quoted for yelling at any girl who even looked their way, "What are you looking at, thot?" as well as similar statements. The Chads won their state tournament that year also. As for the performance, their egos were torn down a bit by D2 because they also were performing the Macarena...but this time to "A Thousand Miles". The overall performance was very funny and made even funnier by some girls dressed in apparael they would never have gotten caught dead in otherwise.