TIPster Index/A-F
From the archives of TiPWiki, the unofficial Duke TIP Wiki
Last Name A
Amina Abdu
Amina is a fourth year fourth year who never attended the same campus and term twice.
She has a legendary bear hat that she wore on Hipster Tipster Thursday in 2012. She is very pretty. Amina lives in Texas, speaks fluent French, has fluffy hair, is Egyptian (Although called Indian by Theo), and dislikes small animals.
Davidson Term I 2009 Duke West Term II 2010 Duke West I 2011
Class: Social Psychology
Roommate: Kristy Yeung
Duke East Term I 2012
Class: Symbols and Structures
Roommate: Jenny
Afton Abell
Afton attended Kansas Term 1 '06 and was known for her love of skanking (it's a dance) to Ska music, occassionally with TA Matt Conley. She was in Mark Harvey's International Relations class and lived in room 923 with her roommate Sarah Barhite. Afton was in Julie's (the RHL) RC group and formed a group with Julie Ana Leary, Erin Farmer, Abby Fennewald, Sarah Foss, and Dee Dee Dong known as The Mustaches. Afton liked to Extreme Streetwalk and dance (sometimes in trashcans) whenever she could. She performed in the Red Team's skit of staff impersonation (she impersonated Robert Quach, RHL) at Swampfest and was punished thereafter.
She is a long blonde haired little goddess that can often be seen wearing Billabong shorts and Surfer Girl shirts.
Afton had a lot of fun at Duke TIP and wishes to return next year. To see photos of Afton's from Duke TIP Kansas Term 1 '06 and such visit gjpix.com and search Texaschic777
Veronique Adam
Duke East Term I 2008
Anna Adams
Duke East Term I 2008
Haleigh Adams
KU Term II(2010):
Intro to Med Sci A
Haleigh loved Kyle MacDonald sooo much, they named there team, "Kyle's Angels".
Sarah Adams
Duke East Term I 2008
Ty Aderhold
Info removed as he is now an RC at West.
Alie Akins
Alie akins The 2016 Pink Stilettos at Term 1 Duke East
Rhiannon Akins
Rhiannon Akins went to Davidson as a second year, and Duke West as a third year. She was a sweet Alabama girl and everyone was always excited to be around her. Her room was the party house when she went to West Term 1 2010. Rhiannon had a relationtipthing with Kevin Murgas. She was friends with almost everybody at tip. Her sweet Alabama accent charmed everyone, including her best friend, the redheaded, blonde-eyelashed, Russell Gray. Her soul sisters are Kat Lane and Pooja Patel, and have been so since their first year together at Davidson. They shall be bridesmaids at each other's weddings. She took Zoology at Davidson, and Primate Biology at Duke West.
Chip Allen
KU Term II 2009 3D Modelling
ASU Term II 2010 Design Challenges
UGA Term II 2011 Criminal Law and Mock Trial
UGA Term II 2012 Cryptography
His best friends were Cory Stine and Justin Kain. "Leaving reminds us what we can part with and what we can't, then offers us something new to look forward to, to dream about." - Richard Ford
J.P. Allen
J.P. (short for John Patrick) Attended Davidson in '02, and Duke East 1st term in '03, '04, and '05, making him a 4-4-3 for that campus. He was the MC at the talent show his 4th year, and played Mort the Mortician in "Doctor Doctor." He learned to rave at TIP, and has used this knowledge to further his ability to dance like an idiot. His courses: Restless Earth 1st year, Ethics of Shakespeare 2nd year, Going Mental (REPRESENT!) 3rd year, and JudgeMental (ALSO REPRESENT) 4th year.
He feels a little wierd about writing about himself in third person, but whatever.
He was maybe most widely known for his lip-sync rendition of "Poisoning Pigeons in the Park" by Tom Lehrer.
Gen Ambrose
Duke East Term I 2008
Chase Anderson
Biggest Hottie Ever. Like 9 girls and some guys were all over him at East 05. Due to his great height, his nipples were twice bitten by a midget. And despite what some people may say, he has awesome hair.
East Term II 2005: The Human Machine
Also looks just like 'Pink' Floyd from 'Dazed and Confused', which is actually pretty apt. In 2004 Chase attended Duke East as well, but had to leave early to go "band camp" to play his "trumbone." The next day was the Durham Bulls Baseball Game where Carrie Stiles, who was pregnant with a fatherless imaginary TiP baby from the Brown Sexpit, named her child after Chase. Actually, the child's full name was Chase Alexander Stiles (not Tex), named also for Alexander Soule. Chase Alexander is legendary among the Brown Sexpit Harem and his birthday is still celebrated every April 14th.
(Chase did not know until the following year that there was a child named after him.)
Kendall Anderson
Kendall Anderson first attended TIP at the Duke University Marine Lab in 2007, where she took Dead Men Tell No Tales: Piracy and Mutiny in Literature, which was a lot of fun, but no where near as awesome as the time she spent at Duke East (term 1) in 2008, because lets face it, Marine Lab really just isn't TIP. At East, she took Spy 101, which she referred to as "CIA Prep", because of a comment made by Josh Foxworth, a TIPster taking Avatar. She was also the one who decided that the Nashies were a boy band. During free time, she could usually be found in the Pegram Common room insisting that Basset fixed Quadfest, which everyone knows, since Pegram TOTALLY won.
She is also the most beautiful and most perfect girl ever.
Mina Anderson
KU Term II (2010):
Creative writing
Aminah(Mina) is known to say "i will shank you" but she is awesome!
Megan Andrews
Duke East Term 1 2008
Scott Andrus
Duke East Term 1 2008
Chandler Annesi
Duke West Term 1:
Biology of Cancer
Sam Anoff
Duke East I 2010
Sam is the kid that was always walking around joking around and always in a good mood!
Ben Armstrong
Ben is probably one of the most liked second years of all time, as of 2012. He took Social Psychology at Duke West Term 1, 2012 as a first-year second-year and was generally liked by everybody, even though nobody knows why. Ben was runner up for Grellow quadfest captain, and his snapple brings all the boys to the yard.He is known through his class for his lines like, "I'm going to say something like 'Kill all the old people' again." and for being "That Guy".
Madison "Tramp Muffin" Ashley
Duke East Term I 2008
Caroline Aung
TAMU Term 2, 2012-2013 (2nd and 3rd)
Rice Term 2, 2014 (4th year)
Caroline is an awesome chinese girl who attended Texas campuses exclusively. In her first year as a second year at TAMU, she took the Architecture class. Then, her second year at TAMU, she took Modern Med. Her final year was at Rice and she took the Cold War: From Allies to Adversaries. Every time she went to TIP, she was in the second term, which is obviously and indisputably the best term. Caroline, although shy, is one of the sweetest and down to earth TiPsters. She can be found entertaining other TiPsters with her mad piano skills.
Last Name B
Liam Bell
Liam is a TIPster who attended Trinity Term II 2014. He took Web Applications Development and spent his time avoiding drama. He likes being a twat so he hid his description.
James Ballowe
Took Con Law at Davidson in first term of 2018. Plans to return and take Psych next year if Tristen is still here because Tristen is a great TA and a great person as a whole. Very, very gay. Does improv if you ask him about dying cats performing on America's got Talent. Loves to hum Carefree Ukelele. Has incredibly long hair, which everyone back at home loathes. They're basically analogous to the Sports Camp Kids. Except the girls. They love it. Trust me.
Madie Baker
Ku Psychology 2008, Duke West Social Psychology 2009, Duke West Abnormal Psychology 2010, Duke West Neuroscience 2011. She was a member of Olivia's Big Girls. Her roommate, Victoria Ly, made her an honorary asian, and she has embraced her new ethnicity.
Sandy Baker
Sandy Baker The 2018 Pink Stilettos holder at Term 1 Duke East
Ryan Bakerman
West Term I 2011
A first year fourth year, Ryan Bakerman knows how many stars are in the sky and doesn't give a fuck about any of them. He is famous for his Jew 'fro. He's an interesting person who likes long walks on the beach and is also an organ donor. He actually donated an organ AT TiP itself. How cool! He's a superhero who saved a plane, and is a Mormon activist. He has no friends or feelings because he's -dead- AND a Mormon (Mormons have no friends [not counting facebook friends]). 12 year old boys idolize him as their favorite movie actor. He's Dr. Seuss on the inside and keeps a non-ticklish live penguin in his backpack for later vivisection. Bakerman is the proud 37-time champion in the sport of blindball and has 28 fan clubs (and a fan association or two) as a result.
Except for he's a hipster, so you've probably never heard anything about him.
By: Joshua Lafond-Favieres and Robert Epstein
Ruthie "Rubix" "Unicorn" "NOC" Banks
UGA Term 2 Ruthie started TIP as a 1st year 2nd year at UGA in 2009. She was always with a group of 4th years (Chloe, Dan, Jeff, Nic, Emmie) plus her best friend Devyn. She was rather awkward her first year and was not particularly fantastic. However, shortly before TIP her 3rd year she dated Nic 'Jesus' who would not be returning to TIP (because he was a 4th year as stated previously). Instead he went to a Buddhist monastery (but thats another story). Ruthie's third year was even better than her second. She was joined at the hip with her best friend Devyn and could always be seen surrounded by a crowd of guys. Suddenly she was Miss Popular and everyone loved her. Her superlative for her RC group was "Most likely to have guys falling all over her" and a large number of boys (who will remain unnamed) were in fact falling for her. In fact the guy she liked all term (who was in her class and who's name started with D and rhymed with 'art') had in fact fallen for her. However, they did not know of their mutual feelings until after TIP. All in all Ruthie is an amazing Tipster and quite popular with the guys, I think we are all very interested to see how her fourth year goes.
Vanshika/Chica Balayan
Duke East I 2010 Algebra II
Duke East I 2011 Awakening Giants
Duke East I 2012 Criminal Trial Advocacy
Vanshika is known for walking the halls on the phone all day, stalking the halls, pacing, living off of ice cream cones(without the ice cream) and apples, always having earphones in her ears,getting really hyper really fast, her green sunglasses (that Chris wears more than her), being OBBSESSED with GEORGIA TECH, phs, and Josh Heller's eyes!, and wearing a Georgia Tech tenant on her lanyard and tying the lanyard on her tshirt sleeve!, and loooooooooooooooooooooooooooooooooooooooooooooooooooooooooooooooooooooooooooooooooooooooooooooooooving TIP and TIPSTERS with every inch of her heart, mind, and soul!... She is almost always bubbly!
Emily "Spicy Muffin" Bao
Duke East I 2008
Diana Baron
She is very lovable, and witty. She can also bake cookies quite skillfully. Needless to say, TiP would have been very lame without her and her general wackiness.
Note: Apparently, she was obsessed with Dave. Because she was in AbPsych at East Term 1 2006.
She is also a myspace whore.[1]
Mark Harvey also likes her and hung with her at Duke East in 2005.
Allison Bashford
An amazing Ultimate player who will be the Laser Dragon captain East term II 2013. Allison is also really funny and pretty, and a great RAGmate and friend. She occasionally hosts spontaneous dance parties in between Ultimate games, and often has food, or will come and share yours.
She had (has?) a giant group of friends, a lot from Ultimate and a lot from her charming personality, including 2nd, 3rd, and 4th years of both genders.
Russel Bates
Duke East Term I 2008
Kyle is a cool dude who went to ASU his first year and UGA his second year. Some of his best known friends are Parker Cox, Alton Wiggers, and Frank (Quatro).
Katia Bautista
Duke East II 2011
Katia is a really nice and fun girl who decided to take AFUNC (Advanced Function Analysis with Mathematical Modeling) for Term 2. You would think she's Indian, but she's actually Mexican! Anytime you want to talk to somebody or just hang out, Katia is definitely a choice.
Duco van der Beek
Duco van der Beek The 2015 Skippy & holder of the Q Hat at Term 1 Duke East
Lara van der Beek
Lara van der Beek The 2017 holder of the Swerve at Term 1 Duke East
Kate Begley
Wake Forest Term II 2013

Mary Willoughby's Rag (The Wallabies)

Most likely to swim with dolphins
One of the best people ever! Love you Kate -Manuela
Becca Bennett
Duke East I 2008
Olivia Bennett
Davidson 2013 Term II | Psychology
Known for her good sense of music. She loved Doctor Who. She had red hair that everyone thought was amazing and she really liked coffee. She was a smart girl and was "soulmates" with Prayo.
Manu Bhanot
Davidson Term 2 2010 | Business Strategy
Manu was in Adams' awesome rag at Davidson, becoming famous because of his crowdsurfing adventure during the first dance (he is very easy to pick up).
Josh Bielenberg
UGA Term 1 2011-2013
Josh Bielenberg is, for lack of a better word, a boss, no TiPster has ever been more deserving of the title TiP King. He earned the respect and admiration of every single one of his subjects by always stepping up and being a leader, not just as a captain of the student Frisbee team or as an MC in the talent show but by always lifting everyone's spirits, even, perhaps especially, when they're feeling their worst. As proud member of the Sexual Seven (for having attended UGA every term) and a resident of Roswell, GA for the other 49 weeks of the year, no one was more at home at the UGA campus. Josh likes to be fed, basically anything, especially when it is thrown into his mouth from a distance. Josh is also quite the ladies man, despite his bromance with Jacob Hill and Jonathan "Sparky" Major. His fourth year RelationTiP was with Avery 'Orange Shorts' Morris and his third year RelationTiP was with Katie Dempsey. The latter RelationTiP ended, however, after the first week and a half of TiP when Katie dumped Josh during breakfast prompting an outraged Bielenberg to stand up and flip a chair. 90% of the time, Josh wears bro tanks and is in fact the inventor of Tank Top Tuesday. Like Sparky, Josh has a short red cape that he got from Margaret that he wore to the last two dances. Josh's perhaps most selfless act as TiP King was to sacrifice most of his own fourth year speech in order to read Sealth Womack's, who was kicked out of TiP before he got the chance to make his own. Josh truly embodied all of the best qualities of TiP and in the words of one of Josh's loyal subjects, Margaret Elam, "He also has a nice ass".
Calvin Bilder
Duke East Term 1 2010 Yes his last name is actually Bilder and not Hobbes, unfortunately. Calvin is super sweet and one of the most awesome dudes you'll ever meet at TiP! I like to call him The Super Fine TiP Guy ;) I predict that next Term he shall arrive in a spandex costume with the intials SFTG embedded on the front :D
AND HE'S THE PIGFARTS SEEKER. OHMAIGAWD.*
Katie Blackwell
Davidson 2011 Term 2- Taylor's RC group- Psychology
Sydney Blackwell
Trinity 2016 Term 2
Meredith's RC group
Speculative Fiction
Duke East 2017 Term 1
Jackie's RAG
Member of the Basset Bros
ARTSY AF, POLAROID GOALS
"Don't know what I would've down without her in my class, honestly just the kind of person that everybody wants to know" -Brooke Huffman
Andrew Blumberg
Andrew Blumberg, the Bueno Master, was was clearly one of the greatest and most prolific TiPsters ever. He was unmistakably a Jew, and as a result of the expulsion of Thomas the Martyr from University of Kansas in '03, Andrew Blumberg was unable to perform his duet with Thomas of "Third Planet" by Modest Mouse. Furthermore, Andrew was not allowed to perform "What if Jesus Was at TIP?," a parody of Joan Osborn's "What if God Was One of Us?" which was released in the late 90's. Contrary to popular belief, Andrew did not write the song entirely by himself. Rather, it was collaboration from a Andrew and group of TIPsters at an Improv activity that he ran. The parody contains lyrics such as, "If Jesus was at TIP, would it be fine and if we wanted to get drunk would he turn water into wine? Would he be the first true American Idol? Would he go to Writer's Workshop to write the new Bible? If Jesus was at TIP, would it be cool and do you think he would get bored when we were at the pool because he walks on water? Or would he smite us all just like his Father? (Yeah, remember that whole flood thing?)"
He was forbidden by Ivan Shin to perform the song at the annual Talent Show, for fear of offending Christian TIPsters. Andrew was also forbidden from providing commentary while another TIPster quickly solved a Rubik's cube (though they staff felt free to steal his idea of playing "Eye of the Tiger.") and forbidden from even watching the show. Later, Andrew produced his own rogue talent show, which Ivan Shin and Kenneth Streff initially opposed, but were forced to allow after a call to TIP headquarters. The "Revolution Jam Session" featured music from the Bueno Master himself, instrumental punk rock from Jaxon, Proverbs of Jesus, the comedy stylings of Chaz Bryant, and much more. Though closely monitored by Kenneth Streff, the "Revolution Jam Session" was hailed as a huge success.
However, Andrew was still forbidden from playing the "What if Jesus Was At TiP Song" at his rogue talent show and shortly after Term II '03 adjourned, Andrew recorded and e-mailed the song to every contactable TIPster. For the audio file, contact Jessie "Skippy" Tanner at Interrowhimper on AOL Instant Messenger.
Andrew Blumberg attended his first year of tip at Term 2, where he took philosophy, his RC was Dayo, and his roommate was Chaz Bryant, who would go on to become one of Andrew's greatest friends. During his first year, Andrew dated Tara, the first one of Andrew's RelationTiPs. An incident where an RC learned of Andrew and Tara playing one on one strip poker lead to a new rule that males were not allowed in females' rules and vice versa. Other notable Andrew-related events from 2001 were the first dance where he and three different girls were broken up on the dance floor. In Andrew's last year of tip, his membership in , and the initial proliferation throughout the TIP community of The Minion of Bueno.
Though well known for his struggles during the '03 term at KU, Andrew actually attended the KU TIP program since '01. He currently attends New York University in New York City.
Leland Bond
Davidson Term 2 2008 (Introduction to Laboratory Sciences), Duke West Term 2 2009 (Physics of Energy), Duke West Term 2 2010 (Nanotechnology)
Leland is a three year TIPster, attending Term II every time. He is well known for his addiction to Panda Express. He lives in Florida and definitly plans to attempt come back as an RC in the future, do to the incredible influence TIP has had on his life.
Second Year Leland was a member of Adam's RAG, and he took Introduction to Laboratory Sciences.
Third Year Leland was a member of Sam's (the Ultimate God) RAG, and he took Physics of Energy Leland is most famous for being the epileptic who signed the Zulu Force's petition to reclaim the strobe light at West term II 2009 as a third year. He had benign rolandic epilepsy, which is commonly outgrown at age 15, meaning that when he returned as a 4th year he no longer had the condition. Furthermore, he did not endanger his safety in any way by signing the petition, since benign rolandic epilepsy only causes seizures when the person who has it stays up really late into the night.
Fourth Year Leland was again a member of Sam's RAG, and he took Nanotechnology Leland notably participated in the Doctor Doctor skit on the last night for the first three themes as the doctor.
Nick Bond
Duke West Term 1 2011
He was in Eric's rag, The 15 Man Wolfpack. He plays, to my knowledge, Saxophone (Tenor and Alto), Guitar, and sings, and maybe some other things. He also write music and puts it on soundcloud, username Oilspill200.
Elizabeth Bonham
Her real name is Mary Elizabeth Bonham. She's Mormon, but a very bad one. Very blonde, very Georgian. A Georgia Bulldog fan hardcore, don't talk about Tech in front of her unless you want controversy. Elizabeth is loud and hyper a lot, but she's a sweetheart. She's tons of fun to be around, and tons of fun to get into trouble with. She made TIP for me, and is the only reason I'll go back my fourth year.
Tony Bonitatibus
Duke East Term I 2008
Jessica "Beanie Baby" Bonnen
Came for her first year term 2 2014. A strong member of "Team Fabulous" and inventor of "Bagel Bear". Roommate of Rayna, and bestie of Jacob, Azili (Azazel), and Noble Song Watson the "Finally Ginger TimeLord". A proud 1/2 of Caressica, and the Polyamourous Marriage. Never seen without her fabulous white and yellow beanie (from Forever 12!), and took Creative Writing at Austin College. Had a record of drinking seven cups of coffee in one day, and when the fire alarm went off, made sure to grab an extra cup before evacuating. Sister of David Bonnen.
David Bonnen
Attended term 2 2017 at Trinity University and was a member of Ian's Oh-So Curious Boys. The leader and only member of the Trinity Revolutionary Party, David organized but never actually participated in many protests. He was infected with the Great Furry Plaguenof 2017, and was symptomatic up until TIP prom, where he was cured. He suffered from a crippling addiction to Dr. Peppeer, and famously sold out both the first and second floor vending machines. Attended Alan and Brady's slumber party on July 28, 2017. Won 'Most Likely to Cosplay as Biggie Cheese' award from Ian.
Katherine Bonner
Duke East Term I 2008
Lillian Bornstein
Lillian is a fourth year fourth year who attended Davidson term 2 in 2009 and East term 1 the next three years. She is Danielle Williamson's best friend, and they were epic emcees in the 2012 talent show. She's from the great state of Nebraska. Lillian can be noted for her kindness, genuineness, and how lovable she is.
Gigi Boudreau
Duke East Term I 2008
Charlotte Boyd
Charlotte is a tipster who attended DUML in 2017, 2018, and 2019r. She took Near Shores and Oceans (the best class!) in 2017 where she met her best friend, Beth Peebles. She is part of "The Porch Squad", a very exclusive club, and was made a JRC in 2018. She took Estuaries and Marshes in 2018 also with Beth. Then in 2019 she took oceanography at DUML
Sam Boyd
Sam had amazing taste in music.
And she saw Jon Stewart at a kosher deli in NYC.
Theodore Bozzalis
Duke West Term I
Social Psychology
Also called Theo and T-Dog. Seemingly quiet person. Also, he is racist. Seemed to not be into the Jer-Bears shenanigans as much as the others (Although I cannot testify for sure)
Leta Branham
ASU Term 2 2009 UGA Term 2 2010
Leta, often agreed upon as the hottest second year from UGA term two, is known for her fun personality, toe-thumbs, and ridiculous habit of stealing other people's food/drink, getting her in frequent trouble for Crim Law class rule number six- Let the Big Dog (not Leta), Eat. She was also known for infractions of rule number three, no touching.
In the Mock Trial tournament, she made it to the top four, along with Alyx Eva, Mary Felder, and Sarah "Curly" Claypoole.
She was often seen lingering in hallways/corners with Curly Sarah, as they tended to scheme together. Several of the aforementioned schemes came to fruition, involving items such as condoms, underwear, and sing offs with fourth year boys.
Leta is a reported member of the Smiley Face Cult, also featuring Jas, Austin, and Curly Sarah, who were known and seen by the interesting doodles on them.
Her second year room mate was Sydney Bronack.
Leta has been given Curly Sarah's legacy for the coming year, a burden she will almost certainly live up to.
She is one of my best friends and always will be.
She will come back to UGA Term 2 for her third year in 2011.

Favorite Quotes
God, I love laughing at poor People- Leta
I love my toe thumbs-Leta
What's a Blue Waffle? -Leta
No, YOU have Mono- Leta
Wow you look extra fat today- Leta
I enjoy eating waffles off my belly like an Otter- Leta
Why doesn't anyone else look as good as me?- Leta
Everyone is talking about people starving in Africa. I only had 5 meals yesterday! -Leta
So does this look as bad as it looks?-Leta
Smoking kills. If you're killed, you've lost a very important part of your life-Leta
I love Willie and Rob, They are so Damn Cool.- Leta

Taylor Jordan "TJ" Brantley
Not to be confused with TJ Brannon, she attended TIP at West Term 1 in the summer of '09 (before the swine), '10, and '11. She became known for her random (sometimes creepy) laughter, her... interesting commentary, her ability to be "Cool but Nerdy" with Diana Lamaute, her, such as, grammer skillz, her tendency to dress like a giant starburst, her paleness that was counteracted by the previous statement, her likelihood to be really quiet - when not at TIP, and, of course, her wonderful ability to embrace her inner ostrich.
Laura Briscoe
Laura had her first year of TiP at Davidson, Term 1 '04. She then attended Term 1 at East for the next two years. And uh, I dunno if she's going next year. Ask her.
She should be noted for her many witticisms, southern drawl (when pressed to speak in it), and MANY, MANY, MANYYYY scene pictures.
She's a cool kid. And I'm pretty bad at describing her awesomeness.
Caroline Brewer
ASU 2014 Term I- Science on the AT
UGA 2015 Term I-Infectious Diseases
Cassidy's Pusheen Ballers
Sydney Bronack
ASU Term 2, 2009
UGA Term 2, 2010
UGA Term 1, 2011

Sydney made camp so amazingly fun!! She is a great friend & I can't wait to see her again. We had amazing times, especially the Pudding Feed at dawgfest (: i love you sydneyyyy!<3 Sydney is so super cool and just an all around great person, even if she does eat ketchup with macaroni
Sam Brothers
Duke East Term I 2008
Caroline Brown
Duke East Term I 2008
Jordan Brown
Duke East Term I 2008
Helen Brumley
Duke East Term I 2008
Alyssa 'Sparky' Bryan
Alyssa Bryan, who attended East Term 2 '06 and roomed with the most horrible Hanna Hope. She once threw Zach Brady's shoe into her third-story dorm room, thus knocking said horrible roommate's phone on the floor. She took Writing For the Stage.
Alyssa was a 4-1-1; a hyper, fun-loving girl who liked text messaging and bubble tea without tapioca. Her hair, when let down, stood out to the point where it became a topic of class discussion, causing the Writing for the Stage teacher to make an announcement about patting Alyssa's head.
Alyssa was also considerate. She skipped out on the Honey's trip in favour of hanging out with her second and third year friends on the last night. But its probably just as well, because she probably would have gotten food poisoning like the others who did go to the restaurant.
Brad Bryant
Brad was known at East Term II for his beanie, which had the power to change his personality from skater-loner with it on to surfer-dude with it off. He was known as Brad "Beanie" Bryant and Brad "IT'S THE SAME GUY!" Bryant, by Maria and Alexis. He attended Davidson term 2 '03 and East Term II '04-'06.
Brad also looked like a Nazi punk, futhermore there was a dance created around Brad's hair (the fohawk he had in the 06 Term 2) which is done by placing your hands over your head in a mohawk fasion and sorta yatta style hopping. This dance was created by Nat, Eliot, and (almost) Jon, and was performed every now and again across campus, more often then not on the Baldwin Steps.
Brad is remembered for persuading the entire Wisdom of the East class to agree on bright pink shirts with spider monkeys on the front for their class T-shirts...why? "Because who hasn't always wanted a shirt with a spider monkey on it?!" He did so single handedly. And they are awesome.
He was also a pretty big jerk.
Chaz Bryant
Chaz Bryant, also know as "Chaz with a Z" attended TIP for three years. In his first year he was roomates with Andrew Blumberg. Chaz was known for his humorous quotes and unrelenting sense of adventure. Chaz curently attends The University of Texas at Austin.
During his second year at TIP Chaz roomed with a certain Chris from Kentucky. Though Chris was cool, he and Chaz did not stay in contact like Chaz and Andrew did (this was almost completely thanks to Andrew because Chaz is really lazy). Memories from the second year at TIP that Chaz has are hallway frisbee and letting girls sleep in his flame pajamas (he had chicks in his pants). He also far outnumbered anyone else in Andrew's quotebook with stayments like, "If I was gay I'd look at myself in the mirror everyday." "If I was a stripper I wouldn't stand a chance." and "I'll prove people wrong by NOT beating my wife."
The third year at TIP was marked in his mind as the "I wish I didn't have a girlfriend because I could be getting so much action right now" year, which, although true, is odd considering the fact that Chaz apparently was beaten with an ugly stick as a child. We love him anyway. Also, Chaz was written up by the Student Counselor who claimed she would never write anyone up.
Ani Bryce
Ani Bryce The 2017 holder of the Book of Dev at Term 1 Duke East
Sam Buckley
Sam Buckley is an awkward, tall, crazy, screwed up person and his best-friend/sometimes girlfriend Money loves him for being all those things.
He also has a calming voice and a great sense of humor except when it comes to "Bubble Boy".Jess reads his various shirts everyday.
Christopher Buehler
UGA Term 2 2010 and 2011!! He looked like a watermelon on wacky tacky day. He's in The Brain, like a boss. He has way too much caffeine. [2] ...He's a cool kid. You should hit him up. -Abby and Archana are his sisters. And they're awesome.
ASU Term 2 2012 UGA Term 2 2013
RelationTIP - Isabel
Tommy Bui
Davidson Term 2 2011! Is a stoner that likes to play guitar and enjoys stripping in front of windows. Has the most bromance relationship with Kobi Johnson. One day he mentioned the word Peace Tea, and his friend Sam Fisher could not stop laughing. Check it out on youtube. It is said that Tommy lost his manly hood during the TIPsync because he was wearing his sisters booty-shorts. He later regained his dignity by winning the Davidson Term 2 2011 pun king competition. He enjoys eating cereal and Powerade (John Diet) with Kobi Johnson. He also preformed "I'm Yours" with Kobi and his roomate, Toby Wang, during the talent show (which he dedicated to John the RC). He sometimes refers Toby as a person who can "hit high notes like a sex panther". He thinks the word "sandwhich" should not exist and should be replaced with "sammich". Everybody is surprised that he is a religious catholic (I wonder why?). It is a possibility that his room is the source of prostate cancer. Tommy and Clayton Delp wrote a song called "The Gala Song" (http://www.tipwiki.net/wiki/The_Gala_Song) that captures the elements of dirty relationTIPs and stalking with binoculars from CVS. He is best friends with Malcolm Landrieu because Malcolm can sing and make sammiches. In term 2 at Duke East of 2012 he met the most beautiful girl in the world who changed his life forever. Her name was Allie Mills. It wasn't until the second week that Tommy and Allie really began to get along, but since then, they have been in a hardcore friendship that will last a lifetime. He even calls her "Allie-Poo".
Just...go here------> Tommy Bui
Mitchell Bullington
East Term 2 2013 East Term 2 2014
Everything you need to know about this crazy kid is here
Abigail Buonaiuto
DUML 2010 Oceanography, Duke West I 2011 Forensic Science, Duke West I 2012 Stones and Bones Abigail is known for being sweet and quiet. She was unfortunately robbed of her first year at TIP due to so many people wanting to go to Davidson and take Geometry. Second year she was one of six in her class that had to go to the clinic for an oyster-related cut. Her third year she was lovingly called "Fish" by her friends and was known for her inability to see through trees and her not-so-subtle crush on a certain second year. Fourth year she was "hated" by the majority of her RAG for her ability to wake up pretty. She was known for not eating any actual meals and for being extremely generous with her food (and her roommate's!). She also wrote an extremely long (and totally sweet!) message in her relationTIP's termbook. She will forever be in a state of TIPression, but the anticipation of being an RC as soon as possible somehow helps her get through the days.
Brooke Burrows
Duke East Term I 2008
Arielle Burstein
Duke East I 2008
See Arielle
Last Name C
Jackson Cacioppo
Duke East I 2010
Jackson is a cool cat! He is really nice to everyone is makes a great friend.
Ian Campbell
Duke East Term I 2008
David Cano
David Cano is one straight G. He has mad pimpin' skills and he is by far the coolest cuban kid i have ever met. He was Stephen Stradley's roommate in 2005, even though technically they both had other roommates. He's got amazing frisbee skills thanks to everybody in his RC Group, especially Delson, Stephen and Shubh.
Yashwina Canter
Duke West Term I 2011
Social Psychology
A hipster, in the most anti hipster city ever. Also made of Europe. Lives a analog life in a digital world and often wore a flower in her hair, hair which is made of perfect, and her circumference equal that of pi inches.
Joseph Cantrell
Davidson Term 2 2009
Duke East Term 1 2011
Joseph is cool and funny and stuff.
Trevor Carl
Georgia Tech Term 1 2014 His heart is as big as his biceps.
Jackson Carroll
famously known by the name Dobby, a few terms that can describe this wonderful elf are, "that one kid that did the Kanye West improv thing", "the kid that rocked the cat skirt", "the kid that has awesome hip movement in The Time Warp and The Wobble", and "the kid who occasionally tries to seduce Santa Claus",.
Rachel Carter
Texas A&M II 2007-2010
One of the legendary 4th year 4th year 4 years. She presented the 4th year's commemorative orange bouncy ball to the great OSD D-V-D
Maggie Caruso
Duke East 1 2010, Duke West 1 2011 Maggie attended international relations at East the first term. She was notable for her mysterious disappearance for 4 days (she was at a funeral) and her amazing lemon candy things. Often seen with Sona, Julia, and Mandy, she was revered (lol) as an expert on all things Durham. Maggie attended neuroscience at Duke West term 1 2011. She was on Sam's starlets RC group and according to a bunch of people was the nicest person in the world. She adopted a little brother, Jackson Sheu, and was known for occasionally stealing Faith's little brother, Jacob. She once again accidently disappeared through no fault of her own and her class attempted to summon her. A circle, chanting, and Tip magic were said to be involved. She and Faith had amazing Brain game skills and were known for their brilliant answer of hypothalamus. Maggie is talented in disappearing, being nice, liking neuroscience, and being happy.
Vincent Casal
Davidson Term 1 2019 Mostly just played guitar or talked to Cici all day. Sometimes played basketball
Dated Lillie and cc-both didn't work out
Stephanie Casaneda
Duke East Term I 2008
Chester Chambers
Duke East I 2008
Member of the legendary G.O.A.T. RAG.
Katiebeth Chapman
Duke East Term I 2010
Madeleine Chedraoui
Austin College Term I 2016.
Ava Chen
Duke West II 2009 Duke East I 2011
Ava Chen was perhaps best known for being secretly evil.
Jeffery Chen
Duke West Term I 2011 Social Psychology
Has no brain-to-mouth filter. Says strange things as a result. Also, poke.
Davidson 2013. Inducted into The Society in 2013.
Eric Cho (CHAO 77)
Davidson Term II 2011
Eric was usually found in the lounge of 3rd floor Sentelle, or in 3rd floor Cannon. He was most known for being in the Chao family, and he was known as CHAO 77. He usually keeps a straight face, but still has emotion (especially while playing Sausage with people from Animal Behavior :D). He always danced in front of the window with his roommates. Who wants to play twister?
Richard Chen
Su Cho
Duke East 2012 Literary License without Limits
Woosung Choi
Duke East I 2010
Woosung is an amazing asian TiPster and is always nice, and is always there to listen to ur problems, Even though he has so many himself(jk ;))
Katilyn Clark
Duke East Term I 2008
Maggie Clark
Took the Duke TIP Term 1 International Relations course taught by Mark Harvey and TA Matt Conley. Enjoys long walks on the beach and sun-tanning.
Tanner Clark
Duke East Term I 2008
Anne Clifton
Chloe Colberg
Duke East Term I 2008
Skylar Collins
ASU Term I 2013- Psychology
ASU Term I 2014- Science on the AT
UGA Term I 2015- Infectious Diseases
Kyle Cohen
Kyle Cohen, better known for being the slave of Savannah "Lilli" Eubank, is a great musician, best known for improvisational blues guitar in the East Term II talent show in 2012 (see campus and term below) and also makes dubstep in his free time. He is also known for being Jewish I mean really, look at that last name. In Bach to Rock, he created the infamous 12-tone piece, 'Satan's Elevator Music'. It was epic and hilarious according to Tyler Tinari. (Ask him about his butt.)

Davidson College (2010) - Cryptography
Duke East Term II (2011) - PILF
Duke East Term II (2012) - Bach to Rock
Claire "Ariel" Cole
Claire: she's pretty darn cool
basically the coolest roomie ever.
Member of Lenora's Menorahs
Lauren Coleman
Duke East Term I 2008
Laura Colleluori
Davidson Term I 2005 (Mysteries of the Human Consciousness)
Davidson Term I 2006 (Writing Creatively)
Duke East Term II 2007 (Revolution and Terror, with famed TA William Harris, Jr.)
Duke East Term I 2008 (American Government)
Matt Conley
Matt Conley was originally a student in Mark Harvey's Comparative Politics and Current Issues in International Relations undergraduate courses at the University of Kansas in 2002-2003.
After working in Washington D.C. for US Representative Dennis Moore and spending a year in the private sector, he returned to academia in 2006 to become a TA at TIP in Kansas for Mark Harvey in Politics in Practice and International Relations. Thus, he was a member of the Kingdom of Sweden and the RPP.
Matt Conley has the best taste in music and can skank too! His students have frequently mistaken him for a male model. Evidence would seem to indicate he's an all around quality guy.
He currently lives in Topeka, Kansas and attends Washburn Law School.
James Conti
Emily Cook
Emily (2004-2007) is a sweet Czech Catholic who began at Davidson with Theater Arts, with Julia Commander, and was an occasional member of the Church of Max. Second year she was at East I in Faithful and the Wicked with Sarah Langley, Julia, and Natalie Jacewicz. Third year, she took That Shakespeare Class at Term II and played the role of Hermione in the play A Winter's Tale. In her third year, she also helped Hannah Hinson con their RA, Carrie, during the Officer Best Affair.
Fourth year, she was in Symbols and Structure, and her exploits included original maiden dancing, dancing with ADFers during a break, singing with her class in the East I talent show, taking part in 's second-floor candy party, and participating in the TiPsync, where she played Elphaba in "What is this feeling?" opposite Hope Rogers. She was also a member of the Bassett 3rd Floor Book Club (along with Hope Rogers, Taylor Davidson, and Quitterie Gounot), and the Sunday morning Breakfast Club. She was one of the driving forces behind the adoption by Allison's RAG of Lindsey the Koala.
Emily is perhaps most famous (or rather infamous) for breaking her collarbone during Quadfest I '05, causing her to miss the second dance and leading to the removal of the wheelbarrow race from Quadfest.
Classes
Theater Arts Davidson 2004 Term I Faithful and the Wicked East I 05 Play's the Thing East II 06 Symbols and Structure East I 07
Roommates and RAGs
Katherine Overton (who now attends the same high school, go HHS IB!) in Charlotte aka Johnny's RAG
in Danielle's RAG
in Carrie's RAG
Paisley Lewis in Allison's RAG
Mary Elizabeth Cooper
Davidson College (2010): Cryptography Duke Marine Lab Term 1 (2011): Marine Biology
Mary is awesome!!!!
And also co-creator of the 'Llama Jelly' from Davidson '10
Mary is my BFFL!!! I LOVE THIS CHILD TO DEATH!!! BTW, I'm sorry that I threw a packet of hot sauce at your face... I hope you don't mind. (I wasn't aiming for you!)<-- sure not Tori.... haha love you both!! Mary, I love you so much you dont even understand. I miss having you in my math and orch class where we would have bonding times instead of paying attention to class... haha you are the best and I love you!!
Jessica Corey
Jess is...

Hyper
Ultimate player for the LASER DRAGONS!
10:10 Snapple drinker
Extreme Finger Painter
Super toga maker
Waffle with icecream for breakfast eater
Epic Quester
REGRESSION SESSIONER!
has an Epic Posse
Merper
Floorgy Incitor
Endorses relationtips
Ultra Latin Dancer
A bitch to second years
Epic
My best friend
Has taken Ecology, pyschology, abnormal psychology, and Contemporary Art History.
Has played in the student staff ultimate game all of her four years.
Roomates of Lexi,Emily,Izzy, and Mary.
Relationtips with Benny, Raul, and Nehemiah.
Find her on Facebook.
Noah C Cornelius
A musical icon
Founder of the Sweatband
Bound to be a world-touring pop singer in the future
Allison Connell
Duke East Term I 2008
Steph is probably one of the more ADHD TIPsters who has spent her first two years at Davidson for TIP. Her first year (06), she was more shy than anything and valued sleep over all! Her best friend was Lexi Sparks, with whom she still keeps in contact. Her second year, she could be seen hanging around the first floor, the all guys hall, or in their rooms... not very TIPpropriate... The RCs took a liking to her, but sometimes it's not clear why. She choreographed Cell Block Tango and probably pissed a lot of people off. Her third and fourth year were spent at East term 2, an avid supporter of traditions. She was in the SMP her fourth year, but was unfortunately brought to demise on July 22 when Swine 09 took full hold and closed East II 2009 06: Roommate- Izzy Kuller. RC- Aimee. Class- Ecology (teacher: Robert Corbin. TA: Miss Jen) 07: Roommate- Julia Wayne. RC- Jennie. Class- Psychology (teacher: Lori Mack. TA: Dana Norton) 08: Roommate- Carolyn Payne. RC- Annie Searcy. Class- Avatar (teacher: Dr. Potdar (Dr. Poptart). TA: Christina Song) 09: Roommate- Lydia Ford. RC- Emily Hannah. Class- Religions of the World (teacher: David Bedar. TA: Betsy Allen)
Amy "Piglet" Cordell
"Pretty much" the "coolest" "kid" ever.
Also Amanda's LUVAH!!! My LUVAH!!!
Lorraine Cornillie
Lorraine is a vet of Duke TIP and attended Kansas Term 1 in '04 & '05 as a first year and second year. She will be attending Kansas Term 1 in '07 along with Afton Abell (see above) and Lilly Lamont-Munoz (pwning first years, ya'll). She enjoyed going into boys halls with Lilly and taking their clothes and is pretty dang depressed about the new rule of not being able to go into the boys rooms anymore. Totally bummin'. She took Algebra 1 and Geometry and will never take another math course again because of the creepy hippy teachers that have so affected her throughout her life (frill ya'll can't close my eyes without seeing tie dye). Despite, She loves them very much. Find her on myspace! www.myspace.com/ddrtothemax
Lorraine also took part in swampfest as part of the Ultimate Frisbee team both years. In her second year, she touched the frisbee a record of two times. She is aspiring to beat this record in the upcoming summer by touching it atleast 3.
Lilly Lamont-Munoz was Lorraine's best friend at camp (and in real life). Some refferred to Lilly as Lorraine's "puppy" and Lorraine as Lilly's "puppy". They both like to refer to each other as 3 legged armidillos, so everyone was way off.
Lorraine hates friend stealers.
Lorraine also hates getting cream pie thrown in her face (but who doesn't, really?)
Carrie Cox
Duke East I 2008
Josh Cox
Trinity Term 2 2016 In Spec Fic and Prince Navid's RC group.
Maria Cox
Duke East I 2008
Georgia Tech Term 2 2014-15, Term 1 2016
Søren Creecy
Søren Creecy The 2018 holder of the moonscream, Noah C's Sweatband, and Haylee's Cow Mask at Term 1 Duke East
Zac Crew
Duke East Term II 2010
Zac was a second year best known for his extremely blue eyes and his fondness for kleptomania. He was also known to look great in Jackie's leggings on wear a skirt Wendnesday. He took Criminal Minds, where he spent most of his time asking people awkward questions. By the end of the year, Ashley Vu had made him "huggy".
Let the record show that Zac had spent the first week steadfastly refusing to hug anyone and declaring that he was "emotionally suppressed" and denying Ashley hugs. The monumental first Zac Hug occurred while on break. He was bribed with a Mountain Dew.
Was it worth the Mountain Dew? Completely.
He also was the only alspaugh boy to have an interracial relationtip with a certain Odemi.
Also,on an attractiveness scale, he got an 8.5/10 (well, really 9 if you count being sweet)
His head was certainly very fuzzy.
Zac only has one question for you.... " On a scale of one to ten, HOW ATTRACTIVE AM I???"
Trevor Cross
Duke East Term I 2008
Dylan Crouch
Duke East Term I 2008
Annemarie Cuccia
Wake Forest Term II 2013
---
An amazing person with an even more amazing-er personality. She was in Searching for Clues. Also the awesomest roommate ever who didn't mind waking up her roommate Emma (sometimes harshly) for breakfast and was ok with reading late into the night also one of the best friends imaginable
Georgia Tech Term I 2014
---
Still an amazing person, might have even increased in amazing-ness. She was in Apocalypse Soon: The End of the World in Myth, Literature, and Film and was reunited with a friend from Wake Forest: Manuela Martinez
On the last night, Manuela Martinez and her were seen together at all times, hardly separating. This was the result of knowing how it felt to be separated from each other once, and hating the fact that they had to go their separate ways again.
Victoria Cui
Duke East Term I 2008
Addie Cursey
Davidson Term 1 2011
---
Davidson Term 1 2012
---
In her second time at Davidson she received the nickname. "The Third Floor Whore". She was always there and causing trouble. She was part of Kathleen's RC group. She and her roommate, Jane, had a completely decorated room that included lanterns, plants, and even a fountain. She was in Psychology and was well known by the entire campus. Probably one of the truest tipsters to walk the Davidson campus.
---
Lynne Curts
KU Term 2 2011
Lynne became friends with James Miller and Nate Sumimoto as well as Mack. The editor remembers Lynne for her crazy awesome personality and being a pretty cool person.
KU Term 2 2012
Lynne spent her second year at KU again, where she was one of the few second years among a bunch of annoying 1st years. She probably didn't like it much. Also awkward triangular thing.
TAMU Term 2 2013
Lynne reunites with James and Nate and Anna and a bunch of other friends! She took Modern Medicine: Disease and Immunology and fought the in the prestigious SSS in the Quad Assault. She got shot. D: At any rate it was a great year and all her friends were glad she came back
Last Name D
Texas A&M 2012 and UGA 2013
He is a strong believer that term 2 is very lucky and has better people.
Kyle Daniel
Davidson 2011 Term 2 - Cryptography and Codebreaking, Duke East Term 2 - Criminal Minds
Kyle was really cool. He was often seen with both Tyler Tinari and Ian English in his 2011 and 2012 campuses. At his first year at Duke East, he was often seen with Tyler's slide whistle pretty much everywhere he went. He was also a part of the performing arts group, 'NO SHIRT BUT A SWEATSHIRT' in the TIPSync performance of the Circle of Life including Tyler and Ian as well as Clayton Delp, Max Sowatzka and the Llama. In addition to that, he was featured in the short story, The Legend of Lucy.
Madeline "Maddie" Daniel
A beautiful, amazing, full of TiP spirit, 5'0" girl. Read the wiki.
Davidson Term 2 2012
Class: Business Strategy: Beyond the Lemonade Stand
Roommate: Sara Goodie
East Term 2 2013
Class: Big Screen, Little Screen
Roommate: ??
East Term 2 2014
Class: Criminal Trial Advocacy
Roommate: Payton Moledor
Katie Danis
Davidson 2013 Term II
She was this quiet girl but no, she was not shy. When she spoke, she spoke with confidence and passion (like how she was very unhappy with her partner in debate for psychology). She was known in her RC group as an amazing nail painter. She left within week two because she was very sick. Everybody missed her a lot. Like that empty seat at dinner and not watching Sharknado. She was missed (but her RC group still talks to her!).
Zana Davey
Duke East Term I 2008
Jenna "Aurora" Davis
best roommate EVER.
plus she had candy.
and yeah.
CANDY.
Eddi Decourte
Duke East I 2010
Eddi is a rockin hot chic that is really nice and funny. One amazing Georgian!
Michael Delgado
Duke West Term 1 2011
If you didn't know Delgado by his real name (Micheal or Delgado, take your pick), then you probably knew him as guitar dude. He was constantly walking around with his guitar, Winslow, which you could instantly spot due to all of the signatures of TIPsters on both the front and the back. In class (Social Psychology), he was known for dressing up in a Lady GaGa wig for an experiment on WASW. "I just wanted pants!!" was a common phrase after that occasion. Speaking of WASW, he got hit on by a b-baller, to the delight of those who had dressed him (and to the horror of Delgado, but that's not as important). Delgado was also known by a graced few to randomly suggest that they get into a fistfight for fun. Also known never to high five or shake hands, but always down for a hug. Delgado was loved by all he met for his altruistic ways and his charasmatic personality.
Maria Margarita Del-Mundo
Texas A&M II 2013 (Modern Medicine: Disease and Immunology 2)
KIMMY JIN IS BOOB-HEIGHT!!!
Clayton Delp
Davidson term 2 2011, Duke East Term 2 2012 (and counting)
He is both the coolest and third coolest person you will ever meet, but not the second; this is important. You will understand later.
Clayton wasn't born like most humans. He was horribly disfigured. So, like others, he was thrown off a cliff, leaving him with a dramatically stunted growth. A pack of squirrels raised him in their nest, teaching him their ways. As a young boy, Clayton wasn't like most. He had a passion. He just couldn't stay away from the elephants. He was just so obsessed with them, from sitting next to them on public transportations and staring them creepily in the eye, to getting arrested for the Sexual Harassment/Assault of his pachyderm co-worker. Due to these tendencies, Clayton wasn't allowed to come to TiP. But no one had the brass balls to stop him. It was here that he developed his other hobbies. Turns out he's a jack-of-all-trades, but his favorite activity was to stand on a chair in Sentelle and piss, through the window, through a froot loop, through the window of Canon, and all over some poor, unfortunate soul's shoes. Clayton now resides in Northern Ireland, as an actor. He currently Plays Tyrion Lannister in the HBO series "Game of Thrones"
Clayton, or spiderman, was a tipster well known for his antics, outrageous costumes in public, and debatable lack of self-dignity. Clayton could be found following people on cell phones and serenading them with a rendition of Rick Astley's "Never Gonna Give You Up" with a guitar or asking to talk to their mother, distracting the other camps with a sudden noise, or THE GAME. A star of the winning Tip-sync(Evan's RC group, one of the funniest ever) and a big supporter of TiP and all its traditions. Sam fisher if you are reading this I have now invaded your brain.
Donna Delucia
Donna Delucia is, to be frank, just plain sexy.
However, she apparently hates "terrible thirds"
Bowei Deng
Duke East Term I 2008
Better known as the best beatboxer to grace Duke East. One serious gangsta azn.
Ally Denton
Davidson 2013 Term II | Creative Writing
Her real name is Allysa but everyone called Ally. She seemed very shy and introverted when you first meet her but really she is so weird that you sometimes doubt her sanity. Just kidding, but she was fun to hang out with. When she thought and talked at the same time she made these weird hand movements. And she was an amazing poet/author.
Karishma Desai
Duke East I 2008
Alexis Desire
Alexis Desire, also known as Kim is an amazing TIPster who has been going to TIP for four years. She went to ASU Term 2 her first two years, Texas Term 2 her third year, and East Term 2 her fourth year. While at ASU Alexis participated in the infamous panty party and had a relationTIP with Delson, and while at East Alexis was known for going to the hospital the night of the first dance after falling down the stairs and hitting her head. Alexis is a unique person who can be your best friend or a complete bitch, but that's why most people love her. She is best know for her obsession with John Cena, in which she got him put on her RAG's termbook page at East, her dancing, and for the cookie cakes that her parents send her each year. Alexis was thought to have a crush on the llama mama AC/DC but she thought many guys were cute so nobody knows for sure.
Alicia DeVos
She is also mega-athletic and runs every morning thus waking up at 6:50 (7:40 on rare late mornings). She does not like olives. She does like Billy Joel. She does like pronouns, probably, because reasons and things. She is currently looking for Narnia and is shorter than Sara Edelman-Munoz.
Duke East I 2010
Class: Philosophy of Time
Roommate: Grace Dansby
Duke West I 2011
Class: Nanotechnology
Roommate: Varuna Rampersad Singh
Duke East I 2012
Class: Criminal Minds: Psychology and the Law
Roommate: Mallory Harris
Alicia returned in 2015 as an RC at East.
Olivia DeWees
Duke East Term I 2019
She loves frogs more than she loves living. She's terrible at go-karting and almost crashed and died twice while on the go-kart course at Wheels. She is also a fucking idiot.🤘😩🤘
Arjun Dheenan
Duke West Term I 2011
Arjun entered his first year at TiP as a very aloof TiPster. In his Neuroscience class he sat closest to the door (or closest to the teacher, if you wanted to make him sound good). In the second evening study, his TA Claire accidentally left her notes on everyone in the class up on her screen as she plugged her laptop into the projector, and everyone saw at the top of the screen "Arjun Dheenan - seems aloof". This quickly became a class joke, bolstered by the fact that Arjun did not know what the word "aloof" meant and his classmate had to explain it to him. He also became best friends with (slash was in a serious bromance with) Pranav Prabu, who was both in his class and his RC group. He would frequently call "eyyyy Prannaavvv" for no apparent reason. Arjun and Pranav loved walking by Ellen Yuan's room and hearing "HAYYY Pranav slash Arjun" because they were undoubtly one person and bromance lovers. Arujun was also "a dirty Indian" as he did not shave.
Margaux Diebold
Davidson 2013 Term II
Some called her Margaux, some called her Mars. She was this dramatic person who was super thin (like seriously, people worried for her!). She was in a relationship with Scotty for about two days before they broke up. She was funny and often made jokes.
ASU Term 2 2011, UGA Term 2 2012, UGA Term 2 2013, UGA Term 2 2014
Creative Writing, Criminal Law and Mock Trial, American Foreign Policy, Philosophy of Knowledge
Texas A&M Term II 2009-2010
"Pretty Damn awesome!"
Classes: 2009 Web Design 2010 Inspired Writer
Anna Director
Duke East Term I 2008
DeeDee Dong
Duke East Term I 2008
Sarah Doom
Sarah is an epic tipster. She is a fourth year fourth year who never attended the same campus and term twice.
Davidson 2 2009, Creative Writing, Catherine's RC Group; Davidson 1 2010, Mock Trial. Kavita's RC Group; Duke West 1 2011, Social Psychology, Sarah Kate's RC Group; Duke East 1 2012. Criminal Trial Advocacy, Erin's RAG;
In 2009, Sarah and her RC Group were the last to cave to Swine of '09. In total, only three members of their RC Group had to leave early. In 2010, Sarah was the leader of Kavita's RC Group. She was also the lead choreographer of their TIPsync to "Paparazzi", which won the TIPsync that year. She was voted best lawyer in Mock Trial class. In 2011, Sarah, Emily Maloney, and Catherine Farmer formed the Power Trio, which still exists today. In 2012, Sarah came to East. She was a lead choreographer of Bassett's QuadFest song, which should have won Best Song. She was voted Best Lawyer in CTA. She made friends with many of the East veterans, even though she was a newbie. In the talent show, she did an epic and hilarious act with Sarah Hendrix. She was generally known as a sweet, absolutely adorable tipster.
It is fairly well known that Sarah's best friend is Emily Maloney. They attended three TIP terms together (the first three). Unfortunately, Emily couldn't return to TIP for her fourth year because of GHP.
She also brought a lot of food every year, supposedly "enough to last us through world war three."
Sarah returned in 2015 as an RC at East for both terms.
Amelia Dornbush
Amelia attended Davidson Term II, 2006. She was in International Relations and is a VERY opinionated member of the Democratic Party, always arguing with Ari Lipsitz. Along with Christine Delp, she has come up with the best plan to take over the world and is going to give me Canada! Woohoo! Anyway, Amelia and I (her loving roommate) claimed to be official party poopers at the dance and sit out the whole thing, but the music brainwashed us and some people forced us to dance and we couldn't stop, so we can just say that our mission failed. I would also like to take credit for locking her in a closet.
Amelia attended Duke East Term II, 2007. She was in a RAG on Brown's 2nd floor...her RC's name escapes me.... She had a tendency to go running in the morning and go back to her room and sleep til 15 minutes before class. She took Revolution and Terror and was greatly involved in the Giles Bench Controversy (not that that existed...). & there's probably more...but I have to go do homework now...
Mary Dory
With her unique fashion sense, quirky habits, and lovely rump, Mary Dory is among the sexiest girls that ever existed at Tip.
Quontavius Dowell
Texas A&M Term I 2010-2012
2010(second year)
Brocean(RAG)
Web Design (class)
2011(third year)
Harry's Minions(RAG)
Criminal Law and Mock Trial (Class)

2012(fourth year)
Naughty Johnnies
Evolution of Military Strategy
The TAMU Family Tree was given to him to control during his 4th year.
The Second Patriarch of the Honorable TAMU Family Tree.
Czar II
Memorable Quotes
"Stairs intimidate me."
"They finna make me act my color."
"It gets real."
"You dumb Eric, you dumb."
"Stupid for no reason."
"It feel like Africa."
"No bitch, no."
"I run this. Bitches."
"You lied."
"Don't judge me"
Chris Drawdy
Duke Term I 2010
Chris (aka fat rat) is a cool kid with hot boxers! Sadly, he likes the FSU Seminoles, which is sad :( He is really protective of all of his hats and enjoys to steal Chica's Sunglasses. He is pretty dang good at Ping Pong, Chess, and Ultimate. He is known for asking out many girls to the dance and not getting turned down! haha! He has really soft blonde hair. Also, he enjoys to wear mandals. He is also a really good dunker! He was also squealed really loud when he scored in the Staff Student Ultimate game.
Richard Andrew Dreelin
First year writing with power. Starwars fan. Love history. 6th floor is the best 7th place in roll call night. We'll see how swampfest goes.
Ben Dreier
Duke East Term I 2008
Member of the legendary G.O.A.T. RAG.
Robert Duffley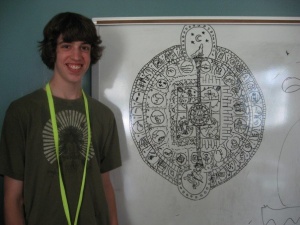 Robert Duffley was a member of the original
Wonderhogs
and arguably one of the most brilliant TiPsters to ever bear the title. While some admired his artistic and literary talents, others came out and worshipped them. His genius transcended that of mere words and entered the realm of the philosophical and the abstract (though he often questioned his own assertions with his unequivocally modern logic). His insights inspired, and his erudition enlightened. He was the director of the
Screenwriting
class's production for . Indeed, he is a man of many talents, and is also an amazing stepper.
Classes
Roommates
Tiffany Duke
Probably the single awesomest roommate ever in existence, Tiffany is known for sharing clothes and hair supplies, killing ants with large amounts of hair spray, being the only TiPster to have procured air conditioning while at Duke East Term II and for choreographing many an awesome lip sync. She routinely performed in Lip Sync and Talent Show 2001-2004, finishing the 4th year with a duet with RC John Birch. She was also a "hall Mom" helping out other TiPsters with typical teenage problems.
Neel Dutta
A true tipster through and through. he attended east term 2 2012 and 2013 for his second and third years, although he was not able to return for his fourth. an unparalleled fan of How to Train Your Dragon, a talented violinist, an inspiring mathematician, and an all around wonderful guy.
Suryabratta Dutta
Duke East Term II 2011
Surya was a very cool Indian dude who decided to take Advanced Function Analysis with Mathematical Modeling (AFUNC). Surya is very intelligent and was always competing against Nick Mast to see who could get the correct answer first. He was a huge help to his classmates and was very clear in his explanations. Not only is he smart, but he is dedicated to his RC Steve, just like the rest of his RAG. If you ever have a question about math, Surya could most likely answer it!
Shannon Dwyer
Duke East Term I 2008
Last Name E
Alyshah Ebrahim
Duke East Term I 2008
Sara Edelman-Munoz
Sara is a generally happy individual, known for being clearly taller than Alicia DeVos, with whom Sara is often seen. Sara dreams of one day finding Narnia and is Peter Sloan's hero. She plans on marrying an Asian man. She likes to play "Epic Risk: Dorm Style", Capture the Flag, ERS, and Calvin Ball. Your mother.
Davidson I 2009
Duke East I 2010
Class: Apolcalypse Soon
Roommate: Rachel
Duke West I 2011
Class: Nanotechnology
Roommate: Beth Ohrt
Duke East I 2012
Class: International Relations
Roommate: Stephanie Parker
Eliot Edwards
Duke East Term I 2008
Will Ehrensperger
ASU Term II 2008-09 and UGA Term II 2010-11
Will attended App State his first year with some big shoes to fill, as his brother, Peter (the founder of the phrase "Skoo"), had been a fourth year the year before. He was immediately recognized by fourth years as "Peter's little bro", or simply "Li'l Pete". His second year at App he was one of the only true second years, along with Cameron Robertson. Will spent his third and fourth years at UGA term II, where he was reunited with everyone from his first year. He was in Geoff's RC his fourth year and took Sports Medicine. He might be best remembered by either his saying "I don't need a personality for a week and a half" when asked about his opinion of a girl, or his "Pre-dance hydration sessions" with Jas Rempala. He is self described as "well rounded", which is his way of saying that he's decent at a lot of things. He's an O.K. guitar player and is better than most at Ultimate.
Also, he likes to go down the river.
Margaret Elam
ASU Term I 2011 Creative Writing, UGA Term I 2012 Crim Law and Mock Trial, UGA Term I 2013 Cryptography, UGA Term 1 2014 Philosophy of Knowledge
Margaret was bearded the first TiP Monarch at UGA during the 2014 term one session and she ruled over the camp as Queen Longbeard. She, as TiP Monarch became everybody's official resource for problem solving (not that she wasn't before) and spent the majority of her time working through any issues brought to her attention. She was also unofficial matchmaker for many people while managing to never have a relationtip/bae herself (not by choice).
One of the biggest indications of her leadership and general awesomeness is shown through her ability to join any group of people during the everyday, or during dances and fit in flawlessly. You could also tell that she genuinely cares about everybody and would, in general, do anything possible to make them happy.
Margaret carried and built these traits from her first year at ASU where she first found herself in the perfect environment that is tip, she stayed pretty low other than being known as "The Ginger" but then wowed everybody at the Talent Show, where she sang "Eleanor Rigby," and she would continue to wow everybody for the next three years.
Her second year she went to UGA term one where she helped facilitate the legendary Morstin. She sang "People Help the People" at the talent show and made three fourth years cry.
Her third year she returned to UGA and gave the trio (Josh Bielenberg, Jacob Hill, and Jonathan "Sparky" Major) their red capes. She was up for TiP Jester that year (along with her roommate) but the fourth years were still getting to the place where they recognized girls as being capable of holding titles. She sang "Imagine." She also made her mark as one of the three honorary fourth years.
She returned for her final year and was given TiP Monarch by vote at the close of the first week. She promposed to Matt Philips with actually the best Promposal ever (he almost cried) and she is also a part of the one of the most famous friendships ever- her and her best friend Emma. People have been quoted saying "I want to have a love like the one you two share someday." Matt, Emma, and Margaret compose the Holy Trinity.
Elizabeth "Betsy" Ellithorpe
Betsy attended TIP for 4 years, at Trinity in 2009 and then Duke West from 2010-2012. She is known for never shutting up with Mary Grekstas and Julia Engelien and knowing too much Harry Potter trivia. She got into acceptable amounts of trouble, especially her 3rd year as a member of Tara's RAG. She had her share of run-ins with the CBKSIRD and many DNA helicase jokes. Betsy performed and wrote several Doctor, Doctor skits her 4th year, including a Swine '09 themed one to bid farewell to the last round of tipsters present for the epidemic. Her crowning achievement was being named the favorite 4th year of her term by the 2nd year students.
Betsy now works as a TA for Duke TIP.
Andrew Elsey
Duke West Term I 2011 Programming
Andrew Elsey is a particularly peculiar and precocious TIPster with an interesting passion for cross-dressing. During the class he was taking at West I 2011, he would often ignore the greater part of what the instructor was saying and come up with his own methods for doing the same things as everybody else in the room. He participated in Wear-a-skirt Wednesday much more enthusiastically than most of the other people, and then later he pulled out his feminine garb once more to play the part of the "so-called girlfriend" in the Jer-Bears TiPsync of "Threw it on the Ground", (side-note) which was amazing.
He is overall. . . . . completely awesome.
Thanks, Braden. I'm speechless.
Andrew is also a renown parkour master. just saying.
Alex "Bucket o' Danger" English
UGA Term II 2009 and 2010
Alex at first was very intimidating to her fellow TIPsters. Arriving late and halfway into dinner she was tall, blond, beautiful, and with a pink streak in her hair that said "Yeah, I'm a Bad-ass", struck fear into the already nervous group who had made the transfer from ASU and Kansas and were trying to navigate the new campus. She was quickly challenged by the lacking of social boundaries Meghan Dorn, who in meaning to address Alyx Eva (first name pronounced 'Alex' as well) accidentally accused her of being anorexic. After this mishap and a quick death stare (and some minor crying from Ms. Dorn) she soon began speaking at the dinner table and was realized to be one of the sweetest and funniest girls on campus.
Alex is known for many of her accomplishments on the young UGA campus in only her third and fourth years. She attended The Brain her first year and Introduction to Veterinary Medicine her second. She was one of the most athletic girls on campus and was highly desired by every rival BREKfest and DAWGfest team. She received her nickname "Bucket o' Danger" after her incident with Meghan Dorn mentioned earlier was discovered to be completely false when she was found going for thirds at Snelling for lunch during her first year. She is rumored to be a member of one of UGA's several secret societies, alongside Richa Bhardwaj, Connor Nickerson, Alyx Eva, Kelly Stoyer, Mary Felder, Hailey Gilman, Meghan Dorn, and Gianna Gagliardi; a group known as the 'Naughty Nine' due to each member's unique traits of attractiveness (kind of like the Spice Girls). The Naughty Nine is a group who's number and adjective changes depending on the group that receives the previous fourth year society's legacy. Stephen Bingham was choosen as Alex English's legacy in her fourth year.
Ian English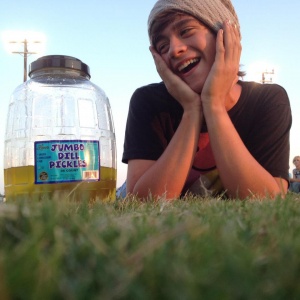 Davidson Term II 2011 - Creative Writing (roommates were Tyler Tinari and Rohan Nakka, in Sam's RC group)
Duke East Term II 2012 - Literary License without Limits (roommate was James Sadlo, in Jordan A's RAG)

Fun facts about Ian English:
Ian took down an elephant stampede using only his feet. Twice.
Ian ruled the Vatican in 3 millenniums in 18 terms only because he was reincarnated that many times.
Ian was Jeff Bridges before Jeff Bridges was Jeff Bridges.
Ian English stays crunchy, even in milk.
Ian's first words were antidisestablishmentarianism, pneumonoultramicroscopicsilicovolcanoconiosis and lopado­temakho­selakho­galeo­kranio­leipsano­drim­ypo­trimmato­silphio­karabo­melito­katakekhy­meno­kikhl­epi­kossypho­phatto­perister­alektryon­opto­kephallio­kigklo­peleio­lagōio­siraio­baphē­tragano­pterýgōn.
Ian invented everything, but gave credit to random people because he can.
Occasionally, Ian can be seen raising a farm of dodo birds and 20-foot tall sloths on the archipelago of Antarctica.
Ian is the reason Steve Wazny became rich.
Ian has a rainbow belt in knitting, sexiness and rage.
Ian has gold medals in all Olympic events.
Ian keeps the world's average temperature around 69 degrees (F) because he likes the number 69.
When Ian plays guitar, shoulder cookies are dispersed around the world for little children (and middle-aged men) to enjoy.
Ian started this thread on Facebook. It is/was awesome. http://www.facebook.com/NicoleSn00kiPolizzi/posts/473393479366965?notif_t=feed_comment_reply
HE HAS DATED A PICKLE JAR NAMED 'PICKELLE JARR'! (dey s0 cy00t i@n n p1ck3113 53v@ <#)
At Davidson, Ian was known for being an awesome guitarist, reading poetry (that might have not been the most appropriate), and playing the electric mayonnaise with Kyle Daniel and Tyler Tinari. With the help of Clayton Delp (yeah, I rhyme like a rapper) they together put together a MAJESTIC (the only proper adjective to describe it) performance of Mumford and Sons' "Little Lion Man". He continued his glorious legacy at East, spreading happiness, love, and possibly several STDs (the tests have not come back yet). Ian was famous for co-inventing (along with Savannah "Lili" Eubank, Carly Pittman, and Tyler Tinari) the legendary game "Shoulder Cookie", which aspires to be a sport in the Olympics. He is well known for his redundancy, pastrami, and redundancy. He is deathly afraid of peacocks. He writes like a Rhode Scholar, but texts like a twelve year old girl. He likes to begin his sentences with "He". He completely and utterly rocked the "Lubricated Melon Toss" bringing home third for Pegram. He engaged with the very attractive Carly Pittman in a STEAAAAMMMMY relationship, which was subsequently monitored by RCs the world over. He was a member of the bands "S.H.E.D." and "OH!-possum", the performing arts group "NO SHIRT BUT A SWEATSHIRT", and the solo project "I Licked Grandpa". At the talent show, Ian MAJESTICALLY performed an acoustic version of Sir Mix-A-Lot's "Baby Got Back". Ian will answer to the call of "Reginald", "Sextaco", "Englfish", "Horatio Pumpernickel", or, on rare occasions, "Ian". Legend has it that Ian is working on a TiP-Themed erotic novel entitled, "Just the TiP", or alternatively, "The TiP is the Most Sensitive Part".
Rebecca Enniss
Davidson Term 2 2008,2009; Duke East Term 1 2010;Duke West Term 1 2011
Rebecca was well-known for always eating Lucky Charms (mostly the charms part) and drinking coffee for every meal, without fail. She laughed a lot, and she dressed well, prompting many guys to go to her for Wear-A-Skirt-Wednesday. She was seen with her good friend Ezie Nguyen a lot, because they were both in Social Psych. Rebecca also totally dominated in the pudding scoop event at QuadFest. Her dancing partner was Faith Yu, and they could be seen/heard at every dance singing loudly to many songs(WITHOUT knowing the lyrics) and going up to non-dancing TiPsters and getting them to dance, Also Rebecca always tried to get the non participating Monarchs to do 4th year traditions-it didnt go expecially well. Rebecca also beasted in volleyball and especially in capture the flag, where she formed the distraction alliance group Curry-Cubed with Faith Yu and Subhanshu Pyne.
Lillian "Elizabeth"
Duke East Term I 2010
Lilli is a kindhearted, sweet girl who everyone loves. She is also a mother of an Indian, 2 white kids, 2 black kids, a Latina, and an Asian! Lillian also has amazingly curly hair! She also has a bubbly personality! She absolutely adores TIP and all of her friends there!!! She's also known to be a bit crazy, especially with fellow crazy Tipsters (we won't say names, but you know who you are). Ohhh and please don't be afraid if she asks if she can cut your rope, swipe your card, or she puts her lanyard over your head and says, "close quarters". Even if she gives someone a play by play of you shaving your legs in the sink, don't worry it's just the lovely Lillian (; MOO. <3 <3 <3
Will Erwin
Duke East Term I 2010
Will is one of those asian gangsta types. He's a cool cat from Kentucky and rocks at soccer! Will is totally ghetto! He is famous at TiP for his wrapping at Lip Sync with Carl Yin, Dakota Simpson, and Zach Pelka, and his wrap at talent show. Will is also a fan of Eminem. One of Will's favorite catch phrase thingyies are, "wat time is it? Sexy Time!"
David Eskin
Duke East Term I 2008
Member of the legendary G.O.A.T. RAG.
Alejandro Esquino
Duke East Term I 2008
Member of the legendary G.O.A.T. RAG.
Claudia Esquivel
Duke East Term I 2010
Savannah "Lilli" Eubank
KU Term II 2011, Duke East Term II 2012 - Haunted Places
Lilli is just all-around awesome. Known for: co-creating "shoulder cookie" with Ian English, a monologue in a little girl voice, being an AMAZING dancer, and - again - being all-around awesome. (and many other things not included at the moment) One of Carly Pittman's many second year friends. (Because her and Ian were ewwy, and grossed out her fellow 3rd years.) She enjoyed scarring her more innocent friends for life with the contents of her iPod. She is also the possessor of Kyle Cohen's mortal soul. "If TiP were a drug, I would have overdosed of it a long time ago."
Alyx Eva
ASU Term II 2007, 2008 UGA Term II 2009, 2010
Alyx Eva will be renowned for her wide impact on TIP through her four years, but one of the greatest will be her commitment to traditions from ASU and making sure they transferred to the UGA campus. She was known for her sweetness, great dancing skills, and for always being one of the hottest gals on campus.
In Alyx's first year she took Shakespeare, and was known for choreographing a lipsync routine to 'All That Jazz' from the hit musical-now film, Chicago. The act was amazing, but due to TIP tradition, a first year team would never be able to beat a fourth year one. This year was also the beginning of her famous friendship with Mary Felder. Her second year she attended Appalachian Tales, and was placed in an RC group without many close friends from the previous summer, forcing her into a rewarding friendship with the rather dorky at the time, Meghan Dorn. She also established a strong and often envied relationship with famed Emmie Heath, who would one day be one of the inaugural Fourth years for UGAThis was the last year Alyx would have long hair on a TIP campus.
Alyx's third year was a year of big change, she was a full ASU in her heart, and switching to a new campus was hard for her and all of those who had spent their last two years on the Kansas or ASU campuses. She attended the Game Theory class out of desperation to be able to attend Term II at UGA with the other ASU Term II-ers. However the class paid off, and she said it was one of the best classes she'd ever taken. During this year she was in the same RC group as Alex English, Meghan Dorn, Mary Felder, Natalie Gideon, Gianna Gagliardi, Hailey Gilman, Hailey Gosnell, many of whom were of membership in several societies with Alyx. Her RC group won Scavenger Hunt this year. She also was involved in a relationship with fourth year Stefan Isaza this year, cemented with his purchase of a gold necklace for her.
Alyx's fourth year she was key in creating the UGA tradition of "The Book", and passed her legacy onto Maddy Noelle Spencer in the form of her "halo". Alyx attended Mock Trial and made it to the final round of the class competition. She choreographed her last year's lipsync to MGMT's 'Electric Feel' but regrettably lost to the Fourth Year Boy's performance of 3Oh!3's 'My First Kiss'.
Chandler Evans
Duke East II 2010 and Duke East II 2011
....Nuff said
Last Name F
Raymond Fang
Raymond Fan was a member of Ray's Rag (obviously). More details later.
Xan Failing
She is an awesome white version of Shae
KU 2012 Texas A&M 2013 Rice University 2014
Andreana Faucette
Trinity Term I 2016. Mayonnaise.
Ryan Feeney
Duke East Term I 2008
Catherine Feng
Duke East Term I 2008
Erin Ferrara
Duke East Term I 2008
Maggie Finn
Duke East I 2010
Maggie is an amazingly cute, adorable, sweet, and happy chic! She always brings u up when ur down and has the most perfect pinkies! She also rocks the role of dressing up like a guy! Everyone loves Maggie <333333333333
Nettie "Invisimuffin" Finn
Duke East Term I 2008
Sam Fisher
Davidson Term II 2011 West Term II 2012
If you ever see a guy with a blue beanie and cheap dark aviators, that's him. He's known to have a rapist appearance and to laugh hysterically for hours upon hours...........upon hours...........upon hours from 8 simple words, "Peace Tea", "Strawberry Black", "Melon Lumps", or "Papaya Seeds". TIPsters of Duke West 2012, be warned and be ready........................................................................................................................ for laughter.
Becca Flank
Becca Flank is one of the qualekeepers for 2009, along with Kate Shafer and Christine Delp
She is noted for her extreme quotes from symbols and structure.
She is also noted for her random items brought to camp including a floor-length red dress, red mask, red cloak, and purple belt
Everyone vies for the use of her viola, and in allison herzog's 4th year will it was given to ashleigh young to pay tuition for the next year. at quadfest, she was seen in the 1st floor pegram hallway playing harry potter and the titanic song. Also, should you be sitting on the steps of the Union at anytime before or after class, and wonder what the time is, all one has to do is yell out "Watch Whore" and she will give you the time.
Fourth year, Becca adopted an alternate identity, "Svetlana." Svetlana was a Russian who said such things as "In Russia, we shoot you." It is believed mutliple second and third years sincerely believed Svetlana was a real tipster.
Noah Flowers
Noah flowers The 2013 holder of the Fairy Wings at Term 1 Duke East
Liam Foskett
Duke East I 2010
Liam is a rockin kid with the most amazing sandal tan lines! He is a cool kat and is really nice. He loves GT and is from Decatur, Georgia! He's really nice and one amazing vegetarian! He was also in a relationTIP with Maya Sawla!
Sarah Foss
Duke East Term I 2008
John Fowler
John Fowler is currently in the class of 2008 at North Carolina State University. TiPster at Duke West Summers 1999-2002. RC second floor Pegram at Duke East, Terms 1 and 2, 2005. Ran multiple improvisational workshops and adult swim nights. Part of the triumvirate that kidnapped the Llama and took it to the Barnes & Noble premiere of Harry Potter and the Half Blood Prince. Made of pure AWESOME.
Edit by Terricia (Term One Llama mama): John Fowler is the best RA(RC) there ever was. Don't even question it. And I say that from a completely unbiased standpoint, since he was never my RA. He's just the best one. Ever. Plus, he's amazingly hilarious. Yep, he's pretty much great in every possible way.So don't mess.
There is debate amongst a few TIPster girls as to who loves John Fowler most. He is certainly stalked by a few of them as well.
Josh Foxworth
Duke East I 2008
Mira Fradkin
Davidson Term I 2012 Shakespearience: From the Page To the Stage (Shakespeare) Mira was a cool girl who was a member of the Shakespeare class. She was known for singing about squeeerals with her class, singing about llamas... and turtles, being Russian with most of the class, Creeping, Ordering extra bread and lots of other cool stuff. She went on the Adventerous Adventures of the One Direction Squeeeral Girls with her friend, Katie Weber, who she did an awesome scene with in week 2.
Greg Freedman
Greg was a member of the 2005 East 2 Llama Posse.
Emily Fry
I guess she wasn't special enough to have someone put her on here, so she had to do it herself. Yeah, forget that because here's Money who happens to think Emily is amazingly special.
She's not tall, can get crazy w/ the mac pics, has twizzler parties for IR+ girls, is so psychotic she can actually stop other people from doing so, and in short (no pun intended) is amazingly special.
Davidson Term II '06:
Gloria's RC Group (Dana, yah!)
A Loyal Ally of IR
Locked her roommate (Amelia Dornbush) in a closet =D
Emily wears office supplies in her hair
Duke East Term II '07
Social Psych
Clare's RAG
Supporter of the Giles Bench for Summer Studies...not that it existed...
Was exceptionally nice...to her roommate this year (Ana Vasudevan). And Still had office supplies in her hair
Duke East II '08
CTA
Leah's RAG
Nicki's Roomie
Camerawoman of everything
Unofficially NEVER used her keycard on a dorm
Nicki and Emily have a website with all of their videos from TIP East II 08!!! Check it out!